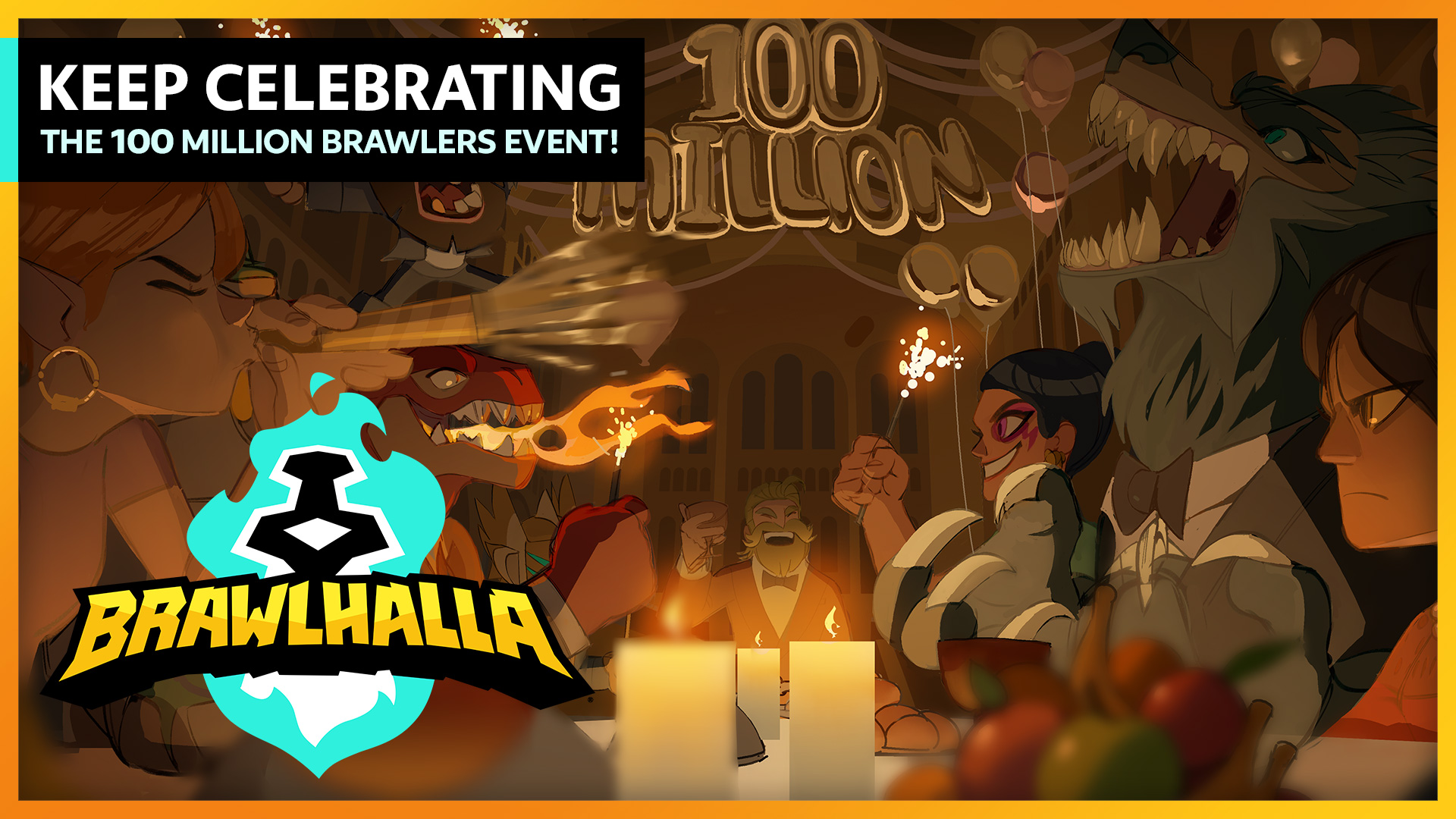 100 Million Celebration & Cross-Inventory Announcement!
Get ready for another week of "Brawl of the Day", themed sales, and one more day of all Legends on the free rotation! 
Daily themed sales for this week include "Futuristic", "High Fantasy", and "Shogun" – which has the Epic Skin Shin Sekai Koji on sale for the first time.
Who will rule the recently revamped Demon Island in Capture the Flag, featured today for "Brawl of the Day". Come back every day to test your skills in Volleybrawl Duos, Strikeout Mania!, Ghost Bubble Tag, and more!
Yesterday on stream we announced a new feature that will be coming to Brawlhalla targeting this June. Phase One of Account Linking: Cross-Inventory will allow you to combine the inventories of different Brawlhalla accounts across platforms so that all your items – including Legends, Skins, Crossovers, Titles & more – can be used on one platform. This will be our first step in rolling out the highly anticipated cross-progression!
The timed event missions for Raven's Honor Colors and Fenrir GG Emoji Skin are still active! Win matchmade games with each Legend to unlock the universal Raven's Honor Color Scheme and earn 10,000 XP.
To catch the latest Brawlhalla news and content, be sure to follow us on Twitter, Twitch, Facebook, YouTube, Instagram, Discord, and TikTok!
We can't thank everyone in our community enough for your continued support of Brawlhalla. To celebrate reaching 100 million lifetime players, we're hosting an event unlike any other for 3 weeks. Enjoy the newest Epic Skin in Mallhalla, a highly requested new Color Scheme: Raven's Honor, a free Avatar and Title Reward, and all the rest of the festivities!
New Epic Skin: Inari Yumiko – A most noble and eminent being, the embodiment of divine will.
Custom Signature FX
Animated Weapon Skins
Custom lock-in animation
Announcer VO
Roster icon
Stays in Mallhalla after the event!
Raven's Honor Color Scheme
Win a matchmade game with a Legend to earn this exclusive purple and black Color Scheme for that Legend. Win matchmade games with all 58 Legends to unlock the Universal Color Scheme for all future Legends! The only way to earn the Raven's Honor Color Scheme is to participate in this Timed Event Mission.
Fenrir GG Emoji Skin
Earn 10,000 XP by playing matchmade games to earn this Emoji Skin inspired by one of the most well known Mordex Skins. The only way to earn the Fenrir GG Emoji Skin is to participate in the Timed Event Mission.
Esports Viewership Rewards Now in Mallhalla
After debuting last year as Viewership Rewards for watching Brawlhalla Esports on the official Brawlhalla Twitch Channel, the following items are now available for purchase in Mallhalla:
Champion's Throne Emote
Sidekick Souvenir Orb
Tide Queen Rocket Lance
Maple Breeze Katars
Regal Sun Weapon Set
The 100 Million Brawlers celebration also includes:
Free "One in 100 Million" Title and "100 Million Brawlers" Avatar for logging in.
Daily themed sale items including Epic Skins and other prestige items for the first time!
Daily Brawl of the Weeks
+500 Bonus Gold at Login – the largest Gold login bonus to date. 
Debuting Brawlhalla's new logo!
UI Takeover
Since its launch, the All-Legends Pack has been valued at $19.99 USD. As the sheer volume of Legends has increased over the years, the price of the pack will increase to better reflect the value.
However, before the price increase, we're hosting an epic discount on the original cost as part of the 100 Million Brawlers Celebration. That means you can unlock all Legends, present and future, for less than the current price point! 
We're also hosting a sale on the Collectors Pack! There are no plans to change the price on this item.
Please see below for the dates of each platform's sale:
All Legends Pack 
Ubisoft Store: May 11 – June 6
Epic Games Store: May 18 – June 15
Steam Store: May 24 – June 6
Google Play Store: May 24 – June 6
PlayStation Store: June 7 – 21
Nintendo eShop: June 12 – 25
Xbox Marketplace: June 13 – 26
Collectors Pack
Ubisoft Store: May 11th – May 25th
Epic: May 18 – June 15
Steam Store: May 24 – June 6
Xbox Marketplace: June 6 – June 19
PlayStation Store: June 12 – July 22 (PS+ Members only)

We just announced on stream yesterday that Cross-Inventory will be coming to Brawlhalla targeting this June! 
Cross-Inventory allows you to combine the inventories of your different Brawlhalla accounts across different platforms so that Items you've purchased with Mammoth Coins, Gold, or Glory can be used on one platform. 
This means all of your Legends, Legend Skins, Weapon Skins, Crossovers, KO Effects, Sidekicks, Avatars, Podiums, Emotes, Colors, Titles, Nameplates, Loading Frames, and Emoji Skins can be used on one platform!
This is the first step in our rollout of the highly anticipated feature – cross-progression!
For more information, including a preview of how you'll be able to link your accounts & an FAQ page, click here!
5/24: Capture the Flag
Protect your team's flag while stealing the enemy team's flag in this 3v3 game mode for control of Demon Island! Unite both flags at your base to score a point. Watch out! You'll drop the enemy's flag if you take damage. Players can return their flags to their base by touching it. First team to 3 points wins!
Capture the Flag Game Mode
3v3 Team
Unite your flag with the enemy's flag at your base to score points!
First team to 3 points wins!

5/25: Buddy
Come on grab your friend in this mathematical mode! Pick the ultimate 2v2 team and play as both Legends at the same time! Build up enough damage on your opponent's two Legends to bounce them around into oblivion. Hold Down or Dodge to help position your dudes. Score the most KOs to win!
Buddy Game Mode
1v1 Teams
Control 2 Legends at the same time!
Score the most KOs to win!


5/26: Ghost Bubble Tag
Phase in and out of visibility as you strike your opponents to capture them in bubbles in this intergalactic war! You and your opponents go invisible when not using powers. Bubbled players can't attack and have limited movement, but you can free them by tagging them. Capture the entire enemy team to score a point. The first team to 5 points wins!
Bubble Tag Game Mode
Ghost Brawl rules – players go invisible when not using powers.
Capture your opponents in bubbles by striking them!
Bubbles are visible. Free your teammates by attacking or running into them.
Bubbled players can even dash to their teammates or away from opponents!
First team to 5 points wins!

5/27: Walker Attack!
Survive the walkers onslaught! Battle through loads of walker opponents that get harder and smarter as time passes. Beware, the longer you fight the more walkers appear! Earn points by scoring KOs. Survive as long as you can to win the most points!
3 Stocks
Walkers increase in difficulty and in number as time passes.
Survive as long as you can!
Player with the most points wins!

5/28: Volleybrawl Duos
Pair up for a sandy 2v2 game of Volleybrawl! Hit the ball to change it to your team's color. If the ball touches the opposing team's floor while it's your team's color, it'll do damage. Deplete their HP to score a point. Be careful: if the ball is still for too long or is hit four times without changing sides it'll reset. First to three points wins!
Volleybrawl Game Mode
2v2
Deplete the enemy team's HP by changing the ball to your team color to score a point.
First to 3 points wins!

5/29: Gamemaster's Doom
Be prepared for anything in this 3 minute, 4 player Free-for-All match! Withstand the dangerous, random conditions set by the Gamemaster's dice roll as you work to KO your opponents from all sides. Score 2 points for KOing an enemy, lose 1 point for being KO'd. Score the most points to win!
Dice & Destruction Game Mode
4 Player FFA
3 Minutes
Most points at the end wins!

5/30: Strikeout Mania!
Pick your best 5 Legends and face off against your opponents best 5 Legends in this intense 300% damage battle! When you lose a stock the next Legend in your list spawns in ready to fight. Damage KO your opponent 5 times to win!
1v1 Strikeout
5 Stocks
300% Damage
Legend changes after each stock!


5/24: Traditional Theme
Matsuri Yumiko – Poise, grace, and a deadly hammer swing!
Hanbok Jaeyun – Nothing traditional here.
Nightblade Hattori – Strike from the shadows and fade into the night.
Nian Shou – Sidekick – He just wanted to celebrate too!
Destiny's Way – Bow – The wielder of this bow forges their own fate.
Dragon's Fury – Greatsword – Summons the might of a thousand dragons.

5/25: Shogun Theme 
Shin Sekai Koji – Epic Skin – Cutting a laser-edged swath through the streets of Terminus even if it takes eons.
Kitsune Hattori – What does the ninja say?
Shogun Jiro – When everyone else has fallen, you are the shogun.
The Jade Price – Scythe –The cost paid in full by your opponents.
Onisan – Sidekick – Demon magic bringing you back from the brink.
Red Hot Ranseur – Spear – Volcano-forged to a razor edge, it simultaneously pierces, slices, and sears.

5/26: World Mythologies Theme
Undying Mirage – Who says there's no coming back from the afterlife?
Sobek Ragnir – Fury of the Nile unleashed on Asgard!
Djinn Wu Shang – Your wish is his KO.
Capra Thor – The original GOAT.
Gorgon Thea – Hope you brought a shield! Bonus: Snakes react along with Thea.
Ammit – Sidekick – No one takes care of you better than your own mummy.

5/27: Futuristic Theme 
Annihilator Azoth – The future is set. Bonus: Baneful eye glows with Azoth's expressions!
Hardsuit Val – Faceless. Remorseless. Also functions as a WiFi hotspot.
Gridrunner Thea – The goggles keep the bugs out.
Atom Smasher – Hammer – Smash your foes with the force of a nuclear warhead!
Ultra-Lance – Rocket Lance – Sleek, high-tech, and handles like a dream. The supercar of Rocket Lances.
Darkheart Missile – Rocket Lance – It's too late to run. The darkness approaches.

5/28: High Fantasy Theme 
Dark Arts Fait – You've met with a terrible Fait, haven't you?
Orc Raider Jhala – The red paint makes her raid faster.
Nightcap Caspian – Bombs, blades, and chaos!
Roland the Hooded – Hoods are all the rage, very stylish, very "in."
Balefire Wyrm – KO Effect – The Legendary Fier Wyrm is sealed behind…okay, who left the seal open?
Dark Elf Flamberge – Sword – A cruelly cool blade that strikes fear into every heart.

5/29: Darkheart Theme
Darkheart Petra – The darkness tried to take over, but now she's in control.
Darkheart Artemis – The ultimate weapon! Bonus: Darkheart soul blazes with Artemis' expressions.
Darkheart Zariel – Falling from grace but not going down without a fight.
Darkheart Orb – Weapon Skin – The darkness consumes all.
Darkheart Spire – Podium – Rising to the top by plunging into darkness.
Darkheart Longbow – Weapon Skin – Strung with whispers, secrets, and lies.

5/30: Cyberpunk Theme
Blue Virus Volkov – Watch out: he bytes.
All City Caspian – Sneaky enough to tag Wall Street in broad daylight.
Fatal Error Ada – Enemy has encountered a problem and needs to surrender.
Sourcecode Petra – She'll hack your heart into pieces.
High Score – KO Effect – Continue? 10… 9… 8…
Shadow Casters – Blasters – Arguably dishonorable. Proven effective.

Cry "havoc" and let slip the ultimate dog of war, Mordex! The Iron Legion bundle has everything you need to fight on the front lines, including:
Iron Legion Mordex
Mordex Legend Unlock
The Flex Emote
This promotion is available for all Amazon Prime members in supported regions to unlock for free. Claim your loot at brawlhalla.com/prime.
All Legends are available on the free rotation for one more day! 
Starting on Thursday, May 25th at 5am Eastern, the free-to-play Legend rotation will include: Brynn, Nix, Ragnir, Lucien, Sidra, Petra, Jaeyun, Gnash, & Vector.
Brynn – Competing for the pure joy of it, this Valkyrie has seen many victories due to her skill with the Axe and Spear.
Nix – Led by a thousand year hunt, this reaper, armed with both Blasters and Scythe, has found herself a new bounty in Valhalla.
Ragnir – This apex predator, whose home is in the Fangwild, now ventures outward using his Katars and Axe to take on the rest of the Legends in Valhalla!
Lucien – This mysterious highwayman is always scheming for gold, and now has come to Valhalla to take part in the tournament wielding Katars and Blasters!
Sidra – Known for her legendary and fearless raids, the Corsair Queen is prepared to fight with her Sword and Cannon!
Petra – Having been set free from Terminus, Petra sets her eyes on Valhalla with her Orb, Gauntlets, and Darkheart powers.
Jaeyun – The legendary mercenary who has traveled across the Old Kingdom on the back of his dragon turtle companion Imugi, Jaeyun has discovered new riches and sights in Valhalla! He brings the
Greatsword and Sword to battle in the Grand Tournament.
Gnash – In the darkness, before the dawn of history, this Legend was raised by the harsh jungle itself. This Super Hunter uses his Hammer and Spear in battle.
Vector – Transforming into a jet with his Rocket Lance and wielding his Bow to fight, Vector travels through time and space to battle crime!