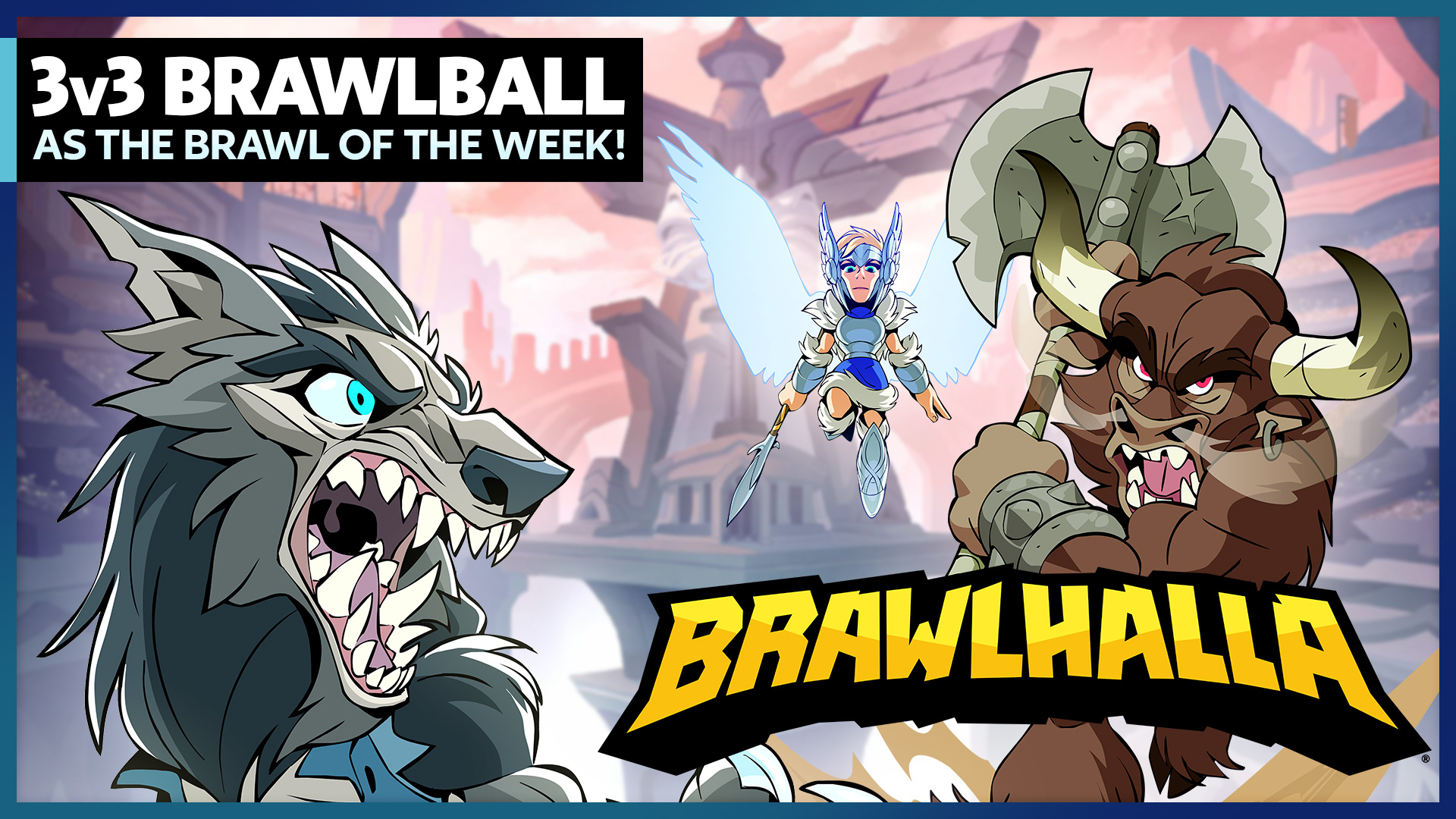 All Legends Pack Sale & Team Up for Brawlball Bash!
Get ready for Brawlball Bash! Form your best team of three for an epic Eternal Sports battle featured as Brawl of the Week. 
We're hosting a sale for the All-Legends Pack! Before the price is raised to better reflect the value of the Legend roster, you can unlock all Legends – present and future – for even less than the current price. Sale dates vary by platform, and check out full details below!
The free-to-play Legend rotation for this week features Wu Shang, Thatch, Artemis, Ezio, and more!
To catch the latest Brawlhalla news and content, be sure to follow us on Twitter, Twitch, Facebook, YouTube, Instagram, Discord, and TikTok!
Since its launch, the All-Legends Pack has been valued at $19.99 USD. As the sheer volume of Legends has increased over the years, the price of the pack will increase to better reflect the value.
However, before the price increase, we're hosting an epic discount on the original cost. That means you can unlock all Legends, present and future, for less than the current price point! 
We're also hosting a sale on the Collectors Pack! There are no plans to change the price on this item.
Please see below for the dates of each platform's sale:
All Legends Pack 
Epic Games Store: May 18 – June 15
PlayStation Store: June 7 – 21
Nintendo eShop: June 12 – 25
Xbox Marketplace: June 13 – 26
Collectors Pack
Epic: May 18 – June 15
Xbox Marketplace: June 6 – June 19
PlayStation Store: June 12 – July 22 (PS+ Members only)

Get the team together for this 3v3 game! Don't have a team? Fear not, we'll find one for you! Hit the Coliseum, snag the ball, juke or pass past your opponents, and hold it in their goal to score! No team damage, and you can go through walls the same color as you. First team to score 3 times wins!
3v3 Brawlball
5 minutes
Queue up solo or with a team!
Cry "havoc" and let slip the ultimate dog of war, Mordex! The Iron Legion bundle has everything you need to fight on the front lines, including:
Iron Legion Mordex
Mordex Legend Unlock
The Flex Emote
This promotion is available for all Amazon Prime members in supported regions to unlock for free. Claim your loot at brawlhalla.com/prime.

The free-to-play Legend rotation for this week features Wu Shang, Thatch, Kaya, Artemis, Onyx, Yumiko, Xull, Mako, and Ezio.
Wu Shang – Using the way of peace, discipline and martial arts, he takes down his foes with Spear and Gauntlets!
Thatch – The tournament is a paradise of chaos and fire for this Madman of Barbados as he brandishes Sword and Blasters.
Kaya – Using her bow, spear and spirit animals, she is ready to try her luck in the Grand Tournament!
Artemis – After transversing the universe in search of her rival Orion, Artemis has ripped open a wormhole into Valhalla. She is ready to fight with her Rocket Lance and Scythe!
Onyx – The powerful Guardian and Protector of Castle Batavia, Onyx has been offered a place in Valhalla and now defends it ruthlessly with her Cannon and Gauntlets.
Yumiko – Holding the appearance of a blind seamstress, this centuries old fox spirit has been brought into battle wielding her Magical Hammer and Bow!
Xull – With legendary physical strength, this Axe and Cannon wielding Orc Warlord is ready to challenge everyone and everything in Valhalla!
Mako – The ultimate apex predator from The Sea, Mako, with her Greatsword and Katars, aims to make fish meat out of her opponents in the Grand Tournament.
Ezio – The reward for a life well lived is eternity in Valhalla. Wielding his Auditore Blade and the Apple of Eden, Ezio is ready to use his assassin's skills on any rambunctious opponents that stand in his way.