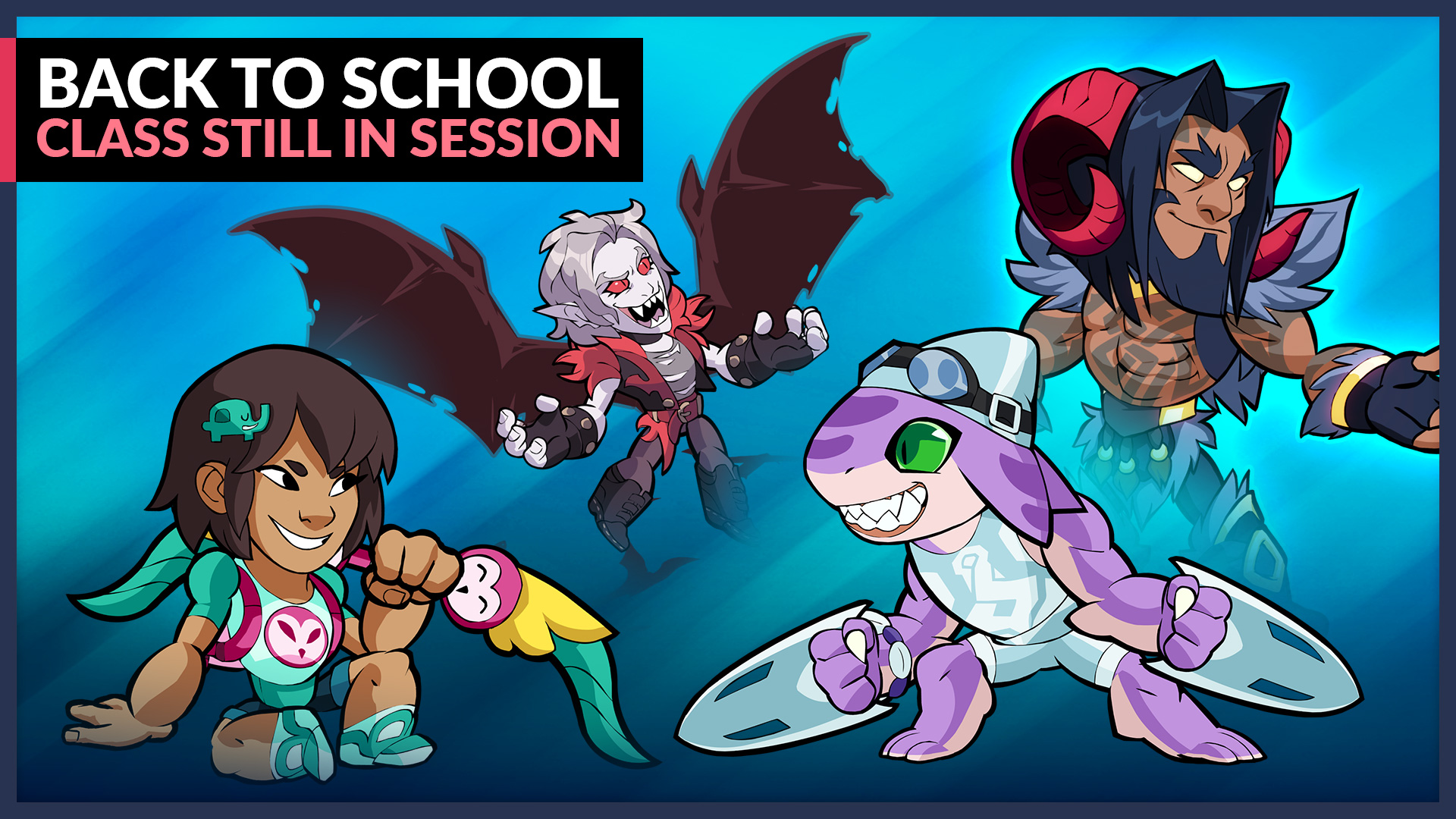 Back to School 2021 Continues!
School is in session, and we've got all the essential supplies. Find the Seasonal Skins, Home Team Colors, bonus Gold on login, and more by following the apples in Mallhalla!  
Battle Pass Season 4 is in full swing. The Order of the Exalted Lion may be falling, but you can continue to rise along the Battle Pass track to earn exclusive rewards, like Exclusive Skins, Avatars, Emotes and more.
Don't miss this week's Brawl of the Week, "Buddy" and updated free Legend Rotation that features Cross, Scarlet, Koji, and more! 
To catch the latest Brawlhalla news and content, be sure to follow us on Twitter, Twitch, Facebook, YouTube, Instagram and Discord!

It's that time of year to head Back to School! Celebrate the event and dress to impress with Home Team Colors and exclusive Skins available for a limited time. Just follow the apples in Mallhalla!
See the list below for all the Back to School items:
Exclusive Skins
Hall Minotaur Teros – "Do you have your Great Hall pass?"
Swim Team Mako – "I don't need floaties Coach Brynn – I have fins."
Professor Vraxx – "Essays on why I'm the greatest space lord due Thursday. 5 million words."
Rocker Volkov – "Where's my guitar pick?"
Headmaster Fait – "Time to count the KOs, ready?"
Ace Spiker Lin Fei – "She's got school spirit!"
Kindergarten Kaya – "Missed the bus? Take a mammoth instead."
Gridiron Xull – "The best offense is more offense."
First Day Asuri – "Don't forget your bus number!"
Greased Lightning Koji –  "He's got the chops!"
Detention Ada – "Being bad feels pretty good, huh?"

Colors
Home Team Colors

Show off your school spirit in these black, red, and gold colors.
Available for every Legend with hard-earned Gold!

Avatars
Oodles of Doodles

An animated Avatar!
"The story's in the margins."
Brawlhalla 101

"Class is in session!"
Purchasable with your hard-earned Gold!
Back to School also features:
A bonus login reward of 250 Gold.
A Back to School UI Takeover with new main menu music.

The fall of the Order of the Exalted Lion has spread through Valhalla! This latest Battle Pass season features:
85 tiers of new exclusive rewards, including the Octavius Mordex Progression Skin and Spellbreaker Diana Epic Skin.
Access to Weekly Missions to unlock more items
A free track extending through all 12 weeks of the Battle Pass.
A Mordex Progression Skin.
An animated Epic Diana Skin.
Skins for Azoth, Cross, and Queen Nai.
A free track extending through the full duration of the Battle Pass.
The option to purchase the Gold Track with additional exclusive rewards like the Fall of the Lions Progression Podium.
All players having access to all the Weekly Missions!
An exclusive Battle Pass Title Reward!
Two Battle Pass Maps for Free-for-All and 1v1 queues.
For any completionist out there, a special Avatar awaits you if you complete all 85 tiers.
Players can unlock over 100 new rewards during the Fall of the Lions Battle Pass season, so grab your favorite Legend and start brawling. Players can also use Mammoth Coins to increase progress along the track while the season is active. For more information, check out brawlhalla.com/battlepass.


Come on grab your friend in this mathematical mode! Pick the ultimate 2v2 team and play as both Legends at the same time! Build up enough damage on your opponent's two Legends to bounce them around into oblivion. Hold Down or Dodge to help position your dudes. Score the most KOs to win!
Buddy Game Mode
1v1 Teams
Control 2 Legends at the same time!
Score the most KOs to win!


We're featuring an exclusive offer with Prime Gaming, the Darkheart Bundle! From the depths of Terminus, this free bundle includes: 
Darkheart Petra Skin
Petra Legend Unlock
Come At Me Emote
Firehawk Sidekick
This limited-time promotion is available to all Amazon Prime members. Players can claim their loot here!

Follow the apples for the exclusive Back to School 2021 items!
The Solidarity Emote benefiting Campaign Zero is still available. To find out more information about this non-profit organization, check out www.joincampaignzero.org.
Looking for a certain chest? We're rapidly rotating through chests, so check out the in-game timer to know when the next chest will rotate.
Find the new Sales items!

The free-to-play Legend rotation for this week includes: Cross, Lucien, Mirage, Wu Shang, Mako, Scarlet, Fait, Xull, and Koji.
Cross – For years he has owned New York City, but can he do the same in Valhalla?  This charismatic mobster steps into Valhalla with Blasters and Gauntlets.
Lucien – This mysterious highwayman is always scheming for gold, and now has come to Valhalla to take part in the tournament wielding Katars and Blasters!
Mirage – An occultist, martial artist, and spy, this agent uses the powers of magic and time-travel along with her Scythe and Spear to take down her foes.
Wu Shang – Using the way of peace, discipline and martial arts, he takes down his foes with Spear and Gauntlets!
Mako – The ultimate apex predator from The Sea, Mako, with her Greatsword and Katars, aims to make fish meat out of her opponents in the Grand Tournament.
Scarlet – A former female boxing champion of England and head of the Royal Airship Navy, this Legend uses her ingenuity and steam power to build her own Rocket Lance and Hammer to take into battle.
Fait – Speaking to the stars and using glimpses of the future, Fait battles for good with her Scythe and Orb!
Xull – With legendary physical strength, this Axe and Cannon wielding Orc Warlord is ready to challenge everyone and everything in Valhalla!
Koji – Armed with his ancestral katana, Koji slices his way through the battlefield with Sword and Bow!