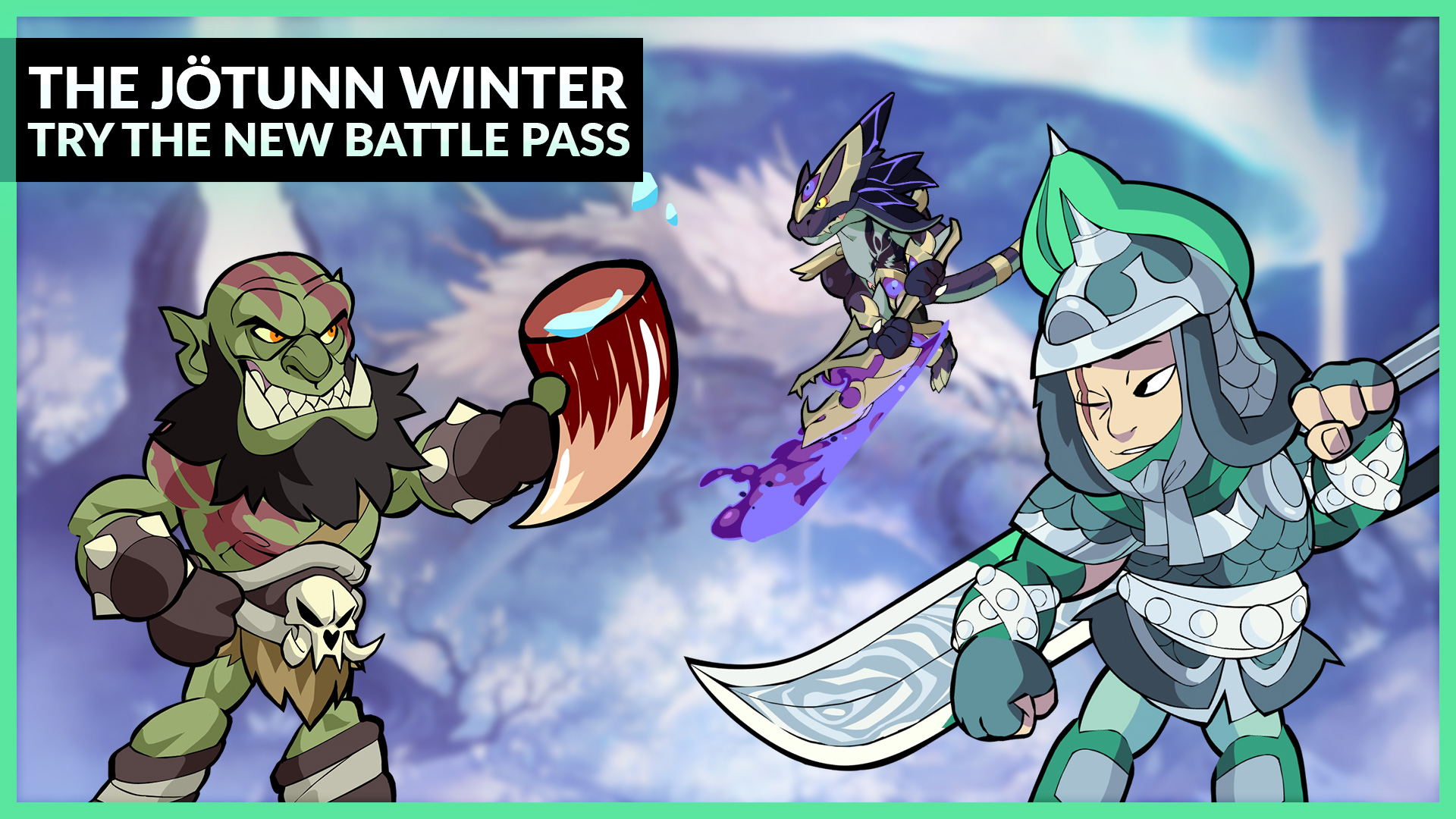 Battle For Your Life at the World's End Arena
Battle Pass Season 3 is here! Jump into the World's End Arena and become a Jötunn champion by playing Brawlhalla and completing missions. All players automatically gain access to the Battle Pass track and Weekly Missions and have the option to unlock the Gold track for even more content.
Winter Championship 2021 continues with the Australia & Southeast Asia 1v1 and South America tournaments!
To catch the latest Brawlhalla news and content, be sure to follow us on Twitter, Twitch, Facebook, YouTube, Instagram and Discord!

A Jötunn Winter storm is sweeping through Brawlhalla! This third Battle Pass season features 85 tiers of new exclusive rewards unlockable by playing Brawlhalla and completing missions.
Battle Pass Season 3 features:
A free track extending through all 12 weeks of the Battle Pass.
All players having access to all the Weekly Missions!
An increase in the initial BP XP booster when purchasing the Gold track.
A new exclusive Battle Pass Title Reward!
A new UI takeover featuring an animated splash art of Aurora Brynn.
New main menu, character select, and post-game theme music matching the beat of the Nordic roar.
A newly themed Jötunn Winter Brawlball with a new Map called World's End Arena featured as the Brawl of the Week!

More Exclusive Battle Pass Items
There are more new rewards than ever in this Battle Pass, including an exclusive Title and even a special Avatar for players who complete all 85 tiers. 
All players are automatically granted access to a Battle Pass track to unlock a new Title reward, more unique Colors, Avatars, Emotes, an animated Sidekick, and a Weapon Skin. 
Players can also unlock the Gold track to immediately unlock some exclusive items, like the newest Progression Skin and Podium.
Unlocking the Gold track also grants boosters, including an increase to the initial BP XP booster, to help level up through the Battle Pass faster for more rewards.
More items than ever before available to unlock!

New Missions for Battle Pass
This Jötunn Winter Battle Pass comes with new missions to achieve!
All players are granted access to all the Weekly Missions!
Daily, Weekly, and General missions are available throughout the season.
Earn Battle Gems by completing missions to earn rewards!
Battle Gems measure a player's progress toward the next reward tier.
Unlocking the Gold track will grant boosters for more opportunities to earn Battle Gems and rewards.

Earn Battle Gems to Level Up 
If you're new to Brawlhalla's Battle Pass seasons, each week new missions unlock new opportunities to earn more Battle Gems while still allowing previous missions to be completed. 
Battle Gems are earned by completing missions in matchmaking games except for Brawl of the Week.
Players can get even more Battle Gems just by playing Brawlhalla. Any matchmaking game rewards Battle Pass XP that advances the "Earn Battle Pass XP" mission.
Completing the mission gives players Gems and a new more challenging "Earn Battle Pass XP" mission.
Players can unlock over 100 new rewards during the Jötunn Winter Battle Pass season, so grab your favorite Legend and start brawling. Players can also use Mammoth Coins to increase progress along the track while the season is active. For more information, check out brawlhalla.com/battlepass.


Get ready for some 3v3 Brawlball! Grab a Jötunn, Asgardian, or a Legend for an epic battle at the world's end. Hit the Arena, snag the ball, juke or pass past your opponents, and hold it in their goal to score! No team damage, and you can go through walls the same color as you. First team to 5 scores wins!
3v3 Brawlball
Pass through team walls or floors of the same color.
Queue up solo or with a team.
First team to 5 scores wins!


Year Six of Brawlhalla Esports continues! This Friday, Australia and Southeast Asia will be competing in Singles, and South America will be battling it out in Doubles and Singles this weekend. 
Tune in to watch the action live on twitch.tv/brawlhalla!
Friday, March 5, 2021 – Australia/SE Asia Doubles
Saturday, March 6, 2021 – South America Doubles
Sunday, March 7, 2021 – South America Singles
For times in your local time zone, see brawlhalla.com/schedule.
By tuning in to the Brawlhalla Twitch stream, players can earn exclusive Esports Viewership Rewards. Viewership Rewards for the Winter Championship include:
Exclusive Sol Smasher Hammer – A unique Weapon Set for this year's esports tournaments, be one of the first to earn this Hammer!
New Winter Watcher Title – Express your dedication by watching and earning this brand new Title just for the Winter Championship.
Winter Shard 2021 Avatar – Collect this year's design of this exclusive and icy Avatar.
Esports Colors – Show off your love of our Twitch streams with this rare black, silver, blue, and gold color scheme, applicable for all legends!
To learn more about Brawlhalla Esports Year Six, visit brawlhalla.com/esports. 


Magyar's price has been reduced to 5400 Gold!
The Solidarity Emote benefiting Campaign Zero is still available. Thanks to all of you we've helped raise over $46,000 to help in their mission to end police brutality. To learn more about this non-profit organization, check out www.joincampaignzero.org.
Looking for a certain chest? We're rapidly rotating through chests, so check out the in-game timer to know when the next chest will rotate.
Find the new Sales items!

The free-to-play Legend rotation for this week includes: Rayman, Koji, Lucien, Val, Kaya, Nix, Mako, Teros, and Orion.
Rayman -The Champion of the Glade of Dreams, wielding his Gauntlets and Axe, has found his way into Valhalla on a mission to save his home.
Koji – Armed with his ancestral katana, Koji slices his way through the battlefield with Sword and Bow!
Lucien – This mysterious highwayman is always scheming for gold, and now has come to Valhalla to take part in the tournament wielding Katars and Blasters!
Val – An android assassin with terrifying strength and quicker-than-light cognition, Val is a force to be reckoned with when utilizing her Sword and Gauntlets.
Kaya – Using her bow, spear and spirit animals, she is ready to try her luck in the Grand Tournament!
Nix – Led by a thousand year hunt, this reaper, armed with both Blasters and Scythe, has found herself a new bounty in Valhalla.
Mako – The ultimate apex predator from The Sea, Mako, with her Greatsword and Katars, aims to make fish meat out of her opponents in the Grand Tournament.
Teros – This Minotaur is indifferent to the rules or intent of the Tournament, and instead, takes savage joy in all the battles while crushing his opponents with Axe and Hammer.
Orion – A revered warrior and champion, the mysterious armored knight uses Rocket Lance and Spear to battle his foes in the halls of Valhalla!