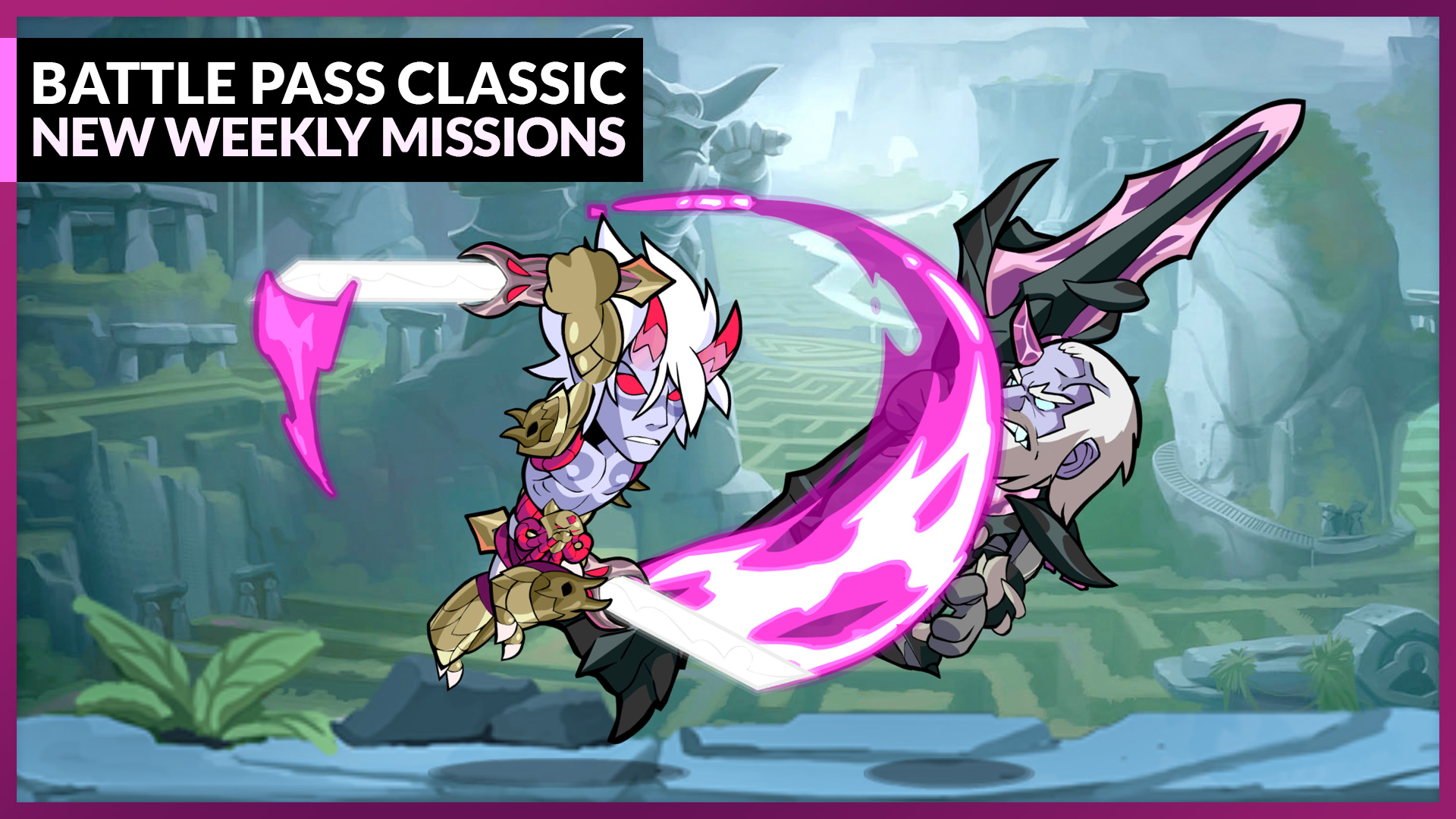 Become a Supreme Oni & Morph 2v2!
Hattori has devised a new set of challenges to see if you're worthy of becoming a Supreme Oni. 
Continue your dark journey by getting 10 First Strikes, winning 15 matches as an Orb Legend, dealing 250 damage with 2 Weapons each in a match, & more to earn Gems and unlock rewards!
Last week, Ranked Season 26 launched with the all-new Valhallan rank. A new rank above Diamond for the Grand Tournament's most elite warriors. To learn all about Valhallan and this latest Ranked reset, check out our full breakdown here!
Grab a teammate and equip your favorite Weapon for a shapeshifting battle in Morph 2v2, featured as Brawl of the Week. We've also updated the free Legend rotation to feature Queen Nai, Isaiah, & Vector.
To catch the latest Brawlhalla news and content, be sure to follow us on Twitter, Twitch, Facebook, YouTube, Instagram, and Discord!

Rejoin Akuma no Kogo Hattori in battle through her Demon Island realm. Return to Demon Island features an up-to-date Battle Pass track with 85 tiers! 
Discover new rewards unlockable by playing Brawlhalla and completing updated missions. Plus, enjoy some exclusive rewards for those who were around for the original premiere of the Battle Pass.
This Battle Pass season features new rewards that were not available in the original release: Emojis, a UI Theme, a Greatsword Weapon Skin, and more, while also starring classics like Akuma no Kogo Hattori, Obake Petra Progression Skin, and many other demonic finds.
Battle Pass Classic: Return to Demon Island also features:
A free track extending through all 12 weeks of the Battle Pass.
A purchasable Gold Track with additional exclusive rewards like the Spirit Temple Progression Podium.
Players that bought the Gold Track during the original run of Battle Season 1 do not need to purchase the Gold Track again.
All players are granted access to all the Weekly Missions!
For all the completionists, a new Title Reward awaits you if you make it through all 85 tiers, and a new Avatar if you also complete all the missions!

Battle Pass Classic Rewards
Return to Demon Island includes new rewards and classics in this updated track. Progression is saved for players that participated in the original run of Battle Pass Season 1.
All players are automatically granted access to a Battle Pass track to unlock more unique Colors, a new Title reward, Avatars, Emotes, Emojis, a Sidekick, and a Weapon Skin. 
Players can also unlock the Gold track to immediately unlock some exclusive items, like the Progression Skin and Podium.
Unlocking the Gold track grants access to a tremendous amount of additional exclusive items and also contains boosters to unlock rewards even faster.
Gold track rewards include the Obake Petra Progression Skin, Akuma no Kogo Hattori Epic Skin, Blue Oni Sidekick, Mammoth Coins, and so much more.
A unique Title Reward awaits those who first participated in Battle Pass Season 1.
"Oni Master": for players who had completed the free track previously at Tier 46.
"Deity of Demon Island": for players who had purchased the Gold track previously.
These Title Rewards will automatically be granted to players who meet these qualifications.
Players will automatically obtain all new content that has been added to tiers they have completed during the original premier.

Updated Missions for Battle Pass
Return to Demon Island comes with classic and refreshed missions to complete! 
All players are granted access to all the Weekly Missions!
Daily, Weekly, and General missions are available throughout the season.
Earn Battle Gems by completing missions to earn rewards!
Battle Gems measure a player's progress toward the next reward tier.
Unlocking the Gold track will grant boosters for more Battle Gems and rewards.
Battle Pass Classic: Return to Demon Island features over 100 rewards with its updated track! Players can also use Mammoth Coins to increase progress along the track while the season is active. For more information about Battle Pass Classics, check out brawlhalla.com/battle-pass-classic-faq.


It's hero time in this 2v2, 3 stock transforming battle! Choose one Weapon each from 3 of your favorite Legends in character select. Activate your powers like the Omnitrix with the throw button to change forms. Weapons are always equipped and cannot be picked up or thrown. Last team standing wins!
Morph Game Mode
2v2, 3 Stocks each
Choose one Weapon each from 3 Legends.
Morph into the different Legends with the throw button.
First to 6 KOs wins!

Demons and technology collide in the Cyber Oni Bundle! This pack – featuring Orion, the Mysterious Stranger – includes:
Cyber Oni Orion Skin
Orion Legend Unlock
Enlightened Song Spear
Dragon's Breath Rocket Lance
This promotion is free to all Amazon Prime members. Claim your loot at brawlhalla.com/prime. 


The free-to-play Legend rotation for this week includes: Queen Nai, Kor, Val, Fait, Mako, Isaiah, Yumiko, Volkov, & Vector.
Queen Nai – With each victory nourishing the gods of her people, Queen Nai has come wielding Katars, Spear, and her powerful sorcery.
Kor – Blackguard Keep's left platform mover takes his place in the arena wielding both Gauntlets and Hammer.
Val – An android assassin with terrifying strength and quicker-than-light cognition, Val is a force to be reckoned with when utilizing her Sword and Gauntlets.
Fait – Speaking to the stars and using glimpses of the future, Fait battles for good with her Scythe and Orb!
Mako – The ultimate apex predator from The Sea, Mako, with her Greatsword and Katars, aims to make fish meat out of her opponents in the Grand Tournament.
Isaiah – Major Isaiah Marshall, OEL's special forces commander is at your service.  He utilizes Cannon and Blasters with the help of his drone, equipped with a cloaking device and rockets at its disposal!
Yumiko – Holding the appearance of a blind seamstress, this centuries old fox spirit has been brought into battle wielding her Magical Hammer and Bow!
Volkov – The Vampire King of Batavia has unexpectedly found Valhalla and has brought his Scythe and Axe to battle.
Vector – Transforming into a jet with his Rocket Lance and wielding his Bow to fight, Vector travels through time and space to battle crime!