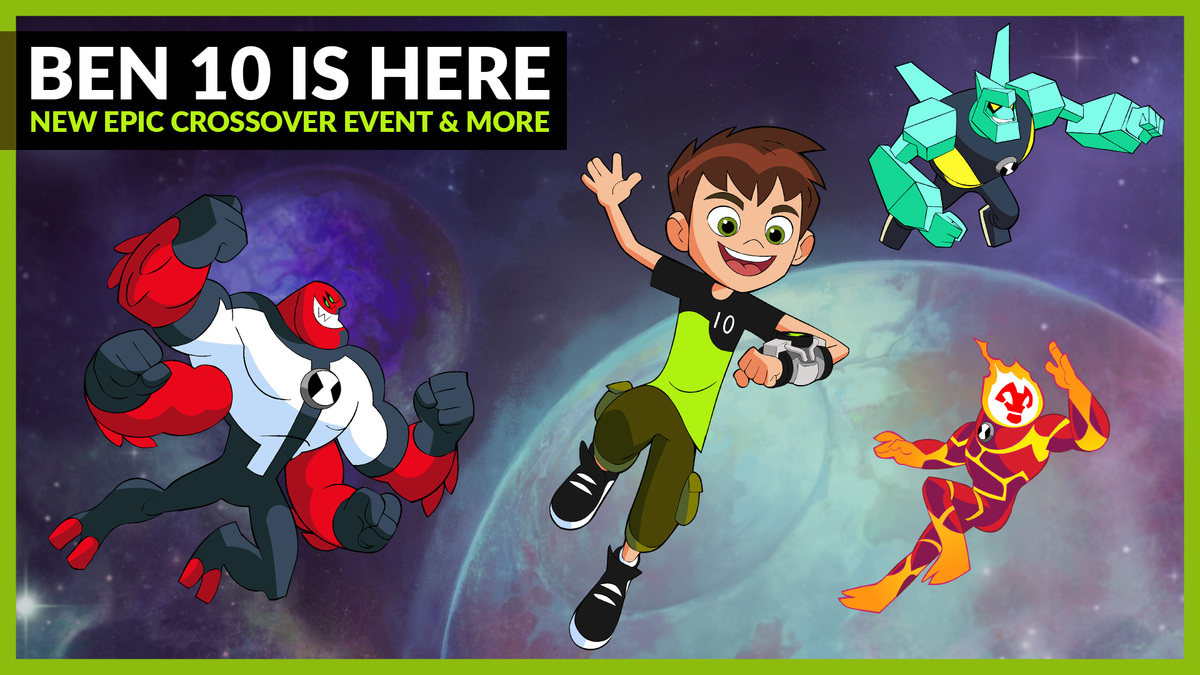 Ben 10 comes to Brawlhalla! – Patch 4.02
Cartoon Network's Ben 10 arrives in his alien forms Heatblast, Diamondhead, and Four Arms to battle in Brawlhalla! This Ben 10 Epic Crossover event features three new Epic Crossovers featuring custom Signature effects, Weapon Skins, and more. Vilgax also makes an appearance as a new KO Effect! The event also includes a new Morph game mode, a new Free-for-All and 1v1 Map, and a slew of other features that will be staying in Brawlhalla permanently after the event ends. 
In addition, Xull has received an update to his base design. We've also made game improvements, bug fixes, and more.
To catch the latest Brawlhalla news and content, be sure to follow us on Twitter, Twitch, Facebook, YouTube, Instagram and Discord!

It's hero time in Valhalla! Heatblast, Diamondhead, and Four Arms are new Epic Crossovers. Epic Crossovers feature custom Signature effects, custom lock-in animations, dedicated Roster spots, and two new Weapon Skins. 
In Brawlhalla, Heatblast, Diamondhead, and Four Arms mirror the abilities of Ada, Caspian, and Kor, respectively, and will be staying in Mallhalla after the event ends. Ben 10, Cartoon Network, the logos, and all related characters and elements are trademarks of and © Cartoon Network, a WarnerMedia company. All Rights Reserved.
Featuring:
Heatblast Epic Crossover – "Bringing the heat!"
Heatblast will scorch his opponents with his Blazing Fire.
Diamondhead Epic Crossover – "You haven't even scratched the surface."
With crystal shards and spiked balls, Diamondhead cuts through the competition!
Four Arms Epic Crossover – "Four armed and ready for battle!"
Using the environment to crush his enemies, Four Arms brings his Concrete Slam into the tournament.

KO Effect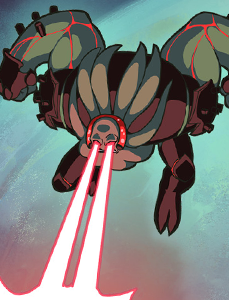 Vilgax
"The conqueror of worlds will destroy you."
This KO features Vilgax rising from the depths to fire laser beams at your opponents before bringing them down with his tentacle arms.
Podium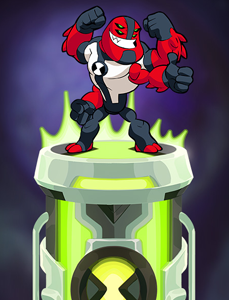 Omnitrix
"It's hero time!"
Let your Legends stand upon the Omnitrix itself. Features a green glow during selection, and for the first time, sound effects upon confirmation!
This Ben 10 event also includes:
A new Ben 10 themed Game Mode and Brawl of the Week – Morph!
Daily login bonus of 250 Gold to celebrate this Epic Crossover event.
A new Free-for-All Map called Galvan Prime and 1v1 Map called Small Galvan Prime, the homeworld of the creator of the Omnitrix.
A Ben 10 themed UI Takeover!


It's hero time in this 1v1, 3 stock transforming battle! Choose one weapon each from 3 of your favorite Legends in character select. Activate your powers like the Omnitrix with the throw button to change forms. Weapons are always equipped and cannot be picked up or thrown. First to 3 KOs wins!
New Morph Game Mode
1v1, 3 Stocks
Choose one weapon each from 3 Legends.
Morph into the different Legends with the throw button.
First to 3 KOs wins!


Xull's base design has received an update to better fit his proportions compared to more recent Legends. This update also features a few added details to his base design, like his shoulder pauldron, while better showing his brute strength physique. Xull's Skins have also received minor updates to better match his new proportions. 


We're rapidly rotating through chests. See the in-game timer to know when the next chest will rotate.
Check out the new Sales items!

User Interface
When changing servers, the region icons have been updated in the UI to better geographical location. US-East is now Ohio and Europe has been moved to Frankfurt.
Power Rankings
Power Rankings have been updated for Spring 2020.
Sound
While in "practice" mode searching for a matchmaking game, the music from the Legend Select Screen will continue playing until a match is found.
Animation
Adjusted character select animation duration for Cassidy, Ada, Lucien, Barazza, Isaiah, and Princess Bubblegum so that animated Blasters' Weapon Skins display correctly.
Adjusted character select animation duration for Teros, Azoth, Ulgrim, Xull, and Sentinel so that animated Weapon Skins display correctly.

User Experience
PS4: Fixed a rare crash involving keyboards.
Animation
Fixed an issue where animated Blasters' Weapon Skins wouldn't animate during wall cling.
Fixed an issue where animated Blasters' Weapon Skins wouldn't animate during a ground pound.
Fixed some body part layering issues in the Flex Taunt.
The new Legend rotation for this week includes: Lucien, Vector, Koji, Thor, Onyx, Jhala, Brynn, and Nix.
Lucien – This mysterious highwayman is always scheming for gold, and now has come to Valhalla to take part in the tournament wielding Katars and Blasters!
Vector – Transforming into a jet with his Rocket Lance and wielding his Bow to fight, Vector travels through time and space to battle crime!
Koji – Armed with his ancestral katana, Koji slices his way through the battlefield with Sword and Bow!
Thor – Finally entering the ring, Thor, God of Thunder, makes his appearance in the Grand Tournament with his trusty Hammer, Mjölnir, and his powerful Orb.
Onyx – The powerful Guardian and Protector of Castle Batavia, Onyx has been offered a place in Valhalla and now defends it ruthlessly with her Cannon and Gauntlets.
Jhala – Given the title "Exalted Lion" by Apollo himself, Jhala "The Unbroken" takes the glamor of Valhalla in stride while having fun slaying her foes with Axe and Sword.
Brynn – Competing for the pure joy of it, this Valkyrie has seen many victories due to her skill with the Axe and Spear.
Nix – Led by a thousand year hunt, this reaper, armed with both Blasters and Scythe, has found herself a new bounty in Valhalla.