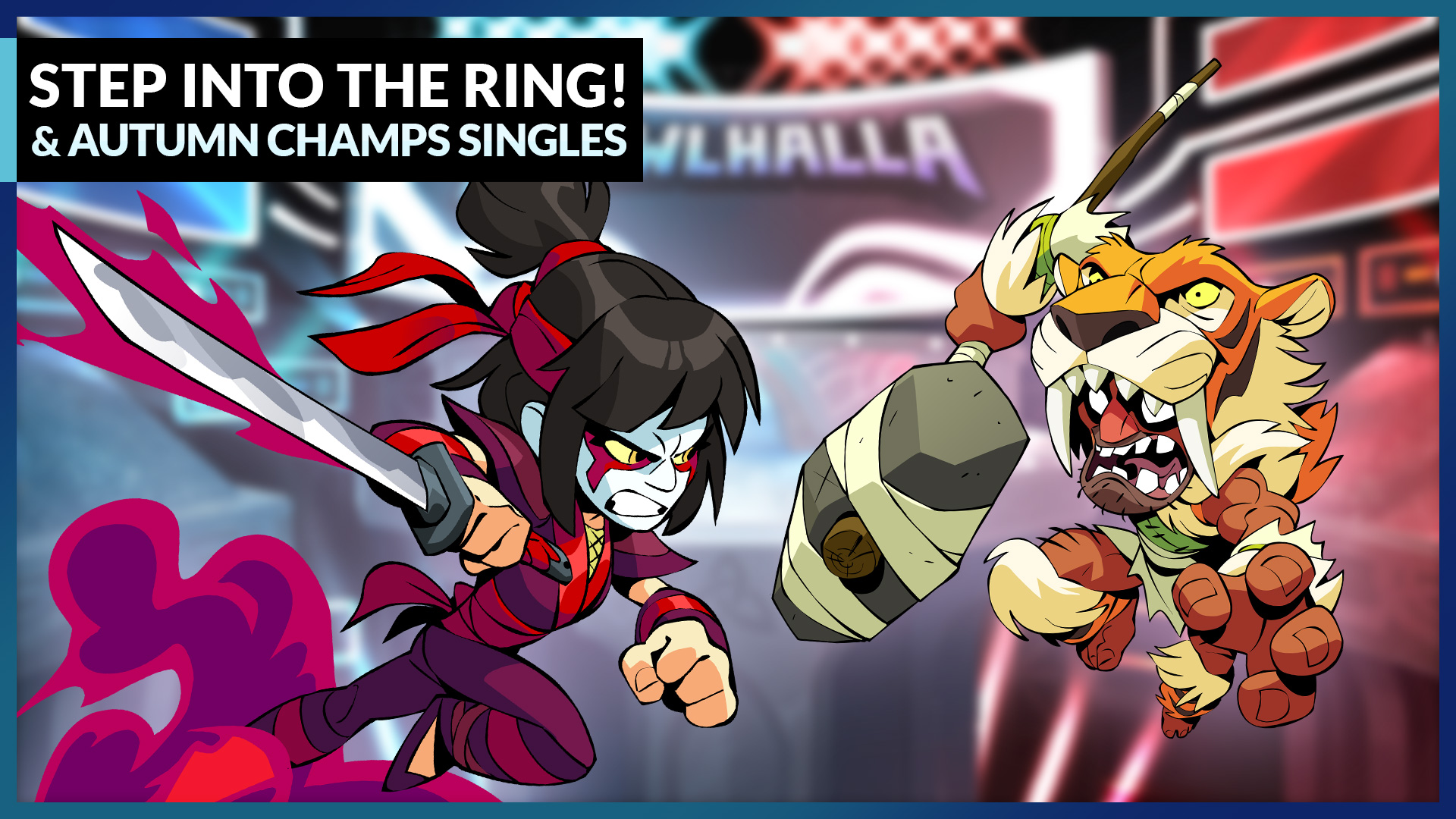 Brawldown & Autumn Championship Singles!
Step into the ring with a friend in Brawldown featured as Brawl of the Week! Do some heavy damage in this 2v2 match by stunning your opponents with a folding chair or bounce yourself off the ropes for a more high-powered attack. 
Tune into the second and final weekend of Autumn Championship 2022 – Singles! Watch the Twitch streams all weekend long to catch the action and earn exclusive Viewership Rewards. The longer you watch, the more you earn! 
To catch the latest Brawlhalla news and content, be sure to follow us on Twitter, Twitch, Facebook, YouTube, Instagram and Discord!

Step into the ring with your tag team partner for a 2v2 no holds barred match! Keep the momentum going by bouncing yourself or your opponents off the ropes. Stun your target with a folding chair or knock them into a table for heavy damage. KO your opponents 3 times each to win!
Brawldown Game Mode
2v2
6 Stocks
3 minutes
Use folding chairs and tables to stun your enemies!

Autumn Championship 2022 reaches its final weekend with Singles! Starting this Friday, each Brawlhalla Esports region from around the world will be competing in their respective 1v1 matches. Find out which players will achieve victory!
Tune in to watch the action live on twitch.tv/brawlhalla!
Friday, September 23 – Southeast Asia & Australia Singles
Saturday, September 24 – Europe & South America Singles
Sunday, September 25 – North America Singles
For times in your local time zone, see brawlhalla.com/schedule.
Earn exclusive Viewership Rewards by tuning in to our Twitch streams. The longer you watch, the more you earn! Rewards for this weekend include:
Esports Colors v.3
Harvest Sickle Scythe
Esports Colors v.2
To learn more about Brawlhalla Esports Year Seven, visit brawlhalla.com/esports. 


Get ready to graduate flight school, space cadets! The Space Dogfighter Bundle is available for one more week. This pack includes:
Space Dogfighter Vraxx
Lord Vraxx Legend Unlock
Zoid Sidekick
Imperial Rocket Lance
This promotion is available to all Amazon Prime members. Claim your loot at brawlhalla.com/prime. 
Starting next week, demons and technology collide with the Cyber Oni Bundle! This new pack will include:
Cyber Oni Orion Skin
Orion Legend Unlock
Enlightened Song Spear
Dragon's Breath Rocket Lance


The free-to-play Legend rotation for this week includes: Mirage, Cassidy, Azoth, Petra, Ulgrim, Mako, Jiro, Isaiah, & Hattori.
Mirage – An occultist, martial artist, and spy, this agent uses the powers of magic and time-travel along with her Scythe and Spear to take down her foes.
Cassidy – The Marshal of the Old West is ready to instill justice into Valhalla with both Hammer and Blasters!
Azoth – Devoted acolytes bring this brilliant and ruthless lich lord to life as he comes into Valhalla to do battle with Bow and Axe.
Petra – Having been set free from Terminus, Petra sets her eyes on Valhalla with her Orb, Gauntlets, and Darkheart powers.
Ulgrim – Equipped with flawless Ivaldi creations, his Axe and Rocket Lance, the legendary blacksmith forges his way into battle!
Mako – The ultimate apex predator from The Sea, Mako, with her Greatsword and Katars, aims to make fish meat out of her opponents in the Grand Tournament.
Jiro – Trained as a child by a powerful and secret shinobi family, Jiro comes into the arena with not only Scythe and Sword but shadow clones as well!
Isaiah – Major Isaiah Marshall, OEL's special forces commander is at your service.  He utilizes Cannon and Blasters with the help of his drone, equipped with a cloaking device and rockets at its disposal!
Hattori – A gifted ninja with unparalleled skill with the Sword and Spear has discovered Valhalla. Will she find any worthy challengers there?