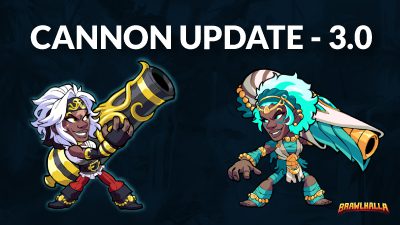 Brawlhalla Patch 3.0 – Cannon Update!
Hello and welcome to Brawlhalla Patch 3.0! In this momentous update we're adding Cannon, new Legend Sidra, and getting over our excitement over launching Brawlhalla on Steam and PS4! It's a big week for Brawlhalla players everywhere, and we're excited for this next chapter.
Brawlhalla has launched!
Brawlhalla has officially launched on Steam and PS4! Now that we've launched, we're going to continue building up the game based on player feedback just like we always have. Expect more updates, more Legends, more weapons, more features, and more content as we continue to make Brawlhalla bigger and better. Thank you for playing!
New Legend and Weapon!
Cannon and our new Legend Sidra launch today! Cannon is a heavy hitting weapon with big blows, and powerful blasts. We're excited to see what the community does with Cannon, (post those combos!) and we hope everyone will have fun with this new addition to the weapon arsenal of Brawlhalla.
Cannon has arrived and is now part of the Brawlhalla armory.
Sidra the Corsair Queen is now available to play!
Weapons: Cannon & Sword
Stats: 6/4/6/6 (Strength, Dexterity, Defense, Speed)
Mallhalla
Sidra launches with three new skins available in Mallhalla.
Pirate Queen Sidra – "Undisputed sovereign of the seas."
Atlantean Sidra – "The true treasure of the depths."
Kraken Sidra – "Often the last sight unfortunate sailors see before being dragged to the depths."
Brawl of the Week – 3v3 Brawlball!
3v3 Brawlball.
Queue solo or with friends!
First to three scores win.
User Interface
Making right or up directional inputs on the main menu while over the rightmost tile with now step into the top-right corner menu.
Added new UI sounds.
Art and Animation
Minor animation tweak to certain frames on Spear's Neutral Air, Dash, and Landing animation to improve layering for certain costumes.
GamePad Support
Added support for USB Gamepad for Windows.
New Legend Rotation
This week's new Legend Rotation features Asuri, Bodvar, Cross, Diana, Mirage, and Ragnir.
Bug Fixes
Fixed bug where the charge star at the beginning of a lot of heavy attacks would not appear.
Fixed axe rendering bugs on Arcanium Ulgrim.
Fixed an issue where characters with tails have the tails face the wrong way during the "Be A Hero" taunt.
Fixed typo in the offline tutorial rewards warning.
Fixed loin cloth layering issues with Roland the Victorious skin.
Fixed a bug in team matchmaking lobbies with a local guest where it would let you pick any color that you owned for both characters, and locking in would then result in the server correcting you to use team colors if the chosen skins were identical or too similar in silhouette shape. It will now correctly force you into using team colors before locking in in this situation.
Fixed a rare bug in Friendly 2v2 matchmaking and any team-based Brawls of the Week where the opposing team could appear as a different color in the Match Preview than they would during the game.
Fixed a rare bug in Friendly 2v2 matchmaking and any team-based Brawls of the Week where the opposing team could get set to Team Blue during a color conflict even if your team was Blue, Cyan, Green, Community Colors, or Skyforged. The opposing team will now be set to Team Red in those situations.
Fixed a rare visual bug on powers like Yumiko Down Hammer that could display dissipation special effects at the wrong position when interrupted.
PS4 – Fixed a bug in Ember's bow side signature where the wolf would disappear.
PS4 – Fixed a missing gold coins display in the tutorial complete screen.
PS4 – Fixed some blurriness on some graphics.
PS4 Update Timing Note
Brawlhalla 3.0 will release on PS4 shortly after it releases on PC. As we continue to patch on both PC and PS4 we are aiming to bring patch times closer and closer together. Thanks for your patience, and for playing!