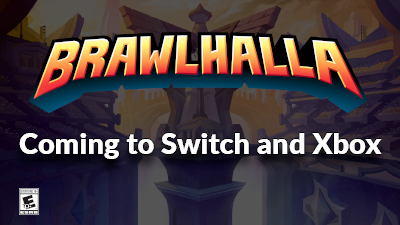 Brawlhalla is coming to Switch and Xbox!
We're happy to announce Brawlhalla will be coming to Xbox One and Switch on November 6th! Read the press release below or on the Ubisoft website: https://news.ubisoft.com/article/brawlhalla-launches-on-xbox-one-and-nintendo-switch-on-november-6
"With more than 15 million players on PC and PS4, Brawlhalla will be recruiting even more fighters when it arrives on Xbox One and Nintendo Switch on November 6. Players on both consoles will soon be able to take part in both single-player and co-op fights as well as online and local competitions with more than 40 unique characters."
"A free-to-play platform fighter, Brawlhalla challenges players to eliminate up to seven opponents by knocking them off the fighting stage. Each character is capable of wielding two different weapons, and switching between them mid-match allows fighters to dramatically alter their moveset and attacks. In addition to weapons, you can utilize punches, kicks, grabs, throws, wall jumps, triple jumps, and charged attacks to outlast your enemies and whittle them down before knocking them out for good."
"Set in the warrior heaven of Valhalla, Brawlhalla begins as Odin, King of the Gods, commands his Valkyries to gather the greatest warriors to fill his halls. Much to Odin's surprise, the Valkyries don't stop at gathering Vikings, but collect the most legendary warriors from across space and time. Soon, Valhalla is full of pirates, cowboys, Amazons, aliens, and monsters. Their battle prowess and short tempers mean that they're constantly fighting with one another as they await Ragnarok. So, in an effort to give them a constructive outlet for their violent ways, Odin sets up the grand tournament of Brawlhalla so that the warriors can fight it out until the end of days.
The game comes to Xbox One and Switch just days before the third annual Brawlhalla World Championship at Dreamhack Atlanta on November 16-18. For more news on Ubisoft titles, head over to news.ubisoft.com."