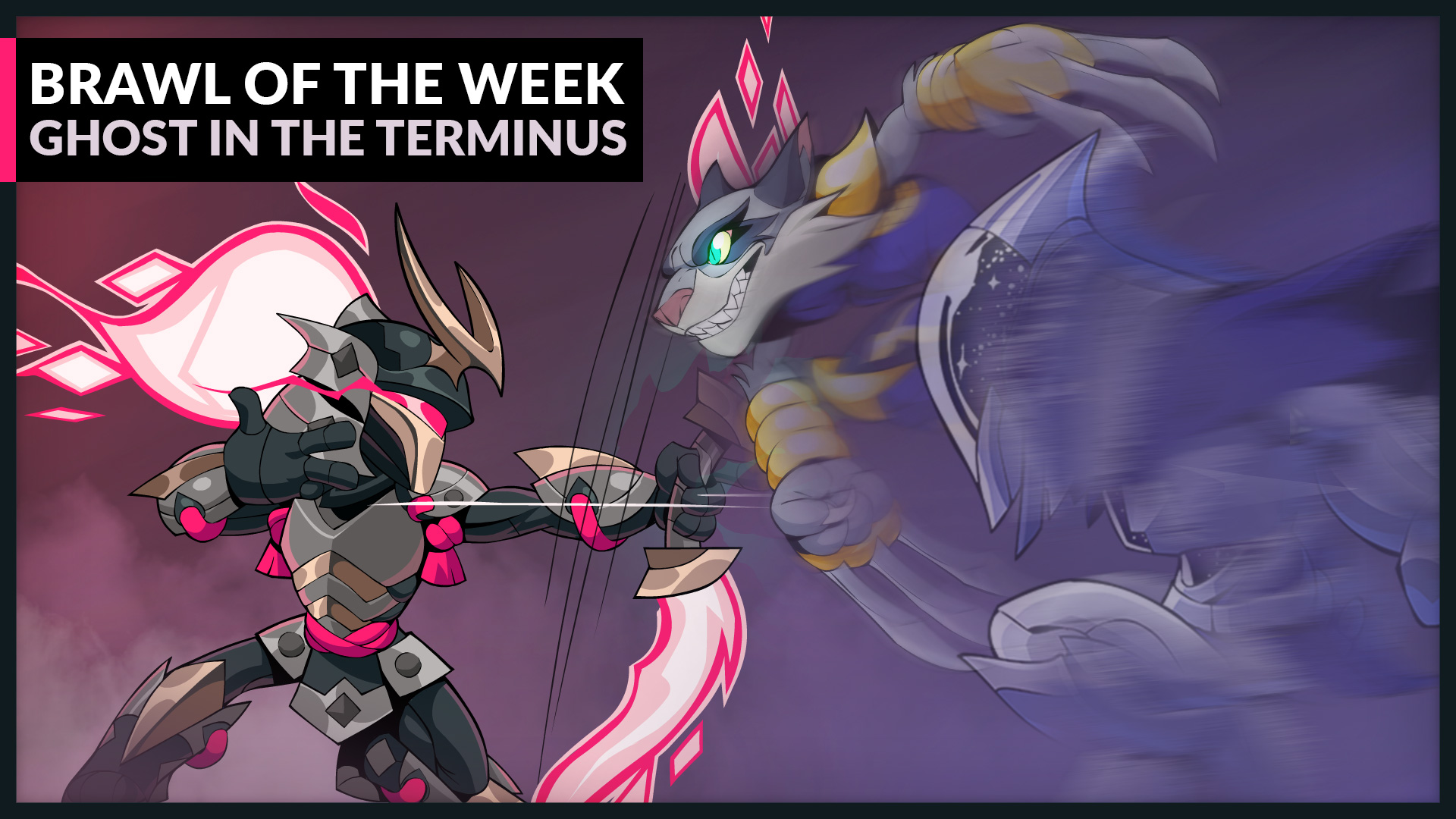 Break out of the Terminus!
Prove you can escape the god of mischief! Get ready for Ghost in the Terminus for Brawl of the Week. Phase in and out of visibility to escape from Loki's interdimensional citadel in this high stakes free for all game mode. 
We've updated free-to-play Legend Rotation to include Wu Shang, Diana, Magyar, and more. Don't forget to check out the sales items and the chests frequently rotating in Mallhalla.
Get ready to join the Order of the Exalted Lions! Battle Pass Season 4 begins next week with new missions, progression items and more. Stay up to date on all the reveals by checking brawlhalla.com/battlepass.
To catch the latest Brawlhalla news and content, be sure to follow us on Twitter, Twitch, Facebook, YouTube, Instagram and Discord!
Phase in and out of visibility as you fight for your escape from Loki's prison! Queue up against 2 other Players in a 3 minute FFA game with 300% damage. Score 2 points for KO-ing an enemy, lose 1 point for being KO'd. All while you and your opponents go invisible when not using powers!
3 Player FFA
3 minutes
300% Damage
Most points at the end wins!


The Solidarity Emote benefiting Campaign Zero is still available.
Looking for a certain chest?
We're rapidly rotating through chests, so check out the in-game timer to know when the next chest will rotate.
Find the new Sales items!


The free-to-play Legend rotation for this week includes: Wu Shang, Barraza, Dusk, Diana, Onyx, Artemis, Teros, Magyar, and Asuri.
Wu Shang – Using the way of peace, discipline and martial arts, he takes down his foes with Spear and Gauntlets!
Barraza – A feared man in the wastelands with his Blasters and Axe, Barraza is the ultimate survivor and will do what it takes to be at the top in Valhalla.
Dusk – Wielding his Spear and a powerful Orb, carved from stone and magic, Dusk seeks to spread chaos throughout Valhalla.
Diana – Commander of the Order's hunters, she uses her Bow and Blasters to slay countless beasts and monsters.
Onyx – The powerful Guardian and Protector of Castle Batavia, Onyx has been offered a place in Valhalla and now defends it ruthlessly with her Cannon and Gauntlets.
Artemis – Transversing the universe in search of her rival Orion, Artemis has ripped open a wormhole into Valhalla, armed with a Rocket Lance and Scythe; she is ready to fight!
Teros – This Minotaur is indifferent to the rules or intent of the Tournament, and instead, takes savage joy in all the battles while crushing his opponents with Axe and Hammer.
Magyar – As the last remaining member of the Batavian Strazci army and wielding the strength of a 100 elite knights, this spectral guardian has come for the glory of battle with their Greatsword and Hammer!
Asuri – This Night Stalker has claimed the Tournament as her territory and sets upon challengers to her domain using Katars and Sword!