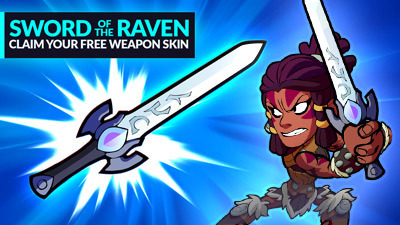 Claiming the Sword of the Raven!
[et_pb_section bb_built="1″][et_pb_row _builder_version="3.27.3″ custom_padding="0px||0px|" box_shadow_horizontal_tablet="0px" box_shadow_vertical_tablet="0px" box_shadow_blur_tablet="40px" box_shadow_spread_tablet="0px" z_index_tablet="500″][et_pb_column type="4_4″][et_pb_text]
Odin has brought Gifts of Asgard to the earthly realm, starting with the Sword of the Raven! This social media weapon skin is now available for ALL platforms. That means you can unlock this social blade for PC, Playstation 4, Nintendo Switch, and Xbox One.
All you need to do is go over to brawlhalla.com/freesword. You can redeem the Sword of the Raven one time on a platform of your choice.
This means if you have ever used your Twitter account to claim the code on another platform, it will show that code again. One code is given per Twitter account.
We appreciate all of you who have already followed us to stay up-to-date on everything Brawlhalla!
[/et_pb_text][/et_pb_column][/et_pb_row][/et_pb_section]