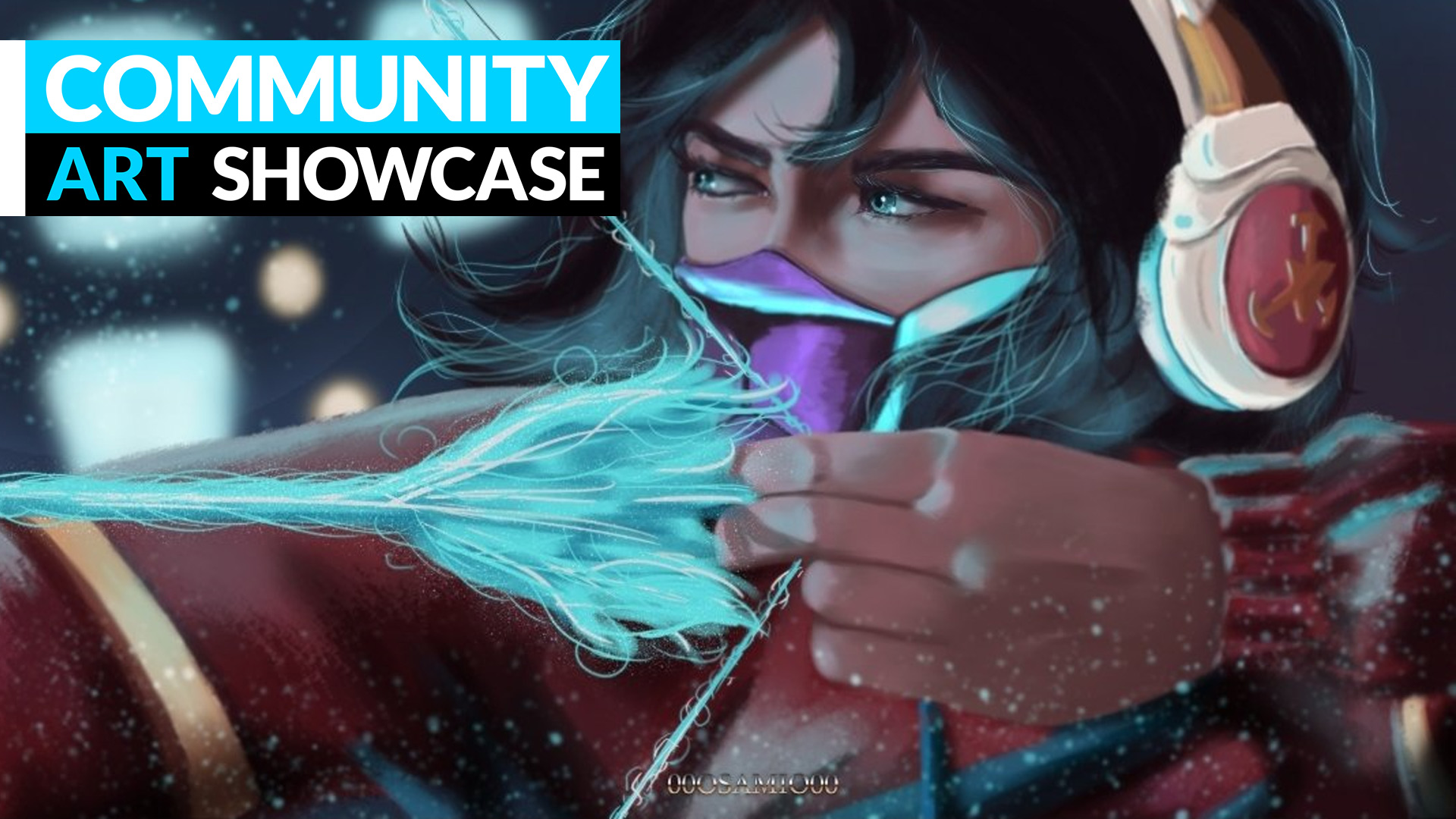 Community Art Showcase #81
Welcome to the 81st Brawlhalla Community Art Showcase! We've got some fantastic art that ya'll in the community have made that we want to show off! As always, thank you for continuing to create amazing community art and for sharing it online! 40S_D0-2VPBXN
Featured thumbnail art by SAMI – https://twitter.com/00oSamio00

https://twitter.com/Kaya69425158/status/1375970852471119872
Wow the community artists keep getting better. I'm in love with the textures and wispies.
couture nix ~🌸
an attempt at painting was made : O #BrawlhallaArt #Brawlhalla #couture #nix pic.twitter.com/FzVtdyyvvI

— Ellumi (@EllumiLucid) March 29, 2021
This is so good! The attitude in the face and the coloring and lighting is all so good.
Thanks for ordering!
This is by far the worst ive done in terms of scheduling etc so i hope to make up by doing better. See you guys on stream with the next commission.#BrawlhallaArt #Brawlhalla pic.twitter.com/CxNhMEX1Yy

— Avi (@Aevetharia) March 25, 2021
Oh my god! This is awesome! There's so much to look at and each piece is amazing!
https://twitter.com/ghostohloco/status/1375171699331719185
AHAHAHHAHAHAHAHAHHAHA A0E5YP-B5E_6H
If i don't post this rn I'm probably gonna forget so
Hehe red
My assignments made this take so much longer than it should have#brawlhalla #BrawlhallaArt pic.twitter.com/gYRdwAHSrU

— Shi (@JaeShiDead) March 26, 2021
Yo, this is killer. Really well done by NastyShiJae.
it's so beautiful#BrawlhallaArt #Brawlhalla #digitalart #traditionalart #artwork #drawings pic.twitter.com/3bTTmErWs1

— ThePoke (@MechaPunk44) March 26, 2021
MechaPunk did an awesome job drawing Darkheart Artemis.
ma boy💙#BrawlhallaArt #Brawlhalla pic.twitter.com/bzq0nCHdto

— den (@dengry_) March 29, 2021
Really well done, love the choice of camera angle by Dengry.
Mirage Incarnate
I'm not very satisfied with this one…#BrawlhallaArt #Brawlhalla pic.twitter.com/hNeXwWEqgj

— NekoTwins (@NTwins666) March 27, 2021
Oh so scary. Really good job on the splatter in the background and the design on the hood.
Shogun Jiro
___________________#art #artist #brawlhalla #brawlhallaart #illustration #digitalart #UbiFanArt pic.twitter.com/OU1jv95jEm

— 𝓢𝓾𝓷𝓢𝓮𝓻𝓸 (@SunSero1) March 28, 2021
This looks straight out of a period piece art book. Like an archeologist unearthed it and put it in a museum.
doodle#BrawlhallaArt #Brawlhalla pic.twitter.com/e8aTNKtGDr

— Sh4 (@sh4_dead) March 31, 2021
Sh4 has a unique style that I adore. More mirage love this time.
Casual Ember with long hair 🧡✨#Brawlhalla #BrawlhallaArt #digitalart pic.twitter.com/jcWWPeGLDX

— Nevi 🎨 (@Nevianna3) March 29, 2021
So cute! Legends have to let their hair down once in a while too.
Lord of drip
(Nix Couture)#BrawlhallaArt #fanart #digitalart pic.twitter.com/ye7kMlkjtV

— Stupe_X (@dddown_grade_00) March 26, 2021
The texture and everything going on with the smoke is absolutely absurd.
Wanted dead or alive for spamming hammer attack @Brawlhalla #Brawlhalla #BrawlhallaArt #Fanart pic.twitter.com/fMQK71K6LR

— Zustos (Commissions OPEN!) (@Zustos_) March 30, 2021
Marshal Cassidy is here to arrest some varmints! 5NA_RK-VZ510G

#BrawlhallaArt #brawlhalla #art pic.twitter.com/f9ZqEJZVNJ

— MIKE🐟 (@Fishman_Mike623) March 2, 2021
0A3Q2B-8V_RKK
https://twitter.com/Cyanpetra/status/1372735256214704132?s=19
1TNE3N-C_RGWV
Everyone: "What of Brawlhalla was an anime?"
Me: "What if Brawlhalla was a comic book/graphic novel?"#BrawlhallaArt #Brawlhalla #comic pic.twitter.com/7l5IMBJ0LF

— CJ Heckfire (Back and Blazin') (@CJHeckfire) March 21, 2021
54G94Z-CG_863
ngl these new skins are a must cop #BrawlhallaArt #BrawlhallaArt pic.twitter.com/hSKa8TTESQ

— SHANG (@TheRealDuShang) March 23, 2021
3JQ4MW-0AA_NY
gotta train for the next big tournament! #Brawlhalla #BrawlhallaArt pic.twitter.com/dopoEnBUGE

— Viridius "Goober" Green (@ViridiusGr) March 24, 2021
TQEN3K-0V65_P
https://twitter.com/triton_vert/status/1374765195738947595?s=19
TAC66V-5_JVJ9
For the event art show on the BH Discord server#BrawlhallaArt #Brawlhalla pic.twitter.com/HnPhz7oxJr

— Zestie (@ZestiestZ) March 28, 2021
9PJZJ4-6QY_2B
been waiting to post this one for a bit

commission i did!! bodvar nsig, for nsig#Brawlhalla #BrawlhallaArt #Bodvar pic.twitter.com/YEBzjV31Gs

— Sapphire (@_Sapphires_) March 30, 2021
RZN33K-1XX2_E
Magic Spell #Brawlhalla #BrawlhallaArt pic.twitter.com/A7tWMsx9sC

— Compa /Comms OPEN AF (@Compaculaaa) March 31, 2021
B4DX6F-T0_R44
High frequency Yumiko 🏹🦊#BrawlhallaArt @Brawlhalla pic.twitter.com/mKCTRT4VcL

— SAMI《 سامي 》🌙 (@00oSamio00) March 31, 2021

AGH8W1-31_K5X

Thanks for checking out the 81st Community Art Showcase. If you find something you like and want to share it with us, use the #BrawlhallaArt or tag us @Brawlhalla. If you're looking for the CC's then you'll have to look throughout the post and figure out the missing character through trial and error. YP8FRG-21_6EG