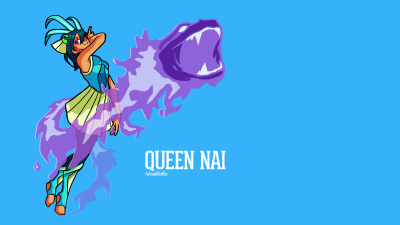 Welcome to the 21st Community Roundup! It's been another great few weeks for Brawlhalla and we have more great things from the community to show off! Season 2 started, everyone apparently got obsessed with Val, and there's been FAN ART OF OTHER FAN ART. I mean, that's pretty impressive. Love seeing all this amazing stuff from the Community, thank you all for playing Brawlhalla and loving this game as much as we do! 
---
Community Art
Colorization Contest of DeviantArt user amucchina's "Brawlhalla Selfie" artwork
Wuuuuu Shannnnngggg @Brawlhalla pic.twitter.com/HGBGejC5jp

— Betsey✨ (@iFluffle) September 12, 2016
[FAN ART] Hattori is preparing for battle! @Brawlhalla pic.twitter.com/2p3MUvNEtN

— Barry Cosmos ? (@OmgItsBarry_) September 14, 2016
I have test Teros Illustration for @Brawlhalla, Send me your opinion ! 😀
HD : https://t.co/vgonUEFSAg pic.twitter.com/fCorERIlSG

— Didier L. ? (@DidierLaureaux) September 20, 2016
Queen Nai 😮 @Brawlhalla pic.twitter.com/cbrDDwjcRZ

— Betsey✨ (@iFluffle) September 21, 2016
sharing is caring- baby wu wu from @Brawlhalla pic.twitter.com/XvbIi5cyhM

— vivien (@vivieneggx) September 22, 2016
" In the meantime, Val and Brynn enjoy kung-fu movies"
I did this sketch time ago after reading Val's lore @Brawlhalla pic.twitter.com/V7VhTetrvq

— Federica (@fede_941) September 22, 2016
Ada and Val from @Brawlhalla pic.twitter.com/vLHJablOtG

— vivien (@vivieneggx) September 23, 2016
@Brawlhalla Skin Concept: Coplay Val :DD pic.twitter.com/VSwP7AmPZd

— Focusedz (@octiberbecar) September 23, 2016
https://i.imgur.com/cu6lsl1
---
Videos / GIFs
---
This fantastic montage of BCS highlights by Ephyr Lee asks the question on every Brawlhalla fan's mind…
This video shows of the technical "Throw n' Pick Up" combos that exist at higher levels of gameplay. Practical? Maybe. Awesome? Yes.
https://www.youtube.com/watch?v=PP7W4BtUlTo&feature=youtu.be
An eggsoup montage from eggsoup. No more needs to be said.
This past week the community helped contribute funds to fly The Lads Arkosh and Jellyfish to the Brawlhalla World Championship. This was their thank you combo.
A nice blasters based black hole from Kahki and Legitly_Epic.
Sometimes you just need to play as a team.
Gold players attempt black hole in 2v1 situation with mixed results.
A crazy gauntlet string created by /u/lithium43 and submitted by /u/TheEkjam.
A beautiful zero to death gauntlet chase down by Kor.
The assisted Russian Mafia combo.
---
API Websites
---
We'd like to shout out two of the first fan made websites utilizing the Brawlhalla API (still in beta, but it is working!).
The first is www.brawldb.com. This prototype was put up almost the day after the API was announced and we're excited to see how it evolves over time.
Second up is www.brawlhalla.rocks. Brawlhalla Rocks is a bit further along in development and has already proven useful to many players looking at their weapon percentage breakdowns and look up the statistics of their opponents.
Here's some screenshots!
---
Thanks everyone for checking out the twenty first Community Roundup! If you've seen some great Brawlhalla things out there let us know! Send us a Tweet or let the community know on reddit.
I think this was the longest roundup we have ever had. Ever. So if you've made it this far, you're awesome. So here's a big list of Community Colors. Remember to enter these in your Steam Library, and that they're single use only, so if one of them doesn't work someone else has already claimed it.
Cheers and thanks for being a part of the Brawlhalla Community!
P9XKQ-DJDVJ-X34A5
EIGCN-QXN2J-ZHLVA
V94IA-J2NR2-3FIRB
G96II-YQ4BJ-J4W5M
YMART-NG59X-7F7W2
DJZM8-65NV0-9HHRA
PKXZ5-NWJNP-2CFTD
XMB42-N7B84-0653R
9RM2J-GAA0P-ILGA0
ER2MK-9VFRF-A952B
HG39P-442I9-P0LW6
LLHPK-RJBC3-3KBCV
V8W5I-7BV6R-32VKQ
04HJG-XWX6C-VAEIT
CF0FP-EFJ2J-XV868
AZR80-0QLTE-MTCH8
NFYC8-C2BR0-9HCKA
43BKV-0E2EW-RB759
50N03-FAKKI-AI220
GK4PG-29MN7-7D5BH
WCF0M-M4XHK-YJBDE