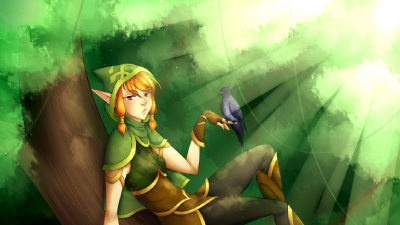 Welcome to the 27th Community Roundup! The Brawlhalla World Championship has come to a close and our champions have been declared! Despite all of the excitement surrounding BCX our community has been as active as ever, creating awesome art for the fans of Brawlhalla everywhere. Check it out!
---
Community Art
---
Joseph Cross Brawlhalla

my new crash ** pic.twitter.com/UCIoHbqULA

— Lara Bonetti (@lary_neko_) November 17, 2016
@Brawlhalla I love Val's design <3 pic.twitter.com/7X8CQgUw1t

— WhiteTigressOfficial (@AlduLoz) November 15, 2016
#cutiesaturday i couldn't post last week since i wasn't feeling good bUT here's a character from @Brawlhalla pic.twitter.com/aGJ9LproIE

— (๑ↀᆺↀ๑) (@miqotesos) November 12, 2016
@Brawlhalla Alive Azoth??? I hope you like it:)
-GreenGabry & Gaming32109 pic.twitter.com/DJmaqBudGY

— gabriele lovico (@GabrieleLovico) November 9, 2016
@Brawlhalla this is my drawing of Lucien pic.twitter.com/irVp8vTYoA

— LWC (@Fasgamer2708) November 9, 2016
woah look it's every ember skin- who am i, clunse? @brawlhalla pic.twitter.com/0ULuxB83k2

— vivienegg (@vivieneggx) November 8, 2016
My back hurts after sitting for so long, but finally @Brawlhalla Awakened Asuri Fanart pic.twitter.com/lVjojVKJAX

— ⋌ Tahonksha ⋋ (@parasolpng) November 17, 2016
@Brawlhalla @NickDolce @ZekeSparkes Have a FatalAda https://t.co/HmUoKpK7xi pic.twitter.com/mm9WAiY3tH

— BrayMax (@braymaxwell) November 8, 2016
Awesome drawing from @LadyMyrrialia for Blood Diamond of @KingdomeSports_ winning a @BrawlLeague tourny for @Brawlhalla #tagginglotsofstuff pic.twitter.com/9k8652YQQY

— drop (@kevinfriedel) November 7, 2016
@Brawlhalla I drew this~ Planning to do a comic with these two ? Made the skins myself! ?? :3
Lucien – The Outcast
Brynn – Regal Brynn pic.twitter.com/Jv6derS4LA

— Renee Rasmussen (@ButeonineOwl) November 5, 2016
---
Videos!
---
Thanks everyone for checking out the twenty seventh Community Roundup! If you've seen some great Brawlhalla things out there let us know! Send us a Tweet or let the community know on reddit.
3FB45-MXGJ9-6BAMM
0M79Q-NC7C0-F0TTA
VLLQY-C3J6R-NW9RX
0PVBL-TD09J-739FN
7CKET-2XAMW-W55TZ
GY7LT-AEKXD-XH4V2
25DLZ-NY6H3-6NR9B
PWV37-MQZM9-6WLW3
TLC09-8RAZL-GYX7J
0RFEG-6W8ME-HM7HV
IH67N-ZW5V9-IKI0R
N77AC-74TFV-Y4WRI
IMF0B-Z5JQ6-9H8J4
3XPX0-WXVLM-RWHVK
HV39H-BA0BI-3HQWY
20GDD-MBTHL-QRD38