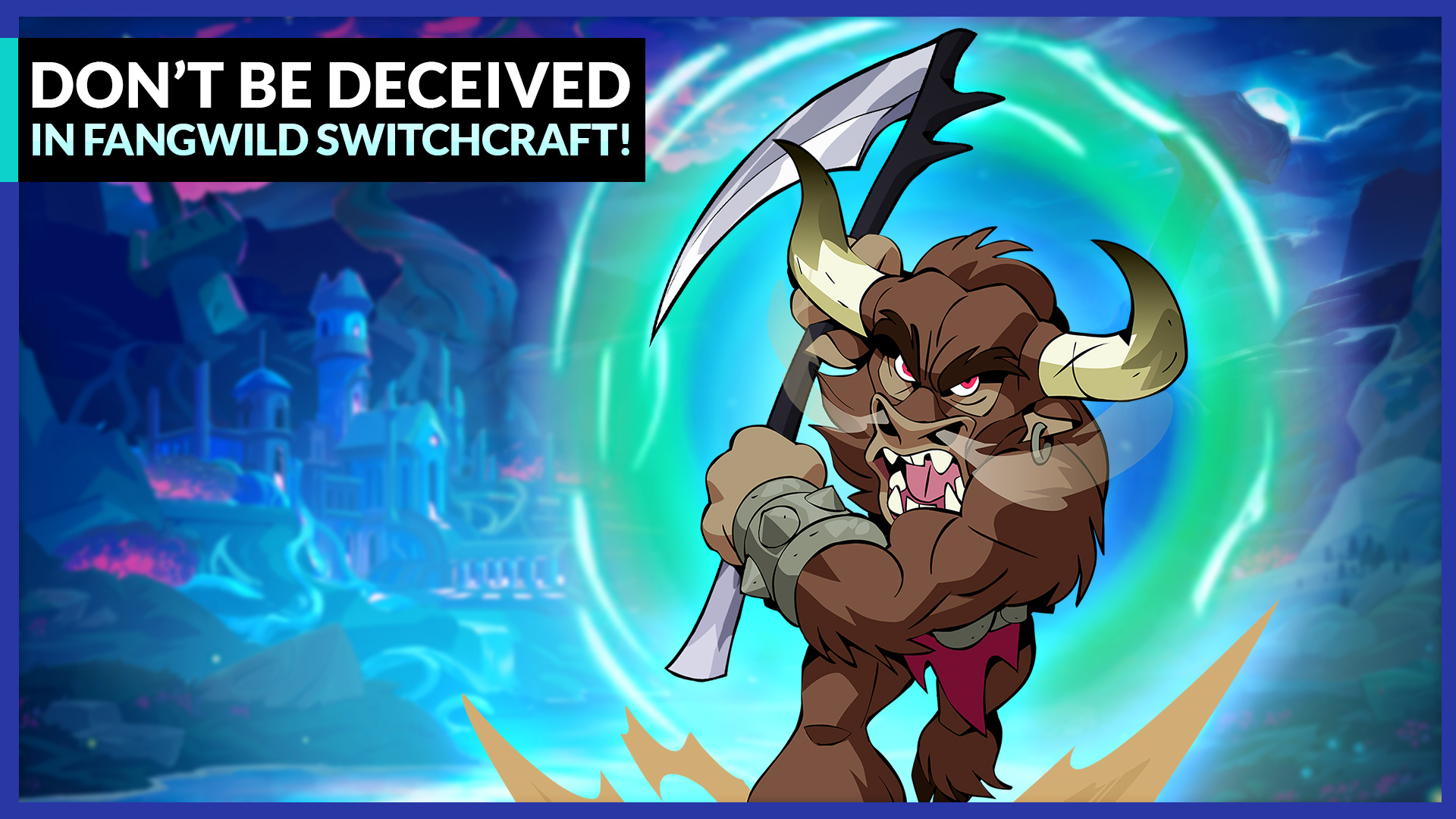 Don't Let your Eyes Deceive You in Fangwild Switchcraft!
The Fangwild forest is treacherous. Many who weren't careful have lost their way in the ever-twisted terrain. Some have even experienced hallucinations while journeying through.
Glimpse these forbidden visions in the new Brawl of the Week – Fangwild Switchcraft. Mix up 3 Legends' Weapons & Signatures, then battle in teams of 3. Knock out the opposing team's 9 Stocks to win!
Continue your trek with the new Weekly Missions available in Battle Pass Season 6! Some missions this week include: win matches with Legends that have been to the Fangwild, Emote on Kor's Platform, and KO opponents off the top of the screen with Down Signatures.
Let the Heart be your guide and claim the Grovewarden Bundle, now available to all Prime members at brawlhalla.com/prime.
To catch the latest Brawlhalla news and content, be sure to follow us on Twitter, Twitch, Facebook, YouTube, Instagram and Discord!

Enter the Fangwild and discover 85 tiers of brand-new exclusive rewards unlockable by playing Brawlhalla and completing missions. All players are granted access to the Weekly Missions to unlock even more items! The Battle Pass season will last 12 weeks.
This Battle Pass season features new Skins for Dusk, Arcadia, and Scarlet, an animated Epic Skin for Ember, and a Progression Skin for Ragnir. Complete the progression missions to level up Ragnir and reach his final animated form.
Battle Pass Season 6 also features:
A free track extending through all 12 weeks of the Battle Pass.
A purchasable Gold Track with additional exclusive rewards like the new Fabled Overgrowth Progression Podium.
All players are granted access to all the Weekly Missions!
The first ever Battle Pass themed Emojis, including animated Emojis!
Two new Maps that include the first ever animated backgrounds!
Brand new Brawl of the Weeks called Fangwild Switchcraft and Fangwild Scuffle.
A new UI takeover featuring an animated splash art of Fangwild's Heart Ember and Elder Wild Ragnir!
New main menu, character select, and post-game theme music.
For all the completionists, a special Avatar and Title Reward await you if you make it through all 85 tiers!

Exclusive Battle Pass Items
The Fangwild Battle Pass includes brand new rewards that match the theme, like Deathcap Dusk, a mystical and overgrown UI theme, and a special Avatar & Title for players who complete all 85 tiers.
All players are automatically granted access to a Battle Pass track to unlock more unique Colors, a new Title reward, Avatars, Emotes, Emojis, an animated Sidekick, and a Weapon Skin.
Players can also unlock the Gold track to immediately unlock some exclusive items, like the newest Progression Skin and Podium.
Unlocking the Gold track grants access to a tremendous amount of additional exclusive items and contains boosters to unlock rewards even faster.
Gold Track rewards include the Elder Wild Ragnir Progression Skin, Fangwild's Heart Ember Epic Skin, Ted the Toadstool Mushroom Sidekick, Mammoth Coins, Animated Emojis, and a whole lot more.
Brand New Missions for Battle Pass
The Fangwild Battle Pass comes with new missions to complete!
All players are granted access to all the Weekly Missions!
Daily, Weekly, and General missions are available throughout the season.
Earn Battle Gems by completing missions to earn rewards!
Battle Gems measure a player's progress toward the next reward tier.
Unlocking the Gold track will grant boosters for more opportunities to earn Battle Gems and rewards.

Earn Battle Gems to Level Up
If you're new to Brawlhalla's Battle Pass seasons, each week new missions unlock new opportunities to earn more Battle Gems while still allowing previous missions to be completed.
Battle Gems are earned by completing missions in matchmaking games except for Brawl of the Week.
Players can get even more Battle Gems just by playing Brawlhalla. Any matchmaking game rewards Battle Pass XP that advances the "Earn Battle Pass XP" mission.
Completing the mission gives players Gems and a new more challenging "Earn Battle Pass XP" mission.
Players can unlock over 100 new rewards during the Fangwild Battle Pass season, so grab your favorite Legend and start brawling. Players can also use Mammoth Coins to increase progress along the track while the season is active. For more information, check out brawlhalla.com/battlepass.


Switchcraft just got even more chaotic! Form a tactical trio and jump into a crazy 3v3 Stock battle. Pick 3 Legends and watch their Weapons and Sigs get jumbled up. Battle an equally scrambled team and knock out all 9 of their Stocks first to win!
3v3 Teams
200% damage
3 Stocks for each player
Last team standing wins!

Get the Grovewarden Bundle with Prime Gaming
Let the Heart herself be your guide into the forest! The Grovewarden Bundle continues the Fangwild festivities. This limited-time pack will include:
Grovewarden Ember Skin
Ember Legend Unlock
Drake Sidekick
This promotion is available to all Amazon Prime members. Claim your loot at brawlhalla.com/prime.


The free-to-play Legend rotation for this week includes: Jhala, Munin, Reno, Asuri, Xull, Vector, Magyar, Lin Fei, and Wu Shang.
Jhala – Given the title "Exalted Lion" by Apollo himself, Jhala "The Unbroken" takes the glamor of Valhalla in stride while having fun slaying her foes with Axe and Sword.
Munin – Rocking out to the sweet sounds of her Scythe and Bow, she's ready to brawl in the Grand Tournament and finish her next Ravenqueen concert!
Reno – Four arms, compound eyes, fearlessness, and an added dose of genius make this Chitnoid Gunslinger the greatest bounty hunter this side of the Pecosid asteroid belt. He'll take on any job with his trusty Blasters, and loyal Orb companion.
Asuri – This Night Stalker has claimed the Tournament as her territory and sets upon challengers to her domain using Katars and Sword!
Xull – With legendary physical strength, this Axe and Cannon wielding Orc Warlord is ready to challenge everyone and everything in Valhalla!
Vector – Transforming into a jet with his Rocket Lance and wielding his Bow to fight, Vector travels through time and space to battle crime!
Magyar – As the last remaining member of the Batavian Strazci army and wielding the strength of a 100 elite knights, this spectral guardian has come for the glory of battle with their Greatsword and Hammer!
Lin Fei – A defender of the innocent and teacher of the lost ways. She is a great teacher who has developed her own fighting style, the 'Way of the Iron Dragon,' which utilizes her Cannon, Katars and an ancestral dragon-spirit.
Wu Shang – Using the way of peace, discipline and martial arts, he takes down his foes with Spear and Gauntlets!