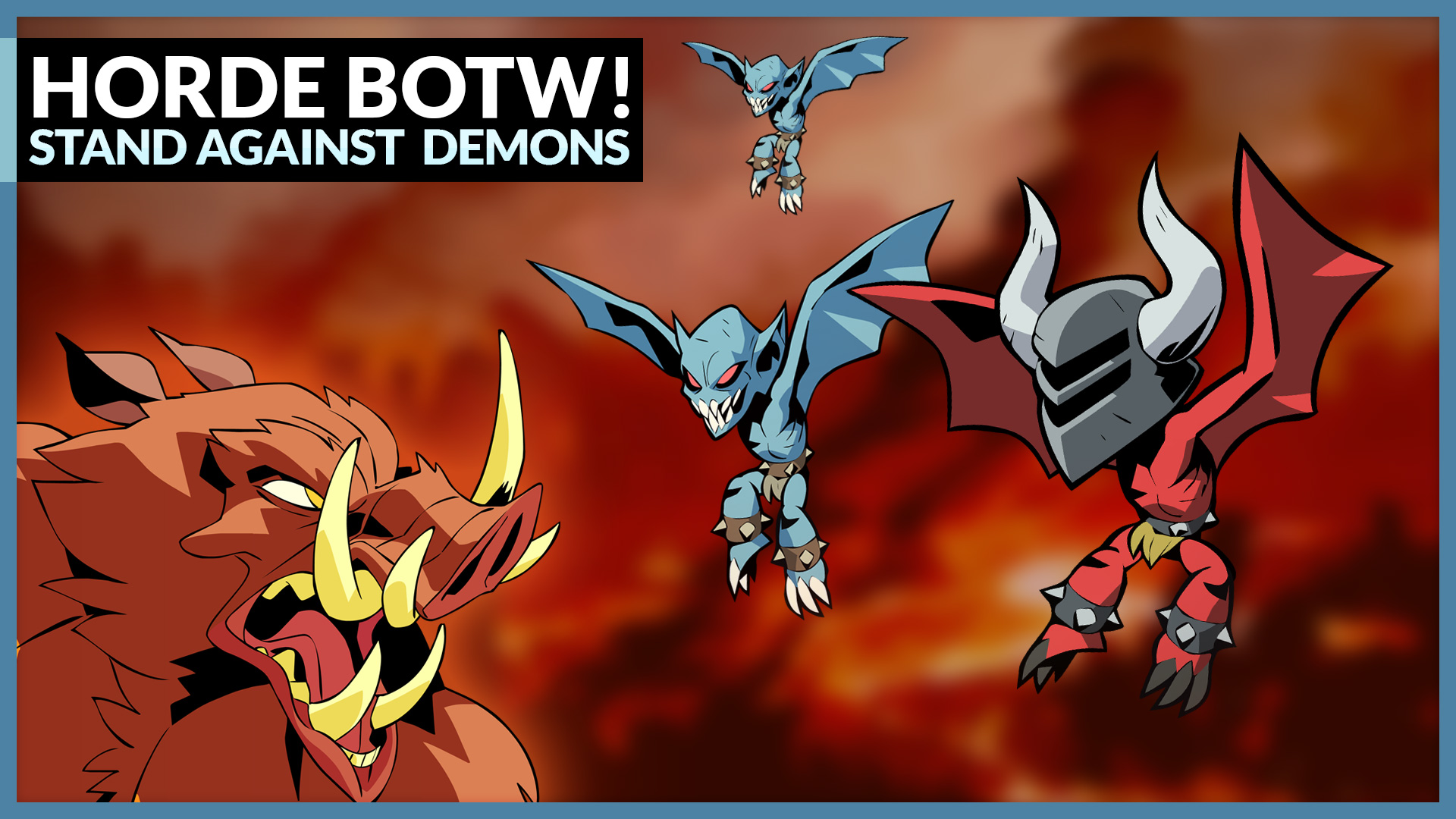 Fight Back the 'Horde' for Brawl of the Week!
Stand against an army of demons in Horde, the next Game Mode featured as Brawl of the Week. Prove your team of four can defend the Great Hall from wave after wave of fearsome enemies. Survive as long as you can!
We've updated the free-to-play Legend rotation, including: Teros the Minotaur, Mako the Shark, and Bödvar – the viking who started it all!
Harness the power of the Jade Mask with the Xianxia Bundle, available for all Amazon Prime members to claim at https://gaming.amazon.com/loot/brawlhalla. 
Get ready to trek into an ancient forest where epic guardians await. Keep an eye out on brawlhalla.com/battlepass for the next Battle Pass Season 6 reveals! 
To catch the latest Brawlhalla news and content, be sure to follow us on Twitter, Twitch, Facebook, YouTube, Instagram and Discord!

Team up with 3 friends and defend the gates of the Great Hall against an army of demons! How many waves can you hold off? Do well enough and Gruagach might join the fight against you!
Horde Game Mode
4 players
Fight the waves of demons!
Survive and defend as long as you can!


Harness the power of the Jade Mask with the Xianxia Bundle! This limited-time pack includes:
Xianxia Lin Fei Skin
Lin Fei Legend Unlock
Nian Shou Sidekick
This promotion is available to all Amazon Prime members. Claim your loot at https://gaming.amazon.com/loot/brawlhalla. 


The free-to-play Legend rotation for this week includes: Teros, Isaiah, Orion, Bödvar, Volkov, Val, Mako, Diana, and Petra.
Teros – This Minotaur is indifferent to the rules or intent of the Tournament, and instead, takes savage joy in all the battles while crushing his opponents with Axe and Hammer.
Isaiah – Major Isaiah Marshall, OEL's special forces commander is at your service.  He utilizes Cannon and Blasters with the help of his drone, equipped with a cloaking device and rockets at its disposal!
Orion – A revered warrior and champion, the mysterious armored knight uses Rocket Lance and Spear to battle his foes in the halls of Valhalla!
Bödvar – He is the Protector of the North and dreams of endless battle. Bödvar has broken down the doors to Valhalla himself and is ready to take down his foes with Sword and Hammer!
Volkov – The Vampire King of Batavia has unexpectedly found Valhalla and has brought his Scythe and Axe to battle.
Val – An android assassin with terrifying strength and quicker-than-light cognition, Val is a force to be reckoned with when utilizing her Sword and Gauntlets.
Mako – The ultimate apex predator from The Sea, Mako, with her Greatsword and Katars, aims to make fish meat out of her opponents in the Grand Tournament.
Diana – Commander of the Order's hunters, she uses her Bow and Blasters to slay countless beasts and monsters.
Petra – Having been set free from Terminus, Petra sets her eyes on Valhalla with her Orb, Gauntlets, and Darkheart powers.