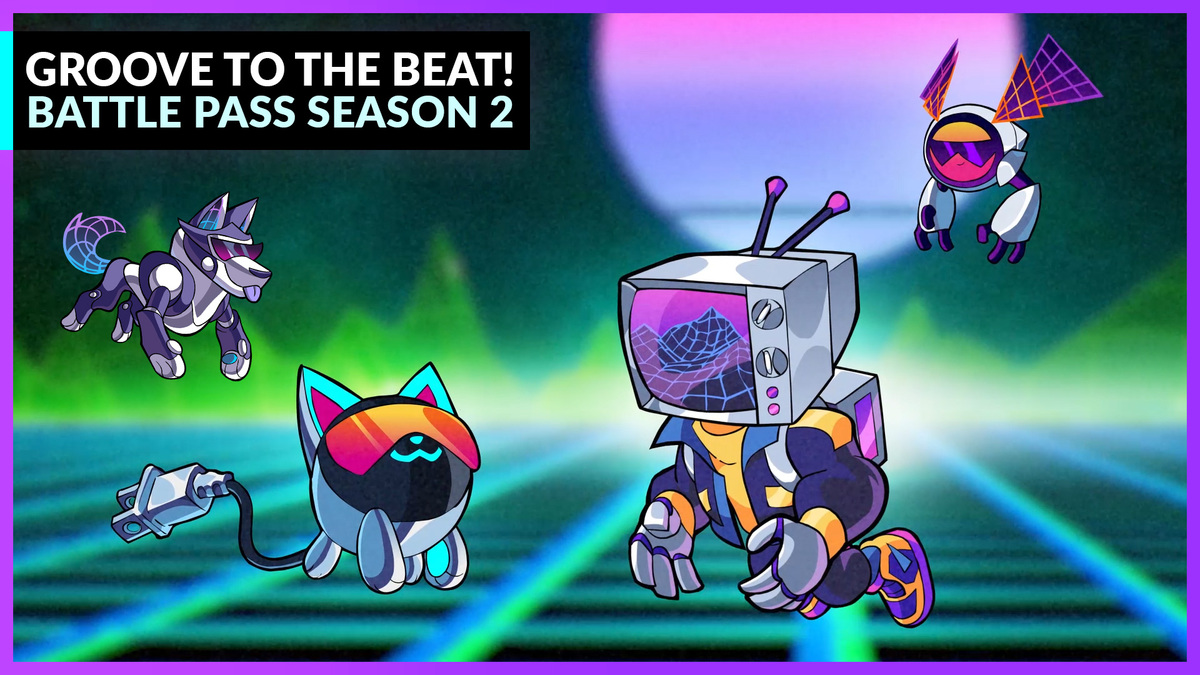 Groove to the Beat of Synthwave Battle Pass Season 2
Get into the groove of Brawlhalla's new Synthwave Battle Pass Season 2! Take a cruise in Sun Drive City as Nix warps through time and space to reach her full potential. This season of Brawlhalla's Battle Pass features 85 tiers of new exclusive cosmetic content unlockable by playing Brawlhalla and completing missions. 
All players are automatically granted access to the Battle Pass track with an option to purchase the Gold track for more content. More details about the Battle Pass can be found below or at brawlhalla.com/battlepass.
Lastly, there are new Legends on the free-to-play Rotation, Brawl of the Week continues as Synthwave Kung Foot, and different items on sale in Mallhalla!
To catch the latest Brawlhalla news and content, be sure to follow us on Twitter, Twitch, Facebook, YouTube, Instagram and Discord!

Brawlhalla's second Battle Pass has landed! This second season features 85 tiers of new exclusive rewards unlockable by playing Brawlhalla and completing missions. The Battle Pass season will last 12 weeks.
This Battle Pass will also feature:
A new UI takeover featuring an animated splash art of Retro Reaper Nix,
New main menu, character select, and post-game theme music matching the flair of the Synthwave era.
A newly themed Synthwave Kung Foot featured as the Brawl of the Week!
A new Free-for-All map called Sun Drive City.
A separate Battle Pass tab for easy access when navigating the main menu.

New Exclusive Battle Pass Items
There are over 100 new rewards in this Battle Pass, including an exclusive Nameplate and even a special Avatar for players who complete all 85 tiers. 
All players are automatically granted access to a Battle Pass track to unlock unique Colors, Avatars, Taunt, Sidekick and Weapon Skins. 
Players can also unlock the Gold track to immediately unlock some exclusive items, like the newest Progression Skins and Podiums.
Unlocking the Gold track also grants boosters and additional weekly missions to help level up through Battle Pass faster for more rewards.
More items than ever before available to unlock!

New Option: Collapse Upgrades
A new feature has been added into this Battle Pass that allows players to select which level of the Progression Skin and Podium to equip! 
"Collapse Upgrades" is a new system setting that will be enabled on default.
When disabling "Collapse Upgrades," players will be able to see all three versions of the Progression Skin and Progression Podium separately.
This enables players to choose their preference in Progression Skin and Podium when equipping their inventory!

New Missions for Battle Pass
This Synthwave Battle Pass comes with new missions!
Daily, Weekly, and General missions are available throughout the season.
Earn Battle Gems by completing missions to earn rewards!
Battle Gems measure a player's progress toward the next reward tier.
Unlocking the Gold track will grant more missions for more opportunities to earn Battle Gems and rewards.

Earn Battle Gems to Level Up 
Each week, new missions will unlock, granting new opportunities to earn more Battle Gems while still allowing previous missions to be completed. 
Battle Gems are earned by completing missions in matchmaking games except for Brawl of the Week.
Players can get even more Battle Gems just by playing Brawlhalla. Any matchmaking game rewards Battle Points that advance the Earn Battle Points mission.

Completing the mission gives players Gems and a new more challenging Earn Battle Points mission.
Players can unlock over 100 rewards during the Battle Pass season, so grab your favorite Legend and start brawling. Players can also use Mammoth Coins to increase progress along the track while the season is active. For more information, check out brawlhalla.com/battlepass.


We've recently added some new Test Features regarding Unarmed Clashes and Throw Clashes aimed at accentuating armed combat. 
Unarmed now loses all clashes with armed attacks, giving players with the Weapon advantage more reliable approaches not only on stage, but also when edge-guarding or recovering back to the stage.
The feature for Throw Clashes is directed at improving the reliability of multi-hit attacks against a late close-range thrown object. It is possible for such throws to interrupt attacks that have long animations or multiple setup hits, whereas single hit attacks always deliver their full effect. 
Striking an opponent grants momentary protection from their thrown objects to allow multi-hit attacks to deliver their full effect, however this does not grant protection from objects thrown by other players to preserve team saves and interrupts. Protection also does not apply to thrown objects that have already been active for a moderate duration to preserve calculated setups.
We have also temporarily removed the Soft Platform QoL feature while we continue to iterate on it internally, to allow room for other Test Features to cycle more rapidly.
Let us know your thoughts about these newly added Test Features! For more information, visit brawlhalla.com/test-features.
Added to Test Features:
Unarmed Clashes:
Unarmed attacks will always lose to armed attacks if they hit each other on the same frame.
This takes precedence over the existing rules for Signatures vs Light Attacks and Grounded vs Air Attacks.
Throw Clashes:
Hitting an enemy gives some protection from recently thrown Weapons.
If an enemy is stunned from your Light Attack or Signature and you would be hit by their thrown Weapon, the hit is ignored.
This does not apply to thrown Weapons that have been active for over 25 frames, the Sidekick Gadget attack, or explosions from Bombs or Mines.

We also added a new option in Training Mode called "Use Certain Attacks" to aid players in practicing against specific attacks.
This option forces the AI bot to use a subset of their kit, like only Signatures or only Side Light, to make it easier to practice against certain attacks.
The option is only available when the AI Setting is set to Easy through Chosen.
The selected difficulty impacts how the moves are used. The AI bot will mix in Dash attacks on Extreme and above and Gravity Cancels on Chosen.

For a limited time, we are introducing the Solidarity Emote for Charity. All proceeds from this Emote will be donated to Campaign Zero. To find out more information about this non-profit organization, check out www.joincampaignzero.org.


Compete in stellar Rayman formation in a retrowave neon landscape! In Kung Foot anything goes as you kick, bash, and slash the ball through the opposing team's goal in this 2v2 digital sports scene. First team to score 5 goals wins!
2v2
5 goals
100% Damage
5 Minute Timer


Solidarity Emote
Limited time Emote for charity! All proceeds will go to Campaign Zero.
Looking for a certain chest? We're rapidly rotating through chests, so check out the in-game timer to know when the next chest will rotate.
Find the new Sales items!

The free-to-play Legend rotation for this week includes: Volkov, Wu Shang, Petra, Thor, Artemis, Lord Vraxx, Bödvar, Asuri, and Diana.
Volkov – The Vampire King of Batavia has unexpectedly found Valhalla and has brought his Scythe and Axe to battle.
Wu Shang – Using the way of peace, discipline and martial arts, he takes down his foes with Spear and Gauntlets!
Petra – Having been set free from Terminus, Petra sets her eyes on Valhalla with her Orb, Gauntlets, and Darkheart powers.
Thor – Finally entering the ring, Thor, God of Thunder, makes his appearance in the Grand Tournament with his trusty Hammer, Mjölnir, and his powerful Orb.
Artemis – Transversing the universe in search of her rival Orion, Artemis has ripped open a wormhole into Valhalla, armed with a Rocket Lance and Scythe; she is ready to fight!
Lord Vraxx – This feared warlord dominates his opponents with Rocket Lance and Blasters!
Bödvar – He is the Protector of the North and dreams of endless battle. Bödvar has broken down the doors to Valhalla himself and is ready to take down his foes with Sword and Hammer!
Asuri – This Night Stalker has claimed the Tournament as her territory and sets upon challengers to her domain using Katars and Sword!
Diana – Commander of the Order's hunters, she uses her Bow and Blasters to slay countless beasts and monsters.