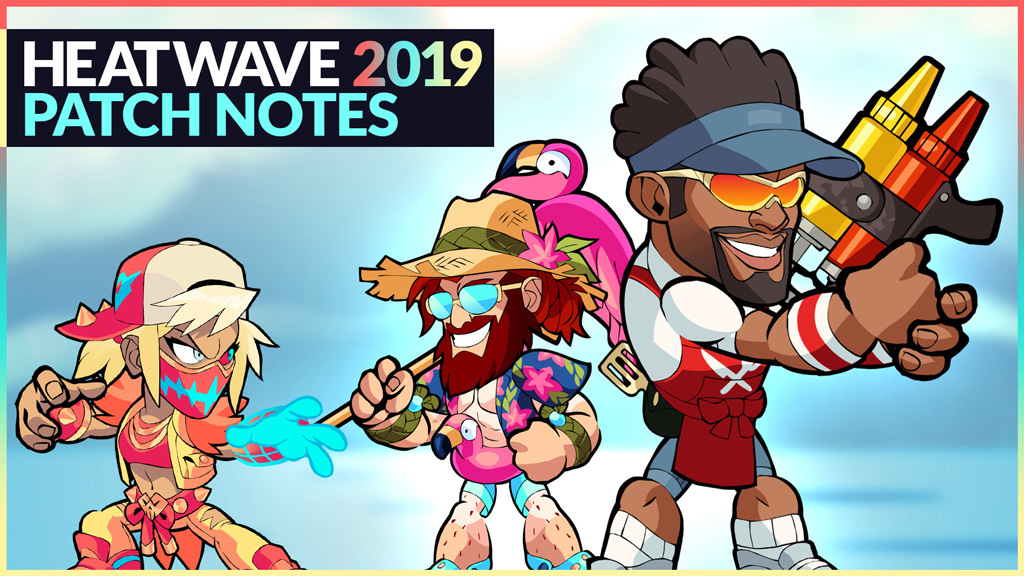 Heatwave Summer Event – Patch 3.46
Surf's up and celebrate the Heatwave Summer Event with new Skins, Podium, and more! We're bringing exclusive summer items into Mallhalla for a limited time and rewarding players with 250 bonus login Gold. You can also find 2019 Summer Championship items in Mallhalla and Petra's price has also been reduced to 5400 Gold.
Additionally, we've updated tournament maps for 1v1 and 2v2, made a balance pass, made game improvements, bug fixes, and more!   
To catch the latest Brawlhalla news and content, be sure to follow us on Twitter, Twitch, Facebook, YouTube, Instagram and Discord!
Grab your sandals, beach chair, any nearby weapons, and join the fun! We're celebrating the hottest time around with new Skins for Thor and Isaiah, a new Podium, and bringing other summer goodies into Mallhalla for a limited time.
See the list below for all the Heatwave items:
Exclusive Skins
Thor by the Shore – "Don't forget the sun screen!"
Brawl Dad Isaiah – "Grillin' in the name of…"
Wipeout Nix – "Sharks aren't the most dangerous thing in the water anymore."
Dog Days Mordex – "Every dog has its day…At the beach!"
Atlantean Orion – "Fierce protector of deep sea mysteries."
Water Wars Cross – "No lifeguard on duty."
Pool Party Diana – "Ever seen a vampire at the pool? Didn't think so."
Podium
Heatwave 2019 Podium

"Celebrate the Summer Heatwave in the newest tiki tower style!"
New colors and tiki design!
Colors
Heatwave Colors

Feel the summer fun with these bright blue, orange, and yellow colors.
Available for every Legend with hard-earned Gold!
KO Effect
Hot Lava KO

"Melt your opponents with this hot KO!"
An exclusive KO Effect for this event.
Avatars
Endless Heat Wave Avatar

An animated Avatar!
"Catch a wave and cruise through the heat!"
Ice Kor-eam Avatar

"You were expecting Rocky Road?"
Purchasable with your hard-earned Gold!
Heatwave will also feature:
Water balloons replace snowballs!
+250 bonus Gold per login!
A summer fun UI Takeover.
A Heatwave themed Brawl of the Week called Water Balloon Fight.
We're celebrating our 2019 Summer Championship (July 27th – 28th) and International Summer Championship (August 2nd – 4th) with two new cosmetic items for a limited time in Mallhalla!
Avatar

Summer Shard 2019 Avatar

"Show your hype for the 2019 Summer Championship!"

Weapon Skin

Beach Bash Gauntlets

"KOs and fun in the sun."

Registrations for the 2019 Summer Championship are still open now at smash.gg/brawlhalla.
The 2019 Summer Championship will also be live on twitch.tv/brawlhalla
We've updated our 1v1 and 2v2 Tournament Map Sets! Apocalypse has now been added, while we removed Thundergard Stadium. We've also provided a new option in the Ranked 1v1 and 2v2 lobby, where you may enable the option to play on Tournament Maps Only. Here are a few notes about it below:
1v1 Tournament Map Set: Added Apocalypse, removed Small Thundergard Stadium
2v2 Tournament Map Set: Added Apocalypse, removed Thundergard Stadium
Apocalypse:

This map had an unusually large camera horizontal bounds and an unusually small distance between the edge of the camera bounds and the kill lines on the left and right.
This was giving the impression that Apocalypse has a larger horizontal kill box than it actually does. The camera bounds have been brought in without changing the size of the kill box to address this.
Apocalypse did have an unusually high kill ceiling however, which has been nudged in to be more in the middle of the pack for 1v1 maps like it is for the horizontal kill box.

New option available in the Lobby tab of the Settings in Ranked 1v1 and 2v2 lobby: Tournament Maps Only.

After a match is made, if either player has enabled this option then the match will choose from "Tournament 1v1" Map Set instead of the "1v1" Map Set.
For 2v2, after a match is made, if the host player of either team has enabled this option then the match will choose from "Tournament 2v2" Map Set instead of the "2v2" Map Set.
When it's too hot for snowballs break out the water balloons! Two teams of 3 face off in this 3 minute 150% damage showdown! Score 1 point for hitting someone with a water balloon, 3 points for getting a KO, and lose 1 point for being KO'd. The team with the most points at the end wins!
3v3
3 minutes
150% Damage
Team with the most points at the end wins!
Follow the beach ball icons to find the hottest and latest Heatwave items!
Petra's price has been reduced to 5400 Gold.
We're currently rapidly rotating through chests. See the in-game timer to know when the next chest will rotate.
Check out the new Sales items!
With the help of your feedback, we have graduated the Axe Test Features into the live game! The timer test feature has also graduated to live! We've added a toggle in the game settings menu for players who would like to know how much time is left.
Graduated Test Feature

Stock Timer Test Feature, where the Match Timer will only show when there is less than a minute remaining in the game. You can toggle this option on or off.
The modified Axe Down Air and Ground Pound have graduated from Test Features. These attacks are now part of the main Axe kit and replace the previous Down Air and Ground Pound. You can find information on the differences between these new Axe powers and the previous ones in the Balance section below.
We have made a round of balance adjustments for some underperforming Signatures that have generally fallen behind the pace of the game. These changes are primarily focused on either reducing a Signature's Recover time so it gains a wider array of situations in which it may be safely used, or extending the travel distance of its attack to increase its effective threat range. There are also several changes to base weapon kits, including the new Axe Down Air and Ground Pound which have graduated from Test Features.
Axe:
The modified Axe Down Air and Ground Pound have been graduated from Test Features as significant quality-of-life improvements, while also providing new use cases. The new landing swipe when a Down Air is performed near the ground has a larger Hit Window and far less Recover time when compared to the standard Down Air and can more easily lead into follow-up attacks. The Ground Pound is now a single spin instead of the previous double spin, resulting in far less total commitment. Momentum from movement such as a dash can be carried over into the Ground Pound, allowing for a great deal of movement during the charge and attack. The user's fall speed is also softened at the end of the spin for safer use off-stage.
Axe Down Air: Now has a new landing version when performed close to the ground.

Changes the previous Axe Down Air to new one are as follows: Damage changed from a range of 18~10 to 18; Stun changed from a range of 18~22 to 22; Damage changed from a range of 58 Fixed/34 Variable to 41 Fixed/25 Variable; Hitboxing updated to better match animation; New landing version has a Hit Window of 8, compared to the aerial Hit Window of 4; New landing version has a Recover time of 0 Fixed/5 Variable on hit and 0 Fixed/6 Variable on miss, compared to the aerial Recover time of 1 Fixed/16 Variable on hit and 0 Fixed/28 Variable on miss.

Axe Ground Pound: Now a single spin that carries momentum.

Changes from the previous Axe Ground Pound to the new one are as follows: Hit Window during charge changed from a Time to Hit of 36 to 17; Time to Hit when tapped changed from 20 to 17; Hit Window during the spin changed from 25 to 15; total Recover time changed from 10 Fixed/9 Variable to 8 Fixed/12 Variable; Damage changed from a range of 20~15 to a range of 20~18; Force changed from a range of 50~45 Fixed/45~40 Variable to a range of 50~40 Fixed/45~40 Variable; Fall speed softened during the second half of the spin; A portion of momentum from movement such as a dash carries over into the charge and spin.
Blasters:
We have increased the Stun on the final hit of Blasters Neutral Light to allow for closer follow-up attacks, as targets could too easily disengage after being struck by this low-force setup attack.
Blasters Neutral Light: Increased stun of final hit from 20 to 22.
Spear:
The Spear Ground Pound has received both a reduction in Recover time and increased Stun, as it could previously leave the user too vulnerable after striking opponents at lower health ranges.
Spear Ground Pound: Decrease Recover time of the air release from 2 Fixed/26 Variable to 0 Fixed/26 Variable, and the ground version from 2 Fixed/28 Variable to 0 Fixed/28 Variable; Increased Stun from 19 to 22; Decreased Force from 53 Fixed/44 Variable to 53 Fixed/42 Variable.
Artemis:
The travel distance before Artemis' Side Lance blast, along with the travel distance of the recoil, have been increased to give this attack greater range that better fits with other similar attacks. We have also reduced the Recover time as the previous risk far outweighed the potential reward on hit.
Artemis Side Lance: Decrease total Recover time from 28 to 25; Increase distance traveled before and after blast.
Dusk:
While Dusk's Spear kit carries a fair amount of utility, the commitment required for certain attacks hinders their use in most situations. We have reduced the Recover time of Dusk's Side Spear and Down Spear so they may better fit in a wider variety of situations.
Dusk Side Spear: Decreased Recover time on miss from 6 to 3.
Dusk Down Spear: Decreased Recover time from 15 to 13.
Isaiah:
Given the specific aiming requirement of Isaiah's Down Blasters, we have increased the Force of the explosion for a greater reward, while also slightly increasing the threat coverage of the initial shot for easier use.
Isaiah Down Blasters: Slightly increased coverage on initial marking shot; Increased Force of the blast from 50 Fixed/55 Variable to 55 Fixed/56 Variable for the ground explosion, from 50 Fixed/42 Variable to 55 Fixed/43 Variable for the air explosion, and from 50 Fixed/45 Variable to 55 Fixed/46 Variable for the wall explosion.
Kaya:
We have increased the travel distance on Kaya's Side Spear due to its single-target nature and lower threat coverage than other similar attacks.
Kaya Side Spear: Increased travel distance before the strike.
Ulgrim:
For improving the speed of Ulgrim's underused Lance Signatures, we have leaned into the defensive nature of the Down Lance by reducing its Recover time. The Side Lance has been sped up on the front end, with reductions in both Minimum Charge and Time to Hit for a snappier response.
Ulgrim Down Lance: Decreased Recover time on miss for the uncharged version from 10 to 7; Decreased Recover time on miss for the charged version from 7 to 5.
Ulgrim Side Lance: Decreased Minimum Charge time from 13 to 12; Decreased Time to Hit after release from 7 to 6.
Zariel:
The low height and close range nature of Zariel's Down Gauntlets warrants a relatively short total commitment, so we have decreased the Recover time to better fit the threat coverage and overall speed of this attack.
Zariel Down Gauntlets: Decreased Recover time on miss from 8 to 6.
User Experience
Volume and music sliders on system settings can now be clicked and dragged.
System options can now be clicked directly instead of using the arrows.
A new system setting for stock mode timer display has been added.
Daily Missions
Getting a KO on your guest in the FFA queue will no longer give progress toward Missions.
Gameplay
Improved bot pathing back to the stage on Plains of Passage.
Isaiah Down Blasters: Fixed a case where Force on the missile flight could be much greater than intended.
Localization
A big thank you to Juangana and SQUAiR for their continued help with our Spanish translations.
Also, thank you to u/Zack_Eon, Comesa, and Taise for their help with improving our German translations.
Art
Tweaked Hellboy's idle animation in the character select screen.
User Interface
Fixed a bug causing Princess Bubblegum's Blasters to not correctly animate inside the UI.
Fixed a bug causing the system settings icon for 'Collapse Crossovers' to not correctly display.
User Experience
Fixed a bug where Crossover characters were not correctly reading Stances from saved loadouts.
Fixed a bug where custom Kung Foot games with team damage off would be listed as having team damage on.
Gameplay
Fixed a bug that prevented bots from throwing items downward through soft platforms.
Art
Fixed a bug where Sourcecode Petra's forearms wouldn't color swap on consoles.
Ulgrim Side Lance: Fixed a case where Ulgrim's Side Lance dissipation FX would play at the wrong time.
Petra debuts on the Legend Rotation! The new free-to-play Legend rotation for this week also includes: Hattori, Orion, Isaiah, Jhala, Ragnir, Yumiko, and Mordex.
Hattori – A gifted ninja with unparalleled skill with the Sword and Spear has discovered Valhalla. Will she find any worthy challengers there?
Petra – Having been set free from Terminus, Petra sets her eyes on Valhalla with her Orb, Gauntlets, and Darkheart powers.
Orion – A revered warrior and champion, the mysterious armored knight uses Rocket Lance and Spear to battle his foes in the halls of Valhalla!
Isaiah – Major Isaiah Marshall, OEL's special forces commander is at your service.  He utilizes Cannon and Blasters with the help of his drone, equipped with a cloaking device and rockets at its disposal!
Jhala – Given the title "Exalted Lion" by Apollo himself, Jhala "The Unbroken" takes the glamor of Valhalla in stride while having fun slaying her foes with Axe and Sword.
Ragnir – This apex predator, whose home is in the Fangwild, now ventures outward using his Katars and Axe to take on the rest of the Legends in Valhalla!
Yumiko – Holding the appearance of a blind seamstress, this centuries old fox spirit has been brought into battle wielding her Magical Hammer and Bow!
Mordex – Wielding Gauntlets and Scythe, this lycanthrope steps into battle!