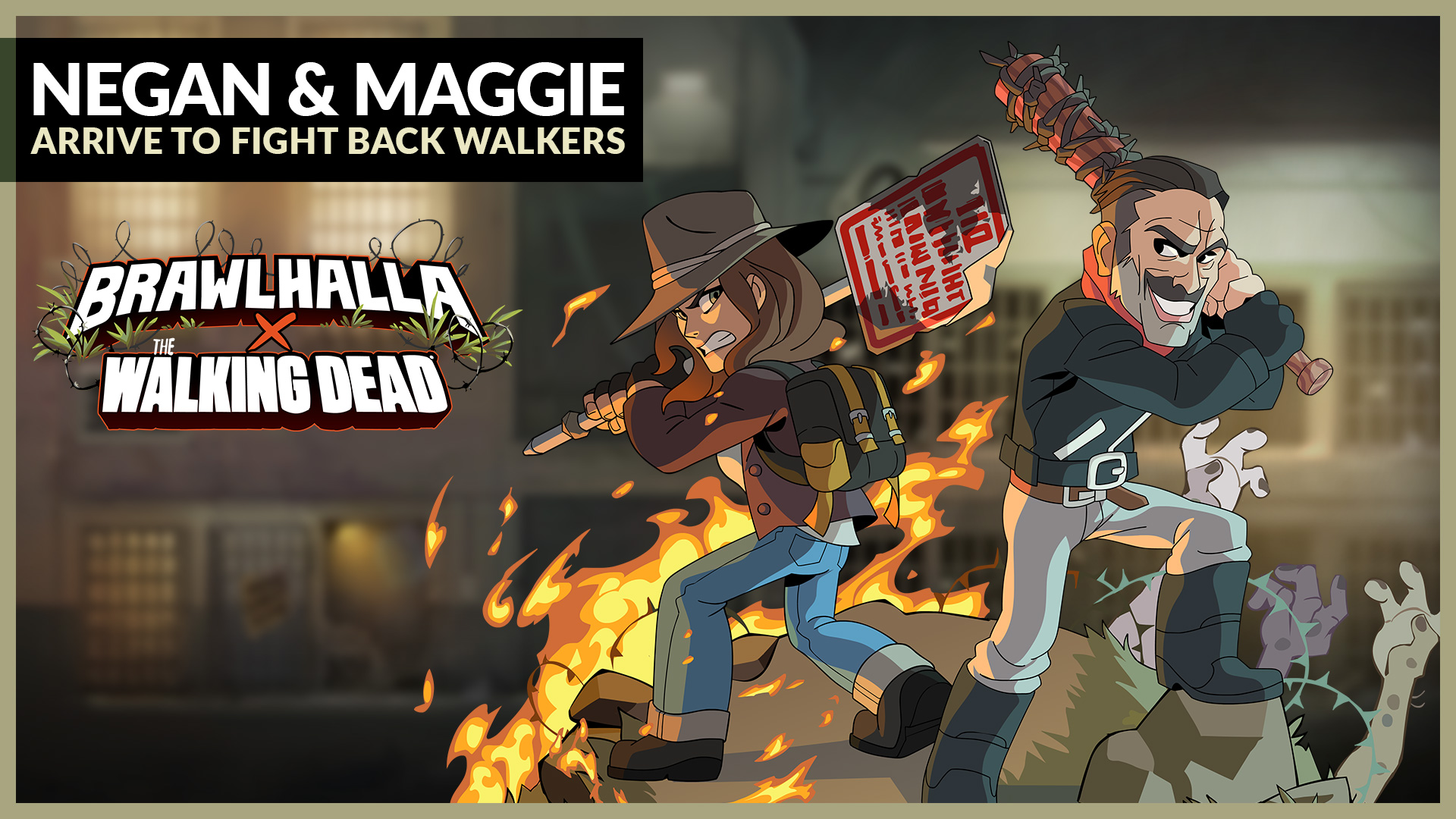 Negan & Maggie from AMC's The Walking Dead charge into Valhalla! – Patch 5.12
Negan and Maggie from AMC's The Walking Dead join the fight in Part II of this Epic Crossover Event! These two brand new Epic Crossovers have custom Signature effects, Weapon Skins, unique lock-in animations, and dedicated Roster spots. The event also features Rick, Michonne, and Daryl Epic Crossovers, the Walker Attack game mode as Brawl of the Week, the Days Gone Bye Podium, and the Walker's Grasp KO Effect.
We also added a new Map for the Climb game mode, Siege of Lions, themed around our Battle Pass Season 4 – Order of the Exalted Lion. Play the new Map in Custom Lobbies!
This patch update also includes a new Test Feature – Shadows! Legends and items will cast a shadow directly below them, so please let us know your thoughts on this visual improvement.Additionally, we made a few game improvements, bug fixes, and much more. For those in pursuit for Glory, the next Ranked Season 22 starts on October 6th.
To catch the latest Brawlhalla news and content, be sure to follow us on Twitter, Twitch, Facebook, YouTube, Instagram and Discord!

The Great Halls of Valhalla are overrun by walkers, and Negan and Maggie join the fight in Part II of this Epic Crossover Event!
Negan and Maggie are new Epic Crossovers that feature custom Signature effects, custom lock-in animations, dedicated Roster spots, and two new Weapon Skins. 
In Brawlhalla, Negan and Maggie mirror the abilities of Jaeyun and Jhala, respectively, and will stay in Mallhalla after the event ends. The Walking Dead © 2021 AMC Film Holdings LLC. All rights reserved.
Featuring:
Negan Epic Crossover – "You can breathe. You can blink. You can cry. Hell, you're all going to be doing that."
With Lucille and his Crowbar in hand, Negan is ready to make a strong first impression.
Maggie Epic Crossover – "Some people can be redeemed. But others can't."
Maggie Rhee takes charge as a resourceful, strong-willed fighter with her Machete and Axe called A Sign from Above!

The Epic Crossover event also stars:
Rick Epic Crossover – "It's all about survival now."
Armed with his Hatchet and Revolvers, Rick Grimes is here to show everyone what needs to be done to survive.
Michonne Epic Crossover – "Nice never got me anywhere. But smart did."
Michonne, the expert swordswoman, is ready to fight – and she'll do whatever it takes to win.
Daryl Epic Crossover – "Today's your lucky day, fellas."
Daryl Dixon has brought his motorcycle, his crossbow, and a few other weapons to come out on top!

KO Effect
Walker's Grasp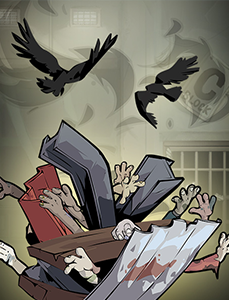 "There's nowhere to run!"
Pummel your opponents into a slew of walker hands and debris with this new KO Effect!
Podium
Days Gone Bye
"We can't hold them!"
Have your Legend stand on top to fend off the walker horde. This animated Podium features grasping walker hands, a heavy machine gun, and lock-in sound effects!
The Walking Dead Epic Crossover event also includes:
Walker Attack featured as the Brawl of the Week!
Daily login bonus of 250 Gold to celebrate this Epic Crossover event.
New main menu splash art featuring Negan and Maggie!

Survive the walker onslaught! Battle through loads of walker opponents that get harder and smarter as time passes. Beware, the longer you fight the more walkers appear! Earn points by scoring KOs. Survive as long as you can to win the most points!
3 Stocks
Walkers increase in difficulty and in number as time passes.
Survive as long as you can!
Player with the most points wins!


Follow the sheriff badges to locate all of The Walking Dead items.
The Solidarity Emote benefiting Campaign Zero is still available. To find out more information about this non-profit organization, check out www.joincampaignzero.org.
Looking for a certain chest? We're rapidly rotating through chests, so check out the in-game timer to know when the next chest will rotate.
Find the new Sales items!


The Fortress is under siege, so prepare for battle! The Climb game mode receives a new Map themed after our Battle Pass Season 4 – Order of the Exalted Lion.
Players can play on the new Map in Custom Lobbies when selecting the Climb game mode.
This new Map will also be featured in a future Brawl of the Week.
Beautiful new platform art themed around the Order of the Exalted Lion.
A new fireball cannon trap lies waiting for unsuspecting opponents!


In this update, we added a new Test Feature where Legends, items, and other entities will cast a shadow directly below them.
The shadows casted will display on any platforms. The intent is to help players better accurately gauge where they will land.
Other entities can include other world items like weapons, projectiles, items, walkers, etc.
This Test Feature is part of our efforts to continue improving the quality of life of Brawlhalla.
Please let us know how this visual improvement feels! Share your feedback on our Twitter and Discord. More information can be found at brawlhalla.com/test-features.

User Interface
Improved messages to be clearer around game rooms.
Animation
Adjusted the Share a Slice Emote to work better with certain Skins.

User Interface
Fixed a bug where the heads in the HUD weren't properly updating on swap in the Morph game mode.
User Experience
Fixed a bug where joining a room after spectating could result in the "Searching for players…" screen coming up erroneously and the player not being able to join the game without leaving and coming back.
Animation
Fixed a visual bug where the forearm bones were flipping in the Scythe landing animation.
Fixed a visual bug where Soulbound Diana's Side Bow FX could play after getting knocked out of the attack.

The free-to-play Legend rotation for this week includes: Reno, Sir Roland, Zariel, Jaeyun, Artemis, Dusk, Onyx, Teros, and Ada.
Reno – Four arms, compound eyes, fearlessness, and an added dose of genius make this Chitnoid Gunslinger the greatest bounty hunter this side of the Pecosid asteroid belt. He'll take on any job with his trusty Blasters, and loyal Orb companion.
Sir Roland – No one in Valhalla feels a greater thirst for victory in the tournament than Sir Roland, as he strikes down his opponents with Rocket Lance and Sword.
Zariel – The Celestial, a warrior deity of Holy Justice, who abides in blessed Elysium. Zariel uses Gauntlets and Bow to take down both Demon hordes and any warrior participating in the Grand Tournament.
Jaeyun – The legendary mercenary who has traveled across the Old Kingdom on the back of his dragon turtle companion Imugi, Jaeyun has discovered new riches and sights in Valhalla! He brings the Greatsword and Sword to battle in the Grand Tournament.
Artemis – Transversing the universe in search of her rival Orion, Artemis has ripped open a wormhole into Valhalla, armed with a Rocket Lance and Scythe; she is ready to fight!
Dusk – Wielding his Spear and a powerful Orb, carved from stone and magic, Dusk seeks to spread chaos throughout Valhalla.
Onyx – The powerful Guardian and Protector of Castle Batavia, Onyx has been offered a place in Valhalla and now defends it ruthlessly with her Cannon and Gauntlets.
Teros – This Minotaur is indifferent to the rules or intent of the Tournament, and instead, takes savage joy in all the battles while crushing his opponents with Axe and Hammer.
Ada – Armed with Blasters and Spear, this nano-tech, elite combat hacker aims to win in the Grand Tournament.