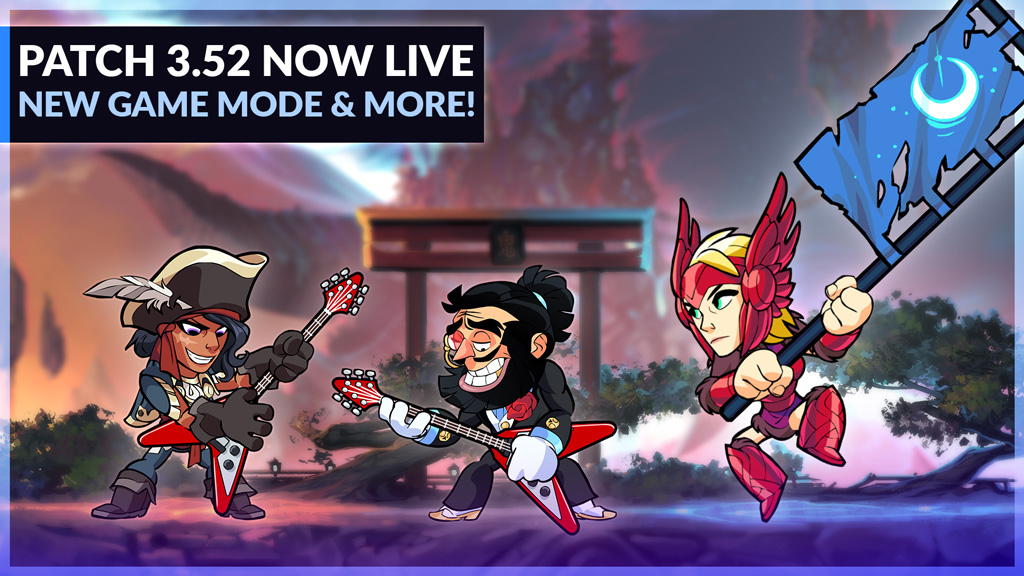 New Capture the Flag Game Mode and Store items! – Patch 3.52
Take control of the Demon Island in this new Capture the Flag game mode! This 3v3 team game mode will be a permanent addition that will be available as a custom game mode when creating a custom lobby. We're also featuring Capture the Flag as the Brawl of the Week! Along with a new game mode, we're adding a new map called Demon Island into the 1v1 map pool.
New Skins for Mirage and Thatch and a new Guitar Solo Taunt can also be found in Mallhalla. Additionally, we've made game improvements and other updates!   
To catch the latest Brawlhalla news and content, be sure to follow us on Twitter, Twitch, Facebook, YouTube, Instagram and Discord!

Protect your team's flag while stealing the enemy team's flag in this 3v3 game mode for control of Demon Island! Unite both flags at your base to score a point. Watch out! You'll drop the enemy's flag if you take damage. Players can return their flags to their base by touching it. First team to 3 points wins!
New Capture the Flag Game Mode
3v3 Team
Unite your flag with the enemy's flag at your base to score points!
First team to 3 points wins!


Find the new Store items!

New Skins:

Corsair Mirage – "Plundering your Elo!"
Classy Thatch – "Break out the nice weaponry. For guests."

New Taunt:

Guitar Solo Taunt – "Melt some faces."

We're currently rapidly rotating through chests. See the in-game timer to know when the next chest will rotate.
Check out the new Sales items!


User Interface
Changed some Legends' and Crossovers' animations during the Match Preview screen back to their idle pose. Barbara and Jake are back to dancing.
User Experience
Xbox One players can now purchase the BCX Pack 2019 from the in-game tiles.
Audio
Adjusted multiple weapon impact hit sounds on console to sound more similar to PC.
Animation and Art
Updated closed fist hand art for Adventure Time Epic Crossovers.

The new free-to-play Legend rotation for this week includes: Orion, Mordex, Val, Brynn, Thor, Lucien, Lin Fei, and Yumiko.
Orion – A revered warrior and champion, the mysterious armored knight uses Rocket Lance and Spear to battle his foes in the halls of Valhalla!
Mordex – Wielding Gauntlets and Scythe, this lycanthrope steps into battle!
Val – An android assassin with terrifying strength and quicker-than-light cognition, Val is a force to be reckoned with when utilizing her Sword and Gauntlets.
Brynn – Competing for the pure joy of it, this Valkyrie has seen many victories due to her skill with the Axe and Spear.
Thor – Finally entering the ring, Thor, God of Thunder, makes his appearance in the Grand Tournament with his trusty Hammer, Mjölnir, and his powerful Orb.
Lucien – This mysterious highwayman is always scheming for gold, and now has come to Valhalla to take part in the tournament wielding Katars and Blasters!
Lin Fei – A defender of the innocent and teacher of the lost ways.  She is a great teacher who has developed her own fighting style, the 'Way of the Iron Dragon,' which utilizes her Cannon, Katars and an ancestral dragon-spirit.
Yumiko – Holding the appearance of a blind seamstress, this centuries old fox spirit has been brought into battle wielding her Magical Hammer and Bow!