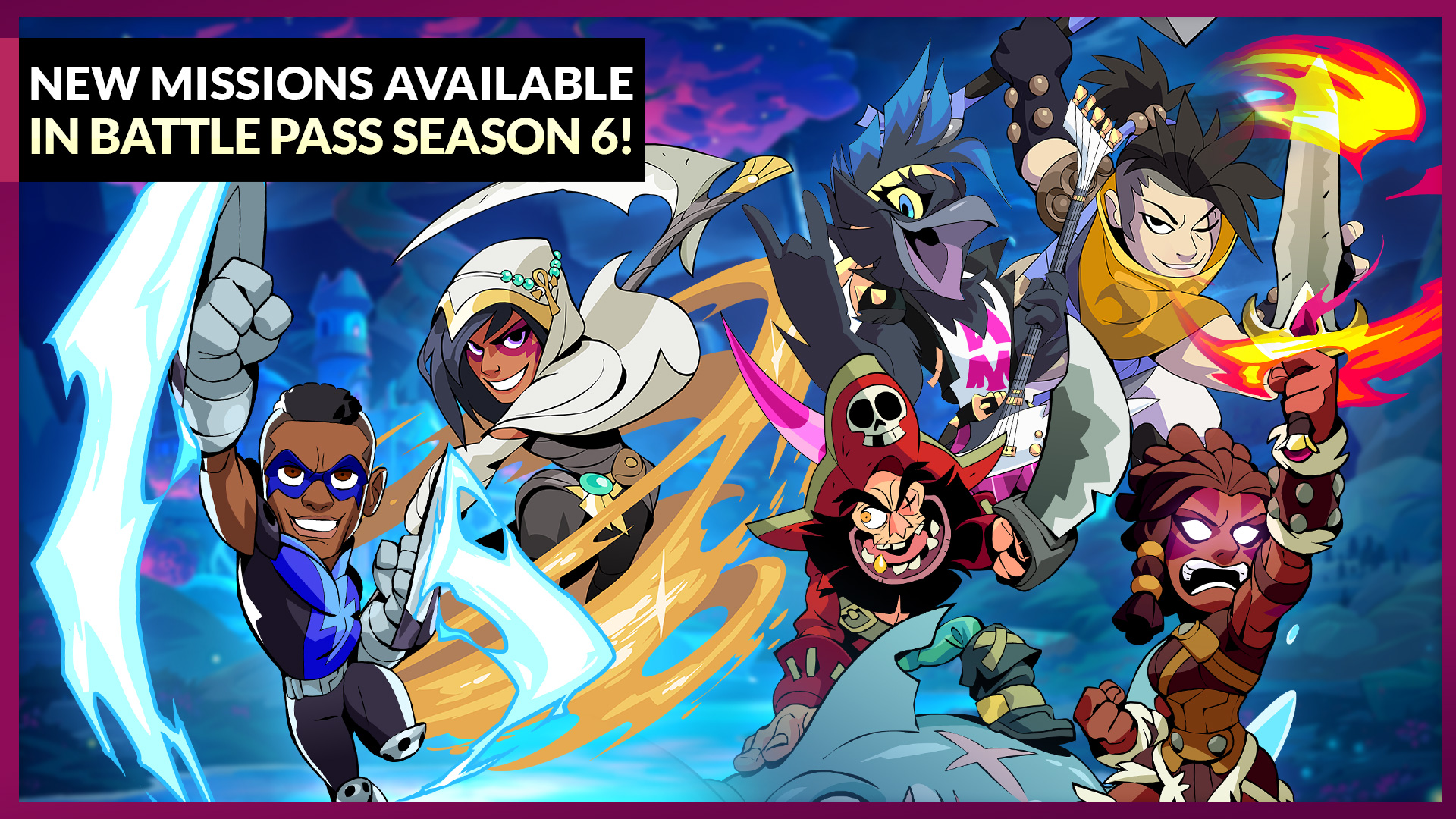 New Weekly Missions & Fangwild Scuffle in Battle Pass Season 6
Continue your journey through the Fangwild forest with new Weekly Missions available in Battle Pass Season 6! Some missions for Week 3 include: hit opponents with fully charged Signatures, win matches with 8 or more Speed, and Orb Light Attack Damage.
The forest is full of many foes, like other travelers on their own quests for Gems. Battle them at the Fabled City in Fangwild Scuffle!
Stock up on sunscreen and get ready to claim your Glory because Heatwave 2022 and Ranked Season 25 both begin next Wednesday, July 13th! 
To catch the latest Brawlhalla news and content, be sure to follow us on Twitter, Twitch, Facebook, YouTube, Instagram and Discord!

Enter the Fangwild and discover 85 tiers of brand-new exclusive rewards unlockable by playing Brawlhalla and completing missions. All players are granted access to the Weekly Missions to unlock even more items! The Battle Pass season will last 12 weeks.
This Battle Pass season features new Skins for Dusk, Arcadia, and Scarlet, an animated Epic Skin for Ember, and a Progression Skin for Ragnir. Complete the progression missions to level up Ragnir and reach his final animated form.
Battle Pass Season 6 also features:
A free track extending through all 12 weeks of the Battle Pass.
A purchasable Gold Track with additional exclusive rewards like the new Fabled Overgrowth Progression Podium.
All players are granted access to all the Weekly Missions!
The first ever Battle Pass themed Emojis, including animated Emojis!
Two new Maps that include the first ever animated backgrounds!
Brand new Brawl of the Weeks called Fangwild Switchcraft and Fangwild Scuffle.
A new UI takeover featuring an animated splash art of Fangwild's Heart Ember and Elder Wild Ragnir!
New main menu, character select, and post-game theme music.
For all the completionists, a special Avatar and Title Reward await you if you make it through all 85 tiers!
Players can unlock over 100 new rewards during the Fangwild Battle Pass season, so grab your favorite Legend and start brawling. Players can also use Mammoth Coins to increase progress along the track while the season is active. For more information, check out brawlhalla.com/battlepass.


Battle within the Fabled City in this 3 minute, 6 player free-for-all match! Navigate the terrain of the giant swords and come out on top. Score 2 points for KOing an enemy, lose 1 point for being KO'd. Score the most points to win!
6 Player FFA
3 Minutes
Most points at the end wins!


Let the Heart herself be your guide into the forest! The Grovewarden Bundle continues the Fangwild festivities. This limited-time pack will include:
Grovewarden Ember Skin
Ember Legend Unlock
Drake Sidekick
This promotion is available to all Amazon Prime members. Claim your loot at brawlhalla.com/prime.


The free-to-play Legend rotation for this week includes: Caspian, Ulgrim, Lucien, Cross, Thor, Fait, Kaya, Arcadia, and Sidra.
Caspian – Led by his showmanship and thirst for danger, he has come to Valhalla armed with Katars and Gauntlets to put on a show!
Ulgrim – Equipped with flawless Ivaldi creations, his Axe and Rocket Lance, the legendary blacksmith forges his way into battle!
Lucien – This mysterious highwayman is always scheming for gold, and now has come to Valhalla to take part in the tournament wielding Katars and Blasters!
Cross – For years he has owned New York City, but can he do the same in Valhalla?  This charismatic mobster steps into Valhalla with Blasters and Gauntlets.
Thor – Finally entering the ring, Thor, God of Thunder, makes his appearance in the Grand Tournament with his trusty Hammer, Mjölnir, and his powerful Orb.
Fait – Speaking to the stars and using glimpses of the future, Fait battles for good with her Scythe and Orb!
Kaya – Using her bow, spear and spirit animals, she is ready to try her luck in the Grand Tournament!
Arcadia – The humble beetle farmer turned Glorious Queen of the Faefolk. Arcadia, the great champion of the Fangwild, fights in the Grand Tournament with Orma – the singing Greatsword, her EldritchThorn Spear, and trusty beetle companion Domo.
Sidra – The Corsair Queen, known for her legendary and fearless raids, is prepared to fight with her Sword and Cannon!