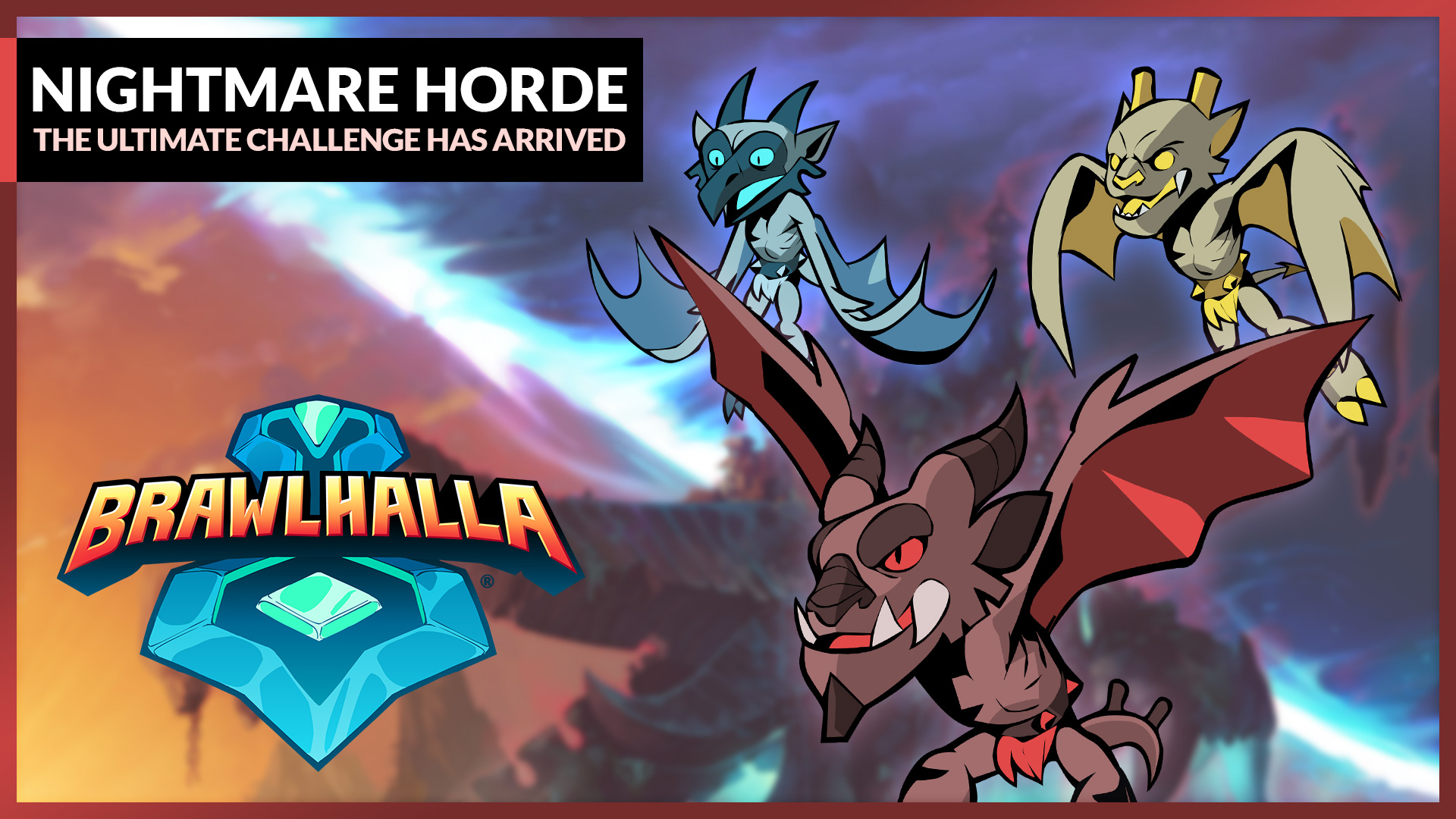 Nightmare Horde Mode & New Mallhalla Items! – Patch 7.04
Can you withstand the strength of waves upon waves of horrifying Gargoyles? Defend the portals in Nightmare Horde, an extreme difficulty variation of the classic Horde Mode. 
When you're not busy defeating creatures from the fiery underworld, check out the new Disarmed visual effects that have been added to the Experimental queue. Then, head on down to Mallhalla, where you'll find the New West Cassidy Skin bursting through the saloon doors ready for a standoff duel. If fighting those gargoyles tires you out, try the new Faint Emote. We've also added 9 new Avatars, including country flags and Doodles, so stand ready with your Avatar Cape and Flag Emote!
We've also added new challenges to the Challenges Preview available in Offline Play, made game improvements, bug fixes, and so much more. Log in and get ready to BRAWL!
To catch the latest Brawlhalla news and content, be sure to follow us on Twitter, Twitch, Facebook, YouTube, Instagram, Discord, and TikTok!

Patch 7.04 introduces a different kind of challenge to Brawlhalla. When selecting Horde mode in both Custom Lobbies and Offline Play, you'll have the option to select between classic Horde and the new Nightmare Horde mode.
Nightmare Horde is our first ever extreme difficulty variation of an existing Game Mode. Featuring all new gargoyle creature designs and an exclusive Horde variation of Demon Island. The rules are the same, earn the most points by stopping the approaching gargoyles from entering the portals. 
This is intended to be extremely difficult for even the most accomplished portal defenders. Team up with your most trusted allies and see if you can withstand the onslaught!


New West Cassidy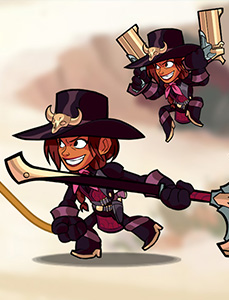 "She's got a quick-draw that rivals a four-armed gunslinger's!"
There's a new sheriff in town, and she moonlights as a saloon owner! Cassidy's ready to face any outlaw or confront any unruly patrons with her gilded "Bovine Skull Mallet" and "Rose Gold Revolvers."
Emote
Faint Emote
"That KO knocked ME out!"
Avatars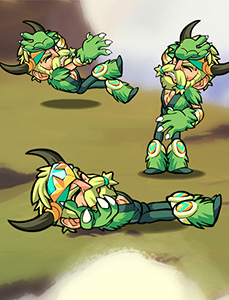 The Kitsune
"Let me tell you the tale of the blind seamstress and the thousand wolves."
New Doodle Avatars
Ezioodle
Cheloodle
Tezcoodle
New Country Flag Avatars
North Macedonia
US Virgin Islands
Panama
Tunisia
United Arab Emirates


Who is the platform king? 4 Players face off on a map with 6 platforms. Stay on the red platform to score points. Stun your opponents to keep them from scoring. Watch out, the platform switches around the map! The Player with the most points at the end of 2 minutes wins!
4 Player FFA
2 minutes
Stay on the platform to gain points
Most points at the end wins!


In Patch 7.02 we introduced a preview of the new Challenges system. As we continue to expand this preview, this update includes 2 more challenges for players to test their skills.
Battle Boots Offstage Carry
This Battle Boots string demonstrates the Battle Boots ability to carry your opponent offstage.
Katar Half Pipe Variation 1
This destructive Katar string is great when you catch your opponents without a dodge! It has many variations. Try this variation that ends with a powerful finisher!

We've added tags in "Meet the Legends" to clarify which Legends qualify for certain Battle Pass Missions. Note that different Skins may have unique tags, so make sure to check them all out!


There are some new updates to the player indicator preferences.

Names and icons can now be set individually to appear over just yourself, all players, team, or no one
New "mixed" icon mode that displays different icons per team.
New Name/Icon size preference option allows players to make icons and/or names larger or smaller.
Added an outline to icons to make them more visible.
This update should help everyone, especially colorblind players, know which player is on which team during gameplay.These changes reflect our ongoing efforts to make Brawlhalla more accessible to all.


We're excited to add a new test feature that shows an effect that indicates when a Legend has been disarmed. This can be played in the Experimental queue and any Custom Game with Test Features enabled. Also, the Dodge Cooldown changes have been removed from Test Features and did not graduate.
New Disarmed Visual Effects
There is a new visual effect that shows when a Legend has been disarmed by an opponent. The effect appears as bright colored sparks that fly off the Legend.

Experimental Dodge Cooldown 
The Dodge Cooldown changes have been removed from Test Features. The longer cooldown proved to be too punishing and resulted in fewer moments of interaction for most players, with less incentive to maintain ground control or return to the ground.
Please share all of your feedback with us on our socials like Twitter and Discord! For more information, visit brawlhalla.com/test-features.

User Experience
Tweaked the "Wants to Rematch" graphic to make it easier to read against detailed Podiums.
Server
Updated server lobby abbreviation for Southern Africa from SA to SAF.
Improved timeouts for public custom lobby listings to reduce the number of inactive game lobbies.
Art & Animation
Added sound fx to the High Five Emote variant for Default, Wendigo, and Onisan Sidekicks.
Added sound fx to the PhotoOp Emote.
Updated team Color exclusions and Map color exclusions for newer Colors and Maps.
Performance improvements for Arcadia, Ezio, Isaiah & Tezca.
The Drum Solo, Cake-aversary, and Raise Your Vote Emotes now make the Legend face right so that the text on the Emotes always face the correct direction.
Adjusted Jaeyun's Legend select animation so that his feet are better aligned with his shins.

Map
 Fixed the bot pathing on Western Air Temple. (Credit: Talafhah1)
 Fix for Western Air Temple so players can't travel around underneath the platform. (Credit: FoxMENA)
Gameplay
Added a fix to an unintended edge case where if you were on your final Jump before a Wall Slip then performed a grounded Recovery, you would refresh your aerial Jumps. With this fix, Grounded Recovery does not reset Jumps in any situation.
Art & Animation
Adjusted the unarmed Ground Pound animation to fix torso & head clipping issues with Legends & Skins that have tall torsos.
Adjusted Tezca's Legend select animation so that his shin doesn't clip through his Battle Boots.
Fixed an animation issue where Legends' toes would disconnect when doing the Satsui no Hado Emote.
Fixed an animation issue with the Blow a Kiss Emote where the Legend's forearms were upside down.
Fixed layering issues with Caspian, Fait, and Teros' Legend select animations.
Fixed a layering issue where Lucien's arm would sometimes disappear during his Neutral Blasters animation.
Fixed an animation issue with Jiro's Side Sword Signature where it would cause his arms to disconnect for some Skins.

Strike from the shadows and fade into the night. The Nightblade Bundle has revealed itself including:
Nightblade Hattori Skin (+2 Weapon Skins)
Hattori Legend Unlock
Dusk Spear Weapon Skin
Dander Avatar
Hattordoodle Avatar
Hattori WP Emoji
This promotion is free to all Amazon Prime members in supported regions. Claim your loot at brawlhalla.com/prime.


The free-to-play Legend rotation for this week features Queen Nai, Dusk, Onyx, Magyar, Sidra, Artemis, Teros, Azoth, & Thatch.
Queen Nai – With each victory nourishing the gods of her people, Queen Nai has come wielding Katars, Spear, and her powerful sorcery.
Dusk – Wielding his Spear and a powerful Orb, carved from stone and magic, Dusk seeks to spread chaos throughout Valhalla.
Onyx – The powerful Guardian and Protector of Castle Batavia, Onyx has been offered a place in Valhalla and now defends it ruthlessly with her Cannon and Gauntlets.
Magyar – As the last remaining member of the Batavian Strazci army and wielding the strength of a 100 elite knights, this spectral guardian has come for the glory of battle with their Greatsword and Hammer!
Sidra – The Corsair Queen, known for her legendary and fearless raids, is prepared to fight with her Sword and Cannon!
Artemis – Transversing the universe in search of her rival Orion, Artemis has ripped open a wormhole into Valhalla, armed with a Rocket Lance and Scythe; she is ready to fight!
Teros – This Minotaur is indifferent to the rules or intent of the Tournament, and instead, takes savage joy in all the battles while crushing his opponents with Axe and Hammer.
Azoth – Devoted acolytes bring this brilliant and ruthless lich lord to life as he comes into Valhalla to do battle with Bow and Axe.
Thatch – The tournament is a paradise of chaos and fire for this Madman of Barbados as he uses Sword and Blasters.