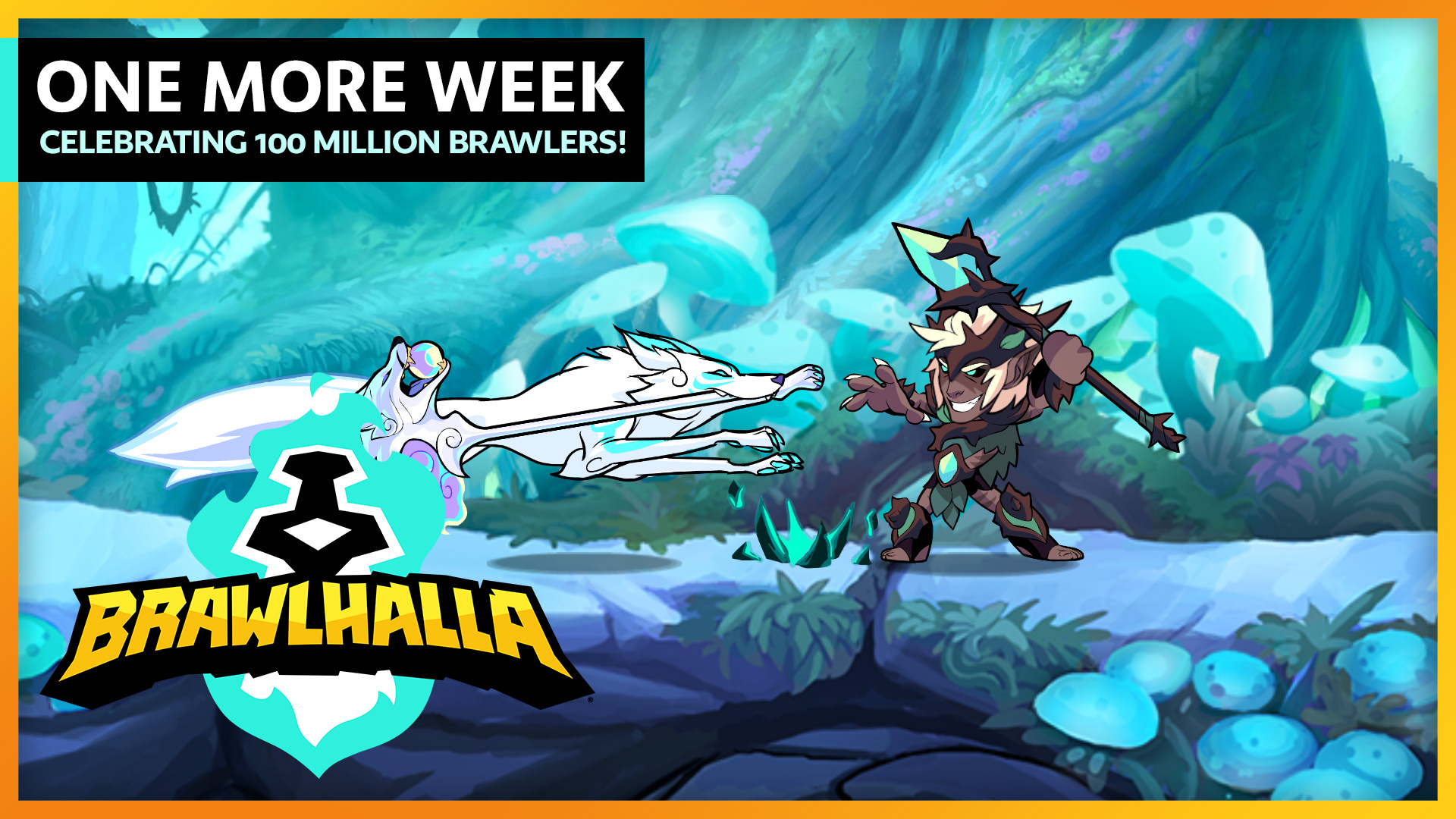 One More Week Celebrating 100 Million Brawlers!
It's the last week of the 100 Million Brawlers Celebration! The festivities may be ending but we're incredibly grateful and humbled by all the support. 
We're closing out the event with offerings of Epic proportions. Get ready for another week of daily themed sales, featuring the first ever sales for the Mad Genius Scarlet & Apocalypse Mirage Epic Skins!
Over the weekend we're also celebrating the release of Street Fighter 6 with sales for all Brawlhalla x Street Fighter items, including Epic Crossover characters! Starting June 2nd and running through the 4th, this marks the first time any Epic Crossover items have gone on sale. Stock up on all the gear and get ready to FIGHT!
Get a teammate and jump into a crazy 2v2 Switchcraft battle, featured today for "Brawl of the Day". Come back every day to test your skills in Street Brawl, Bounty Hunting, Temple Climb, and more!
The timed event missions for Raven's Honor Colors and Fenrir GG Emoji Skin are active for one more week. Win matchmade games with each Legend to unlock the universal Raven's Honor Color Scheme and earn 10,000 XP.
To catch the latest Brawlhalla news and content, be sure to follow us on Twitter, Twitch, Facebook, YouTube, Instagram, Discord, and TikTok!
We can't thank everyone in our community enough for your continued support of Brawlhalla. To celebrate reaching 100 million lifetime players, we're hosting an event unlike any other for one more week. Enjoy the newest Epic Skin in Mallhalla, a highly requested new Color Scheme: Raven's Honor, a free Avatar and Title Reward, and all the rest of the festivities!
New Epic Skin: Inari Yumiko – A most noble and eminent being, the embodiment of divine will.
Custom Signature FX
Animated Weapon Skins
Custom lock-in animation
Announcer VO
Roster icon
Stays in Mallhalla after the event!
Raven's Honor Color Scheme
Win a matchmade game with a Legend to earn this exclusive purple and black Color Scheme for that Legend. Win matchmade games with all 58 Legends to unlock the Universal Color Scheme for all future Legends! The only way to earn the Raven's Honor Color Scheme is to participate in this Timed Event Mission.
Fenrir GG Emoji Skin
Earn 10,000 XP by playing matchmade games to earn this Emoji Skin inspired by one of the most well known Mordex Skins. The only way to earn the Fenrir GG Emoji Skin is to participate in the Timed Event Mission.
Esports Viewership Rewards Now in Mallhalla
After debuting last year as Viewership Rewards for watching Brawlhalla Esports on the official Brawlhalla Twitch Channel, the following items are now available for purchase in Mallhalla:
Champion's Throne Emote
Sidekick Souvenir Orb
Tide Queen Rocket Lance
Maple Breeze Katars
Regal Sun Weapon Set
The 100 Million Brawlers celebration also includes:
Free "One in 100 Million" Title and "100 Million Brawlers" Avatar for logging in.
Daily themed sale items including Epic Skins and other prestige items for the first time!
Daily Brawl of the Weeks
+500 Bonus Gold at Login – the largest Gold login bonus to date. 
Debuting Brawlhalla's new logo!
UI Takeover
Since its launch, the All-Legends Pack has been valued at $19.99 USD. As the sheer volume of Legends has increased over the years, the price of the pack will increase to better reflect the value.
However, before the price increase, we're hosting an epic discount on the original cost as part of the 100 Million Brawlers Celebration. That means you can unlock all Legends, present and future, for less than the current price point! 
We're also hosting a sale on the Collectors Pack! There are no plans to change the price on this item.
Please see below for the dates of each platform's sale:
All Legends Pack 
Ubisoft Store: May 11 – June 6
Epic Games Store: May 18 – June 15
Steam Store: May 24 – June 6
Google Play Store: May 24 – June 6
PlayStation Store: June 7 – 21
Nintendo eShop: June 12 – 25
Xbox Marketplace: June 13 – 26
Collectors Pack
Epic: May 18 – June 15
Steam Store: May 24 – June 6
Xbox Marketplace: June 6 – June 19
PlayStation Store: June 12 – July 22 (PS+ Members only)

5/31: Switchcraft 2v2
Even more Switchcraft mayhem! Get a teammate and jump into this crazy 2v2 Stock battle. Pick 3 Legends and watch their weapons and sigs get jumbled up. Battle equally scrambled opponents and try to knock out all 6 of their Stocks first to win!
2v2 Teams
3 Stocks for each player
Last team standing wins!

6/1: Morph
It's hero time in this 1v1, 3 stock transforming battle! Choose one weapon each from 3 of your favorite Legends in character select. Activate your powers like the Omnitrix with the throw button to change forms. Weapons are always equipped and cannot be picked up or thrown. First to 3 KOs wins!
Morph into the different Legends with the throw button.
1v1
3 Stocks
Choose one weapon each from 3 Legends.
First to 3 KOs wins!

6/2 – 6/3: Street Brawl
Get ready for action as another fight is coming your way! Choose your fighter and brawl in this 1v1, 8-minute match. Go for broke and knock out your opponents into oblivion. Defeat your opponent first in this stamina mode to win!
1v1
8 minutes
3 stocks each
First to 3 KOs wins!

6/4: Bounty Hunting
Track down the score of a lifetime in this timed, 200% FFA mode. The first person to get a KO becomes the Bounty and will take 2x Damage until they are KO-ed. Whoever KOs the Bounty scores more points and becomes the new Bounty. Score the most points in 3 minutes to win!
3-minutes
FFA
4 Players
200% Damage
KO first to become the Bounty.
The Bounty takes 2x damage.
KO-ing the Bounty scores more points and makes the player become the Bounty.
Score the most points to win!

6/5: 2v2 Showdown
Team up as an awesome duo in this close combat 2v2 brawl! Fight to become the chosen team as you punch, kick, and fight. Watch out for the arrow and throwing star traps. First team to 5 KOs wins, skadoosh!
Showdown Game Mode
2v2 – bring a teammate or get matched up with one.
Our first walk-off map!
Press the pressure plates to activate arrow traps or throwing stars.
First to 5 KOs wins!

6/6: Temple Climb
Walk the line between myths and truth like Lara Croft! Survive the treacherous climb through this 3 minute, 4 player free-for-all match. Beware! The temple is filled with traps, so make your own luck by activating the pressure plates to turn them on your opponents. The player with the highest score wins!
Climb Game Mode
4-Player FFA
Climb the map as you battle your opponents!
Beware: pressure plates activate traps.
Score the most points to win!


5/31: Arctic Theme
Arctic Fox Yumiko – How about we break the ice? Bonus: Aurora emotes with Yumiko's actions!
Arctic Trapper Xull – There's more than one way to skin most things.
Snow Stalker Kaya – Gliding over the frozen terrain on the prowl.
North Wind Mordex – The ravenous spirit of the North.
Arctic Edge Spear – Hewn from the heart of a glacier, it makes any warrior cold-blooded.
The North Wind – Bow – 90% chance of gusting winds and shards of ice.
6/1: Comic Book Theme 
First Edition Sentinel – Gained super powers after being bitten by radioactive lightning in his teens.
Vector Model 01 – The classic look.
Silver Age Jhala – Great at fighting villains, less great at that whole secret identity thing.
Supreme Ruler Vraxx – His Galactic Excellency, Eternal Glorious Conqueror, Peerless Great General, Alien of Deeds.
Project-0NYX – </Booting Protocol…Running Beatdown.exe…/>
Azure – Bow – Perfectly balanced, humming with energy, deathly accurate.
6/2: Western Theme
New West Cassidy – She's got a quick-draw that rivals a four-armed gunslinger's!
Desperado Reno – The strong arm of the law has many more arms than we remember.
Double Cross – A gambler with the Devil's own luck.
Mother of Pearl Blasters – Blast away with beauty and elegance using this true work of art.
Gilded Lily – Sword – From the richest of bloodlines. Contact Lucien for fast purchase.
Faint – Emote – That KO knocked ME out!
6/3: Fangwild Theme 
Rogue Queen Arcadia – Her life before royalty.
Raven Shaman Dusk – The mystic arts shouldn't be toyed with.
Nightshade Ragnir – The Fangwild's right hand.
Wendigo – Sidekick – That ravenous howling isn't just the wind!
Laughing Dragon – Hammer – Laughter is the best medicine.
Drake – Sidekick – *Screaming villagers not included.
6/4: Apocalypse Theme 
Sawed-Off Barraza – Good as new.
Chrometooth Gnash – Makes a great pelt. Slightly harder to eat.
Ready to Riot Teros – Play it loud and tear it down!
Section Zero Isaiah – We have the technology! Bonus: Antennas, cables and visor react to Isaiah's actions!
Craig – Sidekick – Lightly used. Cash only. No cops. Seller not responsible for dropped respawns.
Boomer – Breed? She's a Cyborgi!
6/5: Villainous Theme 
Mad Genius Scarlet – Animated weaponry is the latest advancement in Valhallan technology to be devised by Scarlet and her faithful collab-rat Cheddar.
Iron Lady Artemis – Ruling with an iron fist and a heart of fire!
Dunewalker Mordex – You'll laugh till you die.
Steam Charged Saber – Sword – That whistling doesn't mean its tea time. It means your foes are doomed!
Darkheart Crusher – Hammer – We know not from whence it came, but in the quiet hours, it whispers of smashing.
Cannonades – Blasters – Sometimes bigger is better.
6/6: Macabre Theme
Apocalypse Mirage – Epic Skin – Alight with the dancing flames of souls, Mirage and her fearsome weapons harvest one opponent after another.
Lockdown Nix – Serving her sentence… And giving you yours.
Demon Ogre Xull – Unstoppable and irredeemable.
Forsaken Magyar – Let them extinguish those foolish ambitions.
Blood Moon Volkov – Is it just me or are things getting a little batty around here?
Darkheart Reaper – Scythe – The harvest has begun.

Starting this Saturday, June 2nd, we're putting every single Brawlhalla x Street Fighter item on sale to celebrate the release of Street Fighter 6. 
This marks the first time any Epic Crossover items are on sale, so stock up on all the gear and get ready to FIGHT!
We're also spotlighting Street Brawl on Saturday and Sunday for our daily "Brawl of the Week" rotation! 
The sale lasts from 6/2 and runs until 6/4. Check out the full list of Sale items below.
Ryu – Epic Crossover – My one true rival is the fight within!
Chun-Li – Epic Crossover – What's the matter? Too many kicks to the head?
Akuma – Epic Crossover – Weaklings! Is there no one worth fighting?
M. Bison – Epic Crossover – Face the never-ending nightmare!
Luke – Epic Crossover – Let's do it. I'm always ready for a fight!
Ken – Epic Crossover – Looks, speed, and strength. I've got it all.
Sakura – Epic Crossover – If you want to be strong, you can't lose to anyone!
Dhalsim – Epic Crossover – This is the path to achieve enlightenment.
Knockout – KO Effect – Continue?
Kapukon Yu – Podium – Nothing like a relaxing bath after a tough battle!
Satsui no Hado – Emote – To harness this means great power. But at what cost?
Quarter Circle Punch – Avatar – Practice makes perfect.
HADOKEN! – Avatar – Hadoken! Hadoken! Hadoken!
Shadaloo – Avatar – The most powerful and deadliest criminal organization.
The Red Cyclone – Avatar – Nothing can stop Zangief when a new challenger approaches!

Cry "havoc" and let slip the ultimate dog of war, Mordex! The Iron Legion bundle has everything you need to fight on the front lines, including:
Iron Legion Mordex
Mordex Legend Unlock
The Flex Emote
This promotion is available for all Amazon Prime members in supported regions to unlock for free. Claim your loot at brawlhalla.com/prime.
The free-to-play Legend rotation for this week features Jhala, Diana, Asuri, Orion, Tezca, Magyar, Lin Fei, Volkov, and Dusk. 
Jhala – Given the title "Exalted Lion" by Apollo himself, Jhala "The Unbroken" takes the glamor of Valhalla in stride while having fun slaying her foes with Axe and Sword.
Diana – Commander of the Order's hunters, she uses her Bow and Blasters to slay countless beasts and monsters.
Asuri – This Night Stalker has claimed the Tournament as her territory and sets upon challengers to her domain using Katars and Sword!
Orion – A revered warrior and champion, the mysterious armored knight uses Rocket Lance and Spear to battle his foes in the halls of Valhalla!
Tezca – The greatest luchador in the world who also became an ancient god. Tezca makes his own rules in the ring with his Gauntlets & Battle Boots!
Magyar – As the last remaining member of the Batavian Strazci army and wielding the strength of a 100 elite knights, this spectral guardian has come for the glory of battle with their Greatsword and Hammer!
Lin Fei – A defender of the innocent and teacher of the lost ways.  She is a great teacher who has developed her own fighting style, the 'Way of the Iron Dragon,' which utilizes her Cannon, Katars and an ancestral dragon-spirit.
Volkov – The Vampire King of Batavia has unexpectedly found Valhalla and has brought his Scythe and Axe to battle.
Dusk – Wielding his Spear and a powerful Orb carved from stone and magic, Dusk seeks to spread chaos throughout Valhalla.