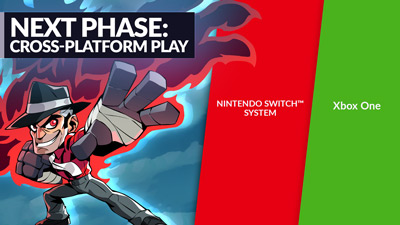 Phase Three of Cross-Play Rollout
Phase Three of a Single Brawlhalla is here! We unified the servers in Phase One, then the patches started happening simultaneously for Phase Two. Now, Nintendo Switch and Xbox One players can play together.

This means Nintendo Switch and Xbox One users can matchmake against each other in all online queues (like Ranked, Experimental, FFA, etc), and you can join each other's custom lobbies. There are actually no restrictions between Nintendo Switch and Xbox One players now. Everything you could do before, you can now do between these platforms.
Our goal is to remove barriers in our community and to deliver an even better Brawlhalla experience. There will be faster queue times for Xbox One and Nintendo Switch, and you will be matched with players who are even closer to your skill level. We will be keeping an eye on the situation and making changes if needed.
These are exciting improvements and we're so happy to finally talk about them. Thank you for constantly reminding us on Twitter about "cross-play when," and a bigger thanks for sticking with us through everything. Now, we are working hard on Phase Four of the rollout, and we will give you more details when we have them.