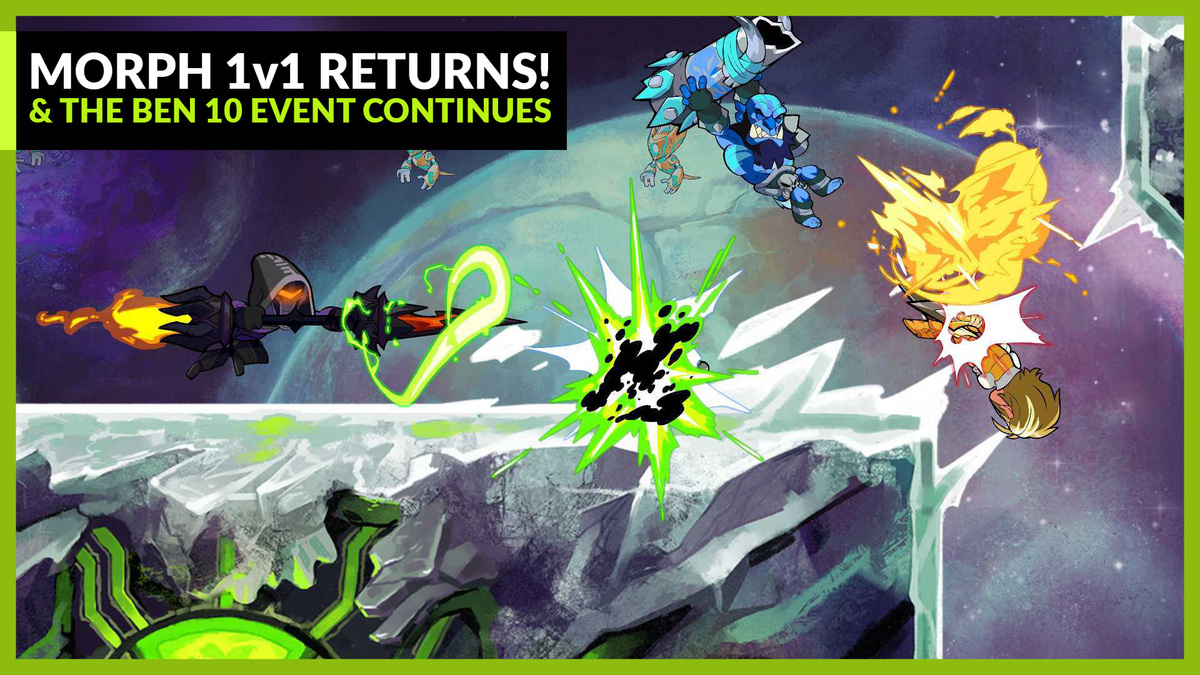 Play Morph in the Brawl of the Week
The Ben 10 Epic Crossover event carries on in Brawlhalla! Cartoon Network's Ben 10 arrived in his alien forms Heatblast, Diamondhead, and Four Arms. The event also includes a new Vilgax KO Effect, new Morph game mode featured as the Brawl of the Week, and more updates that will be staying in Brawlhalla after the event ends. 
Battle Pass Season 1 continues with new missions for its fifth week! Lastly, we have updated items on sale and updated the free-to-play Legend Rotation.
To catch the latest Brawlhalla news and content, be sure to follow us on Twitter, Twitch, Facebook, YouTube, Instagram and Discord!

It's hero time in Valhalla! Heatblast, Diamondhead, and Four Arms are new Epic Crossovers. Epic Crossovers feature custom Signature effects, custom lock-in animations, dedicated Roster spots, and two new Weapon Skins. 
In Brawlhalla, Heatblast, Diamondhead, and Four Arms mirror the abilities of Ada, Caspian, and Kor, respectively, and will be staying in Mallhalla after the event ends. Ben 10, Cartoon Network, the logos, and all related characters and elements are trademarks of and © Cartoon Network, a WarnerMedia company. All Rights Reserved.
Featuring:
Heatblast Epic Crossover – "Bringing the heat!"
Heatblast will scorch his opponents with his Blazing Fire.
Diamondhead Epic Crossover – "You haven't even scratched the surface."
With crystal shards and spiked balls, Diamondhead cuts through the competition!
Four Arms Epic Crossover – "Four armed and ready for battle!"
Using the environment to crush his enemies, Four Arms brings his Concrete Slam into the tournament.

KO Effect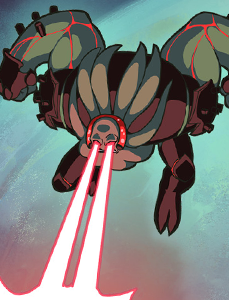 Vilgax
"The conqueror of worlds will destroy you."
This KO features Vilgax rising from the depths to fire laser beams at your opponents before bringing them down with his tentacle arms.
Podium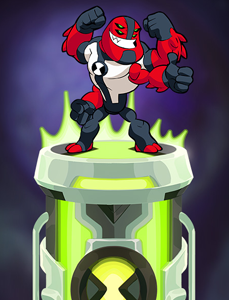 Omnitrix
"It's hero time!"
Let your Legends stand upon the Omnitrix itself. Features a green glow during selection, and for the first time, sound effects upon confirmation!
This Ben 10 event also includes:
A new Ben 10 themed Game Mode and Brawl of the Week – Morph!
Daily login bonus of 250 Gold to celebrate this Epic Crossover event.
A new Free-for-All Map called Galvan Prime and 1v1 Map called Small Galvan Prime, the homeworld of the creator of the Omnitrix.
A Ben 10 themed UI Takeover!



It's hero time in this 1v1, 3 stock transforming battle! Choose one weapon each from 3 of your favorite Legends in character select. Activate your powers like the Omnitrix with the throw button to change forms. Weapons are always equipped and cannot be picked up or thrown. First to 3 KOs wins!
New Morph Game Mode
1v1, 3 Stocks
Choose one weapon each from 3 Legends.
Morph into the different Legends with the throw button.
First to 3 KOs wins!


Check out the updated base design of Xull in the Legends tab!
Looking for a certain chest? We're rapidly rotating through chests, so check out the in-game timer to know when the next chest will rotate.
Find the new Sales items!
The new Legend rotation for this week includes: Rayman, Mordex, Lin Fei, Ulgrim, Fait, Yumiko, Thatch, and Hattori.
Rayman -The Champion of the Glade of Dreams, wielding his Gauntlets and Axe, has found his way into Valhalla on a mission to save his home.
Mordex – Wielding Gauntlets and Scythe, this lycanthrope steps into battle!
Lin Fei – A defender of the innocent and teacher of the lost ways.  She is a great teacher who has developed her own fighting style, the 'Way of the Iron Dragon,' which utilizes her Cannon, Katars and an ancestral dragon-spirit.
Ulgrim – Equipped with flawless Ivaldi creations, his Axe and Rocket Lance, the legendary blacksmith forges his way into battle!
Fait – Speaking to the stars and using glimpses of the future, Fait battles for good with her Scythe and Orb!
Yumiko – Holding the appearance of a blind seamstress, this centuries old fox spirit has been brought into battle wielding her Magical Hammer and Bow!
Thatch – The tournament is a paradise of chaos and fire for this Madman of the Barbados as he uses Sword and Blasters.
Hattori – A gifted ninja with unparalleled skill with the Sword and Spear has discovered Valhalla. Will she find any worthy challengers there?