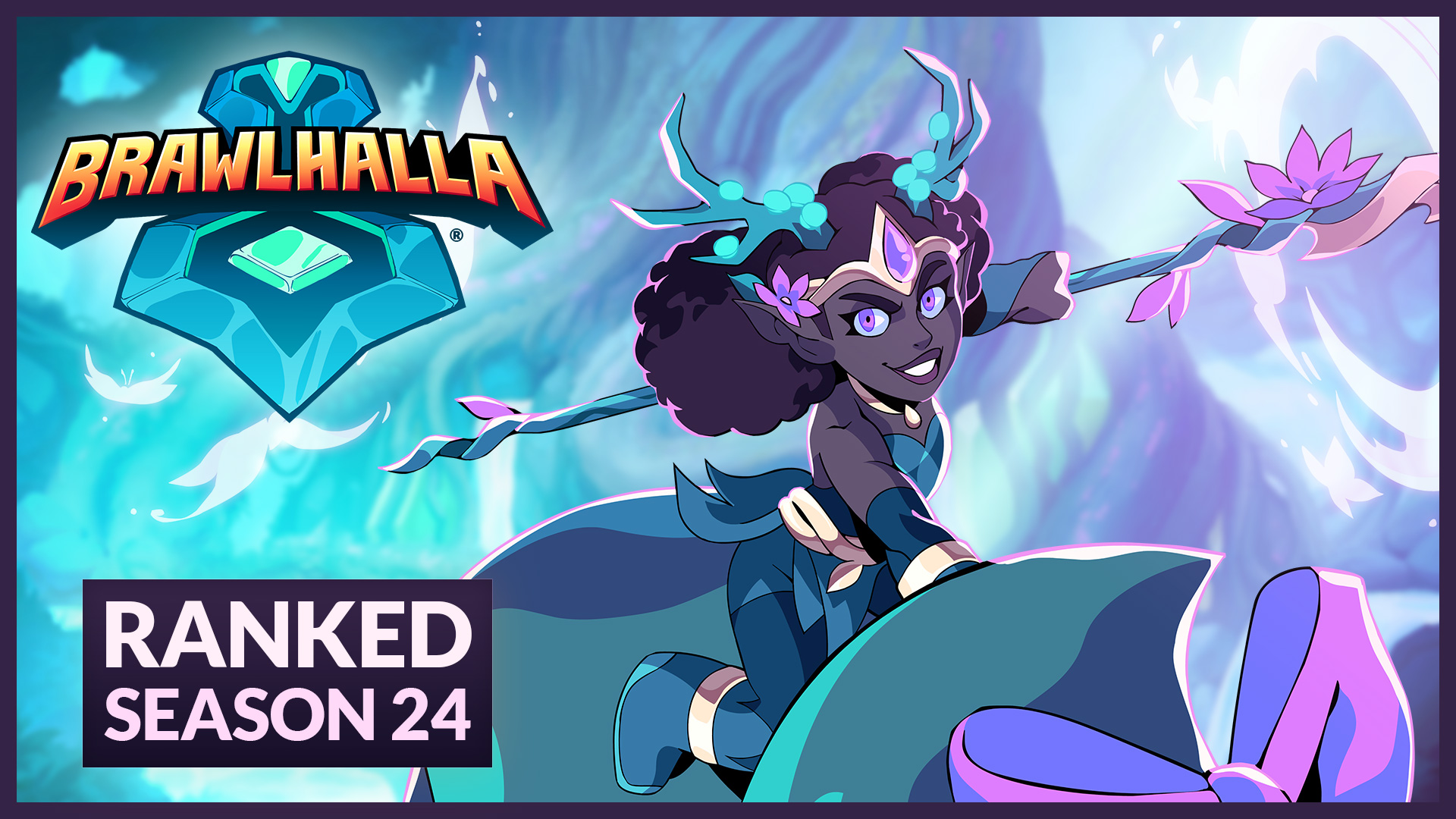 Ranked Season 24 Begins Today!
Ranked Season 24 is finally here! Introducing 1v1 Switchcraft in the Seasonal Ranked Queue. Stand off against a single opponent in an epic battle of mashed up Legends. Knock out all 3 of your opponent's Stocks to win!
Now is also the time to use your hard-earned Glory from last season to claim exclusive Skyforged and Goldforged rewards. Choose from Weapon Skins, Emotes, Nameplates, and more, all available in Mallhalla. 
If you're new to Seasons, check out everything you need to know, including the Elo reset and tier rankings in our breakdown below. 
To catch the latest Brawlhalla news and content, be sure to follow us on Twitter, Twitch, Facebook, YouTube, Instagram and Discord!

Season 24 – Rewards and Soft Elo reset! 
If you're new to Seasons, here's some information you should know. At the beginning of every new season you have a soft Elo reset and receive Glory, the currency you earn by playing Ranked. You can use it in the Ranked section of Malhalla to get special Colors, Weapon Skins, Emotes, and Nameplates to show your dedication to your favorite Legend. We hope you enjoy your rewards and enjoy the New Season! 
Soft Elo Reset Formula 
Soft Elo Reset is based on your current Elo at the end of the season. 
1v1 and 2v2 Personal Rating 
Under 1400: New Elo = Old Elo 
Over 1400: New Elo = 1400 + (Old Elo – 1400) / (3 – (3000 – Old Elo) / 800) 
2v2 Team and Legend Rating 
2v2 Team & Legend Ratings  have been brought closer to 750.
Under 2000: Elo = (Elo + 375) / 1.5 
Over 2000, we aggressively brought you back down as a way of resetting the top tiers. Diamond level players will be reset to high gold or low platinum. 
Glory Earnings Calculation 
Glory earned is based on a combination of your Highest Peak Rating (highest 1v1, 2v2, team, or Legend rating/Elo) and total Wins. This was designed in order to reward both skill and dedication for those who pursue Glory. 
You gain 20 Glory per win up to 150 wins, which gets you 3000 Glory. After 150 wins, each subsequent win gives you slightly less. 
Note: There is a minimum requirement of 10 games played to be eligible for Glory based on your rating. For help estimating your Glory Gained or New Elo after the reset go to: https://cms.brawlhalla.com/glory-calculator/ 

Ranked Borders from Season 23 
If you placed in Gold, Platinum, or Diamond in your best rating, you are given a ranked border that people will see in the match preview screen. These will last for one season and will be updated again after the new season comes to a close. 
Your border from any previous season does not carry over or have any impact on your current border reward. 
Ranked Avatars from Season 23
Ranked Avatars include prestigious versions for those who've placed in high ranks during previous seasons. For example, if you placed in Platinum last season and Gold this season, you'll receive the upgraded versions of the Competitor's Badge and Gold Emblem. You will still have your original Platinum Emblem avatar from previous seasons. 
You must play a minimum of 10 games to receive ranked avatars / borders at ANY rank.
Competitor's Badge: Awarded to anyone who plays 10 Ranked Games or more. 
Gold Emblem: Awarded to players who finish at Gold or above. 
Platinum Emblem: Awarded to players who finish at Platinum or above. 
Diamond Emblem: Awarded to players who finish at Diamond. 
Upgraded versions of Ranked Avatars are awarded to those who have earned the same Avatar in any previous season. 
5th & 6th Tier Ranked Avatar Upgrade Information 
For players who have reached the 5th Tier of an avatar by reaching a certain rank or higher for five total seasons: the 5th Tier of that avatar will stay in your inventory permanently! Congratulations on your achievements! 
The 6th Tier Avatar, for those who have reached a certain rank or higher for six total seasons, will take on a brand new look! These avatars will grow more and more prestigious with each subsequent seasonal repeat up to Tier 10, at which point the Tier 10 avatar will remain in your inventory permanently. 
In short, every 5 Tiers of avatars, you'll keep the most awesome, most decked out version permanently, and then start work on a new version for subsequent tiers for 6-10, 11-15, and so on. 
Exclusive Ranked Rewards – Skyforged & Goldforged! 
Beyond glory there is immortality! In Mallhalla, under the "Ranked" tab, players may spend their hard-earned Glory to purchase Skyforged Colors, Weapons, Nameplates, Emotes, and Sidekicks. Skyforged Colors are only usable on Legends that have reached level 5 or greater. 
Players can also purchase Goldforged items, which require the purchase of the Skyforged version of the same item. Show your strength with these exclusive Ranked items!
New Ranked Game Mode – 1v1 Switchcraft
Introducing 1v1 Switchcraft available in the Seasonal Ranked Queue! 
Pick 3 Legends and watch their weapons and sigs get jumbled up in this crazy 1v1 Stock battle. Face an equally scrambled opponent and knock out all 3 of their Stocks first to win!
Players can continue to earn Glory mid-season and earn exclusive Title Rewards. With every new season, the Seasonal Ranked Queue's Elo will do a full reset. 


Arcadia – "The Faerie Queen"
Weapons: Greatsword, Spear
Stats: 7 Strength, 7 Dexterity, 4 Defense, 4 Speed
"It is Arcadian tradition that the new queen of the Faefolk take the name of the entire realm as her own. Thus Dacia Illuvia became the Glorious Arcadia, the 92nd, and few would grow to deserve the honor more than the once humble beetle girl."
Arcadia enters with 3 new Skins:
Rogue Queen Arcadia – "Her life before royalty."
Carapace Armored Arcadia – "Stronger than any man-made steel."
Briar Rose Arcadia – "The chaos overwhelmed her might."


Train to become an elite soldier like Isaiah with the Shadow Ops bundle! This pack contains everything you need to launch a covert mission, including:
Shadow Ops Isaiah Skin
Isaiah Legend Unlock
Shadowboxing Emote
This limited-time promotion is available to all Amazon Prime members. Claim your loot at https://gaming.amazon.com/loot/brawlhalla.  


The free-to-play Legend rotation for this week includes: Jhala, Vector, Rayman, Jaeyun, Mordex, Yumiko, Dusk, Lin Fei, and Ada.
Jhala – Given the title "Exalted Lion" by Apollo himself, Jhala "The Unbroken" takes the glamor of Valhalla in stride while having fun slaying her foes with Axe and Sword.
Vector – Transforming into a jet with his Rocket Lance and wielding his Bow to fight, Vector travels through time and space to battle crime!
Rayman – The Champion of the Glade of Dreams, wielding his Gauntlets and Axe, has found his way into Valhalla on a mission to save his home.
Jaeyun – The legendary mercenary who has traveled across the Old Kingdom on the back of his dragon turtle companion Imugi, Jaeyun has discovered new riches and sights in Valhalla! He brings the Greatsword and Sword to battle in the Grand Tournament.
Mordex – Wielding Gauntlets and Scythe, this lycanthrope steps into battle!
Yumiko – Holding the appearance of a blind seamstress, this centuries old fox spirit has been brought into battle wielding her Magical Hammer and Bow!
Dusk – Wielding his Spear and a powerful Orb, carved from stone and magic, Dusk seeks to spread chaos throughout Valhalla.
Lin Fei – A defender of the innocent and teacher of the lost ways.  She is a great teacher who has developed her own fighting style, the 'Way of the Iron Dragon,' which utilizes her Cannon, Katars and an ancestral dragon-spirit.
Ada – Armed with Blasters and Spear, this nano-tech, elite combat hacker aims to win in the Grand Tournament.