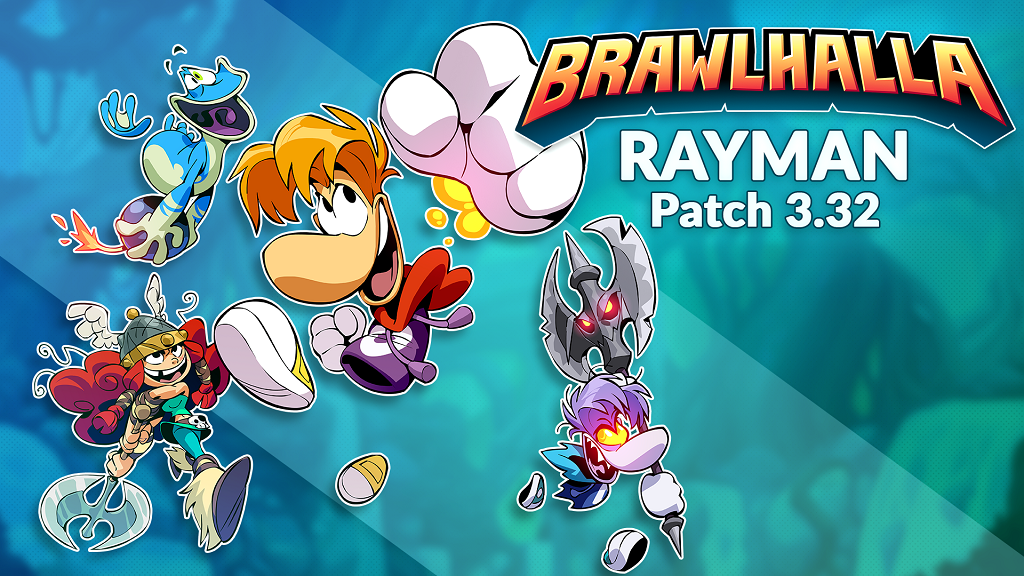 Rayman is Coming! November 6th – Patch 3.32
Rayman is coming in Patch 3.32, November 6th! 
From the Dream Forest to the Great Hall, we are excited to announce Rayman, Champion of the Glade of Dreams, as a new Legend! He finds himself in Valhalla, set on a quest to discover how to truly save his home. He uses Gauntlets and Axe to take down giant dragon bosses and any opponents participating in the Grand Tournament, in order to win the ultimate prize. Globox and Barbara also join the action as Epic Crossover Skins! On his arrival, Rayman taught the denizens of Valhalla how to play Kung Foot; join the fun in the BotW. Make sure to check out the fantastic Rayman-themed items in Mallhalla as well. We're also running a Rayman event to top it all off! Yahoo!
Rayman and his friends join the fight – Yeah!!
Rayman joins the Legends of Brawlhalla! Alongside him, Globox and Barbara will be Epic Crossover Skins for Cassidy and Brynn, respectively. We're celebrating Rayman and his friends joining the fray with a new game mode, Kung Foot, a new Team Photo Taunt (where players can taunt with you), new KO Effect, new Podium, +250 Gold to your daily log-in bonus, and so much more! Items from this event will remain available in Mallhalla even after the event has ended.
See the complete list below for all the Rayman-themed goodies:
New Legend – Rayman
Rayman – "Champion of the Glade of Dreams"

Weapons: Gauntlets, Axe

Stats: 5 Strength, 5 Dexterity, 6 Defense, 6 Speed
Rayman enters with 3 new Skins:
Raymesis – "He stops at nothing to soil Rayman's reputation."

Sir Rayelot – "A mysterious hero who never takes his helmet off."

Raydvar – "Bödvar seems a little off today…"
Epic Crossover Skins
Barbara Brynn – "A strong barbarian princess – no one wields an axe quite like her!"

Globox Cassidy – "Rayman's dependable best friend, as long as there aren't Robo-Pirates around."
New Game Mode – Kung Foot!
Rayman brings with him a brand new insanely fun game mode! High five your partner and get ready to compete in Kung Foot. Anything goes in this fast paced sport as you kick, bash, and slash the ball through the opposing team's goal. The more you damage the ball the faster it goes. Goooooooooooooal!
2-8 player

Teams

Score to Win

No Gadgets

KO opponents in your own goal

Custom game mode
Rayman-themed items!
Rayman has brought along a few treats from the Glade of Dreams to Mallhalla!
Taunt
Team Photo – "Say Cheese!" Bonus: Players can taunt nearby to pose with you!

Our very first team Taunt!

Only one player needs to have the Taunt in order for others to participate.

Even your opponents can join in on the fun!
KO Effect
Medieval Dragon – "Your opponent's not winning this boss fight."
Podium
Spellbound Tree – "From the Dream Forest to the Great Hall!"
Sidekick
Lum King – "This one collects YOU!"
The Rayman event will also feature a UI Takeover and +250 Gold per login!
Mallhalla
Find Rayman items by following the lums in Mallhalla!

Introducing Rayman as a new Legend!

Rayman enters with 3 new Skins: Raymesis, Sir Rayelot, & Raydvar

Epic Crossover Skins: Barbara Brynn and Globox Cassidy

Team Photo Taunt

Medieval Dragon KO Effect

Spellbound Tree Podium

Lum King Sidekick

Check out the new sales items!
Brawl of the Week – Kung Foot!
Our newest game mode debuts in the BotW. Join the fun with this 2v2 team game that's all the rage in the Brawlhalla sports scene. You can learn the ropes with a friend or queue solo – don't worry team damage is off. First team to score 5 goals wins!
2v2

5 goals

100% Damage

5 Minute Timer
Welcome to Brawlhalla
This launch is one of our biggest patches yet, and we want to say thank you for helping Brawlhalla grow into the great game it has become. In celebration, we are going to be rolling out new, free welcome bundles per platform. Our first welcome bundle is rolling out on Xbox One. Try Brawlhalla on Xbox One and you'll get Orion with the Dark Age skin, Thumb's Up Taunt, and Trident Weapon Skin. In the future, we will add free welcome bundles for PS4, PC, and Switch as we work to make something fun and themed for each platform. Keep your eyes on our news for more info, and again, thank you for being a Brawlhalla player!
Game Improvements
Optimized the Graveyard Shift Podium to run better on consoles.
Bugs
Fixed a bug causing the room privacy lock icon to display on the wrong part of the screen when playing on Steam.
Legend Rotation
The new Legend rotation for this week includes: Scarlet, Brynn, Koji, Zariel, Mirage, Cassidy, Xull, and Lucien
Scarlet – A former female boxing champion of England and head of the Royal Airship Navy, this Legend uses her ingenuity and steam power to build her own Rocket Lance and Grappling Hammer to take into battle.

Brynn – Competing for the pure joy of it, this Valkyrie has seen many victories due to her skill with the Axe and Spear.

Koji – Armed with his ancestral katana, Koji slices his way through the battlefield with Sword and Bow!

Zariel – The Celestial, a warrior deity of Holy Justice, who abides in blessed Elysium. Zariel uses Gauntlets and Bow to take down both Demon hordes and any warrior participating in the Grand Tournament.

Mirage – An occultist, martial artist, and spy, this agent uses the powers of magic and time-travel along with her Scythe and Spear to take down her foes.

Cassidy – The Marshal of the Old West is ready to instill justice into Valhalla with both Hammer and Blasters!

Xull – With legendary physical strength, this Axe and Cannon wielding Orc Warlord is ready to challenge everyone and everything in Valhalla!

Lucien – This mysterious highwayman is always scheming for gold, and now has come to Valhalla to take part in the tournament wielding Katars and Blasters!