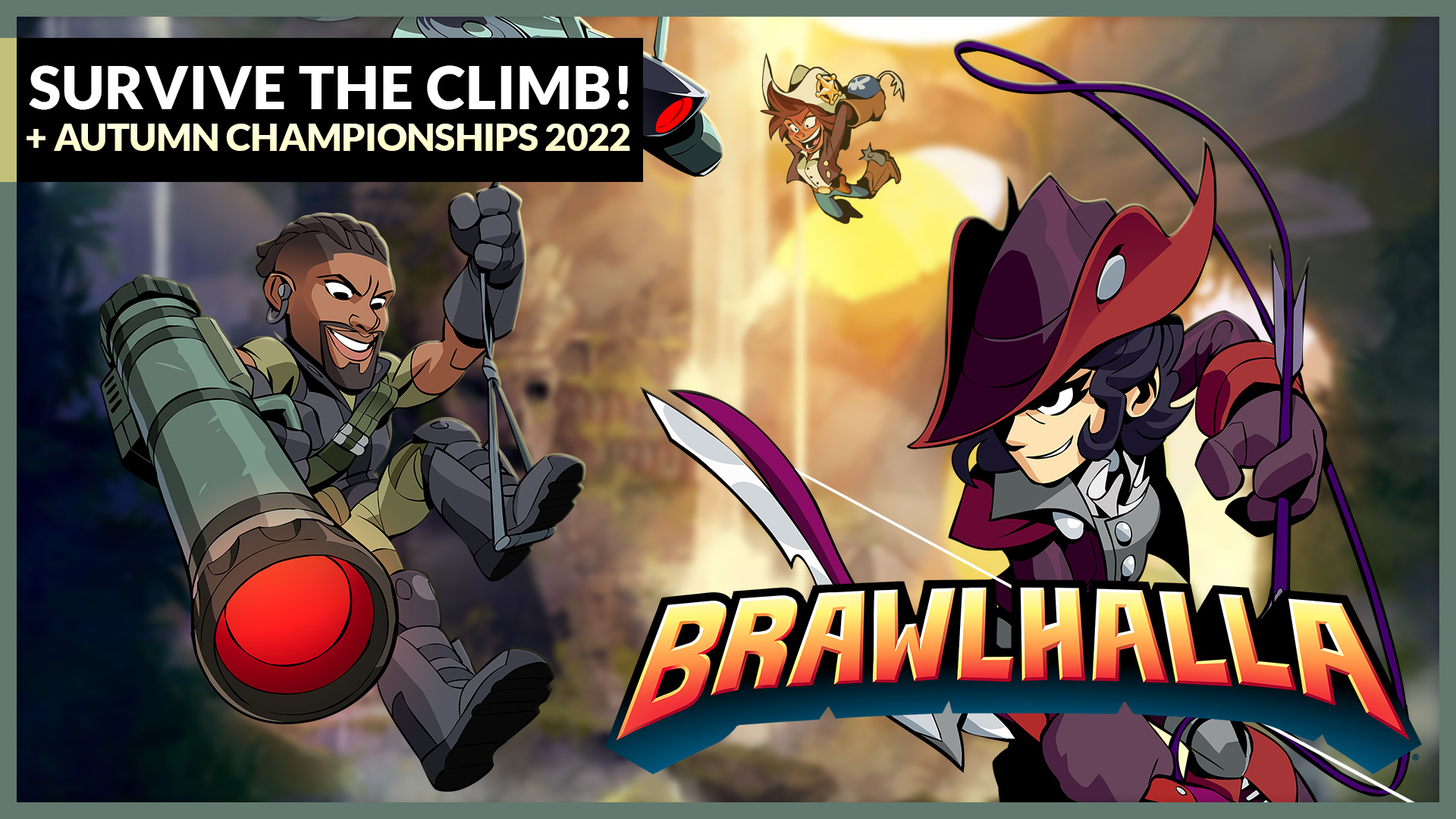 Temple Climb & Autumn Championship Begins!
Survive the treacherous terrain in Temple Climb featured as Brawl of the Week! Activate pressure plates to trap your opponents and score the most points to win in this timed, 4 player free-for-all mode. We've also updated the free Legend rotation to include Ember, Lord Vraxx, Thatch, & more. 
The 2022 Autumn Championship Doubles begin this Friday! Tune in to our Twitch streams all weekend to watch the top Brawlhalla players from around the world compete in 2v2 matches. You'll also be able to win exclusive Viewership Rewards by tuning in.The longer you watch, the more you earn! 
To catch the latest Brawlhalla news and content, be sure to follow us on Twitter, Twitch, Facebook, YouTube, Instagram and Discord!

Walk the line between myths and truth like Lara Croft! Survive the treacherous climb through this 3 minute, 4 player free-for-all match. Beware! The temple is filled with traps, so make your own luck by activating the pressure plates to turn them on your opponents. The player with the highest score wins!
Climb Game Mode
4-Player FFA
Climb the map as you battle your opponents!
Beware: pressure plates activate traps.
Score the most points to win!


Esports Year Seven nears its end with Autumn Championship 2022 Doubles! This is the last seasonal tournament before BCX closes out the year. Starting this Friday, each Brawlhalla Esports region from around the world will be competing in their respective 2v2 matches. Find out which duo will achieve victory!
Tune in to watch the action live on twitch.tv/brawlhalla!
Friday, September 16 – Southeast Asia & Australia Doubles
Saturday, September 17 – Europe Doubles
Sunday, September 18 – North America Doubles
For times in your local time zone, see brawlhalla.com/schedule.
Earn exclusive Viewership Rewards by tuning in to our Twitch streams. The longer you watch, the more you earn! Rewards for this weekend include:
Esports Colors v.3
Piercing Poison Bow
Autumn Shard 2022 Avatar
Esports Colors v.2
To learn more about Brawlhalla Esports Year Seven, visit brawlhalla.com/esports. 

Ready up space cadets for a brand new Prime Gaming Bundle featuring Lord Vraxx! This limited-time pack includes:
Space Dogfighter Vraxx
Lord Vraxx Legend Unlock
Zoid Sidekick
Imperial Rocket Lance
This promotion is available to all Amazon Prime members. Claim your loot at brawlhalla.com/prime. 


The free-to-play Legend rotation for this week includes: Teros, Ember, Brynn, Lord Vraxx, Gnash, Jaeyun, Thatch, Onyx, and Fait.
Teros – This Minotaur is indifferent to the rules or intent of the Tournament, and instead, takes savage joy in all the battles while crushing his opponents with Axe and Hammer.
Ember – This quick and dexterous elf does battle in Valhalla with Bow, Katars and her two companions: a wolf named Ash and her raven named Yarra.
Brynn – Competing for the pure joy of it, this Valkyrie has seen many victories due to her skill with the Axe and Spear.
Lord Vraxx – This feared warlord dominates his opponents with Rocket Lance and Blasters!
Gnash – In the darkness, before the dawn of history, this Legend was raised by the harsh jungle itself. This Super Hunter uses his Hammer and Spear in battle.
Jaeyun – The legendary mercenary who has traveled across the Old Kingdom on the back of his dragon turtle companion Imugi, Jaeyun has discovered new riches and sights in Valhalla! He brings the Greatsword and Sword to battle in the Grand Tournament.
Thatch – The tournament is a paradise of chaos and fire for this Madman of Barbados as he uses Sword and Blasters.
Onyx – The powerful Guardian and Protector of Castle Batavia, Onyx has been offered a place in Valhalla and now defends it ruthlessly with her Cannon and Gauntlets.
Fait – Speaking to the stars and using glimpses of the future, Fait battles for good with her Scythe and Orb!