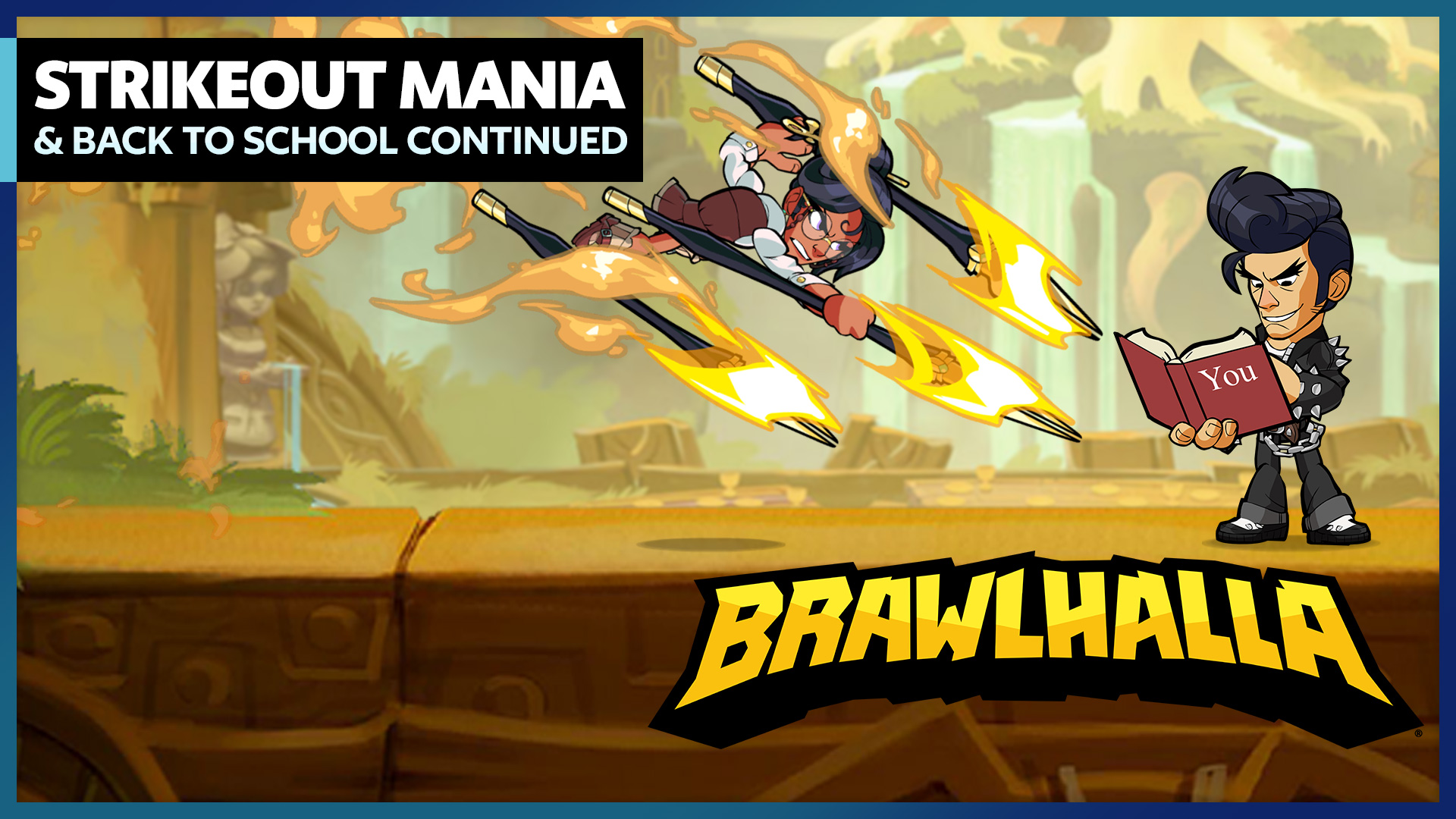 The Bell's About to Ring on Back to School 2023!
Class isn't dismissed just yet! Be sure to pay Librarian Mirage a visit in Mallhalla. You'll find her alongside other classmates and faculty members for one more week as we continue to celebrate the back to school season.
Get ready for an after-school brawl! Battle using 5 of your favorite Legends in Strikeout Mania featured as Brawl of the Week. 
Mako continues to lead her ocean conservation initiative. All proceeds from the sale of the Deep Sea Sightseeing Emote benefit Oceana. You can also learn more about the importance of protecting the oceans and claim the exclusive Mako's Reef Avatar by following the steps on brawlhalla.com/makoavatar. 
To catch the latest Brawlhalla news and content, be sure to follow us on Twitter, Twitch, Facebook, YouTube, Instagram, Discord, and TikTok!

The morning bell is ringing! It's time to celebrate Back to School and dress to impress with exclusive Home Team Colors, seasonal Skins, and more available now. Just follow the apples in Mallhalla to stock up!
The Back to School items are:
Exclusive Skins
Librarian Mirage – "Shhh…"

Oendan Jiro – "Let's do our best!"

Brawldog Mordex – "He comes from the Order of Exalted Linebackers."

Hall Minotaur Teros – "Do you have your Great Hall pass?"

Swim Team Mako – "I don't need floaties Coach Brynn – I have fins."

Professor Vraxx – "Essays on why I'm the greatest space lord due Thursday. 5 million words."

Rocker Volkov – "Where's my guitar pick?"

Headmaster Fait – "Time to count the KOs, ready?"

Ace Spiker Lin Fei – "She's got school spirit!"

Kindergarten Kaya – "Missed the bus? Take a mammoth instead."

Gridiron Xull – "The best offense is more offense."

First Day Asuri – "Don't forget your bus number!"

Greased Lightning Koji –  "He's got the chops!"

Detention Ada – "Being bad feels pretty good, huh?"

Emote
Home Team Cheer – "2, 4, 6, 8 who did we eliminate? YOU!"
Avatars
Oodles of Doodles – "The story's in the margins."
Brawlhalla 101 – "Class is in session!"
Purchasable with your hard-earned Gold!

Colors
Home Team Colors
Show off your school spirit in these black, red, and gold colors.
Available for every Legend with hard-earned Gold!

Back to School also features:
"A+ Brawler" Title reward and +250 bonus Gold for logging in during the Event! 
A Back to School UI Takeover with custom main menu, Legend select, and post-match music. 


To protect the other realms from Darkheart's unpredictable power, the gods have folded the one place where it is found into its own pocket dimension – Terminus. 
Some inhabitants of this dangerous realm see an opportunity to harness the Darkheart to their own ends. THNX is a mysterious biotech company that has taken Legends from different dimensions to experiment on them. 
But many test subjects have escaped, broken out, and banded together to form The Incarnates – a street gang headed by their fearless revolutionary leader, the Street Sovereign herself, Petra!
Battle Pass Season 8: Terminus features 6 all new Skins for the Incarnates: Petra, Xull, Hattori, Orion, a Progression Skin for Tezca, and an animated Epic Skin for Mordex. This is the most new Skins available in a Battle Pass season!
Level up the Darkheart Excavation Podium to see how THNX's operations and The Incarnates' resistance have changed Terminus. 
Battle Pass Season 8 also features:
85 Tiers of new content including Avatars, Emotes, Sidekicks, Emojis, Weapon Skins, UI Theme, Loading Frame, and 6 new Skins!

A free track extending through all 12 weeks of the Battle Pass.

Weekly Missions available to all players.

A new Weapon set – Cyber Myk – based on the new Live Action Orion Skin's Weapons. 

A purchasable Gold Track with additional exclusive rewards like the new Darkheart Excavation Progression Podium.

2 new Maps – Terminus for FFA and Small Terminus for 1v1. Featuring animated backgrounds!

New Brawl of the Week Modes.

Join Petra's resistance by completing the free track to earn the "Incarnate" Title Reward.

UI takeover featuring animated splash art of Mordex, Petra, and Hattori.

New main menu, character select, and post-game theme music.

An exclusive Avatar awaits you if you complete all Weekly missions and make it through all 85 tiers!

Exclusive Battle Pass Items
As you join the Incarnates in their fight to take down THNX and its shadowy leader, you'll find all-new Battle Pass rewards along the way. You'll find fellow freedom fighters like Live-Action Orion, tag the walls with Graffiti with a new Emote, and brave the dangerous streets with a new UI Theme and Loading Frame. 
All Incarnates are automatically granted access to the Battle Pass track to unlock Colors, Avatars, Emotes, Emojis, an animated Sidekick, a Weapon Skin, and a Title Reward. 
Unlocking the Gold track grants access to an even greater amount of rewards and also contains boosters to unlock rewards even faster. Gold Track rewards also include the Corrupted Blood Tezca Progression Skin, Darkheart Excavation Progression Podium, Haruto Sidekick, Darkheart Metamorphosis  KO Effect, Mammoth Coins, animated Emojis, and much more!

Brand New Missions for Battle Pass
Battle Pass Season 8: Terminus includes new missions to complete!
All players are granted access to all the Weekly Missions!

Daily, Weekly, and General missions are available throughout the season.

Earn Battle Gems by completing missions to earn rewards!

Battle Gems measure a player's progress toward the next reward tier.

Unlocking the Gold track will grant boosters for more opportunities to earn Battle Gems and rewards.

Incarnates can unlock over 100 new rewards during the season, so get ready to start brawling! 
Players may also use Mammoth Coins to increase progress along the track while the season is active. 
For more information, check out brawlhalla.com/battlepass.


As part of Playing for the Planet's Green Game Jam 2023, Mako is leading the initiative to help raise awareness and donations to protect and restore the world's oceans on a global scale.
Introducing the new, limited time "Deep Sea Sightseeing" Emote. All proceeds of this Emote will go to Oceana. Oceana is an international organization dedicated to restoring our oceans by winning policies in countries that govern much of the world's marine life.
Players can also unlock an exclusive Avatar during this event. Unlock the "Mako's Reef" Avatar by following the steps on: brawlhalla.com/makoavatar
Be sure to log in to Brawlhalla during the event to claim a free "Wavemaker" Title Reward. The "Deep Sea Sightseeing" Emote is now available in Mallhalla!


Pick your best 5 Legends and face off against your opponents best 5 Legends in this intense 300% damage battle! When you lose a stock the next Legend in your list spawns in ready to fight. Damage KO your opponent 5 times to win!
1v1 Strikeout

5 Stocks

300% Damage

Legend changes after each stock!


The free-to-play Legend rotation for this week features Cross, Gnash, Dusk, Ember, Jaeyun, Jhala, Xull, Scarlet, and Artemis.
Cross – For years he has owned New York City, but can he do the same in Valhalla? This charismatic mobster steps into Valhalla with Blasters and Gauntlets.

Gnash – In the darkness, before the dawn of history, this Legend was raised by the harsh jungle itself. This Super Hunter uses his Hammer and Spear in battle.

Dusk – Wielding his Spear and a powerful Orb carved from stone and magic, Dusk seeks to spread chaos throughout Valhalla.

Ember – This quick and dexterous elf does battle in Valhalla with Bow, Katars and her two companions: a wolf named Ash and her raven named Yarra.

Jaeyun – The legendary mercenary who has traveled across the Old Kingdom on the back of his dragon turtle companion Imugi, Jaeyun has discovered new riches and sights in Valhalla! He brings the Greatsword and Sword to battle in the Grand Tournament.

Jhala – Given the title "Exalted Lion" by Apollo himself, Jhala "The Unbroken" takes the glamor of Valhalla in stride while having fun slaying her foes with Axe and Sword.

Xull – With legendary physical strength, this Axe and Cannon wielding Orc Warlord is ready to challenge everyone and everything in Valhalla!

Scarlet – A former women's boxing champion from England and head of the Royal Airship Navy, Scarlet used her ingenuity and knowledge of steam powered machines to build her own Rocket Lance and Hammer to take into battle.

Artemis – After transversing the universe in search of her rival Orion, Artemis has ripped open a wormhole into Valhalla. She is ready to fight with her Rocket Lance and Scythe!