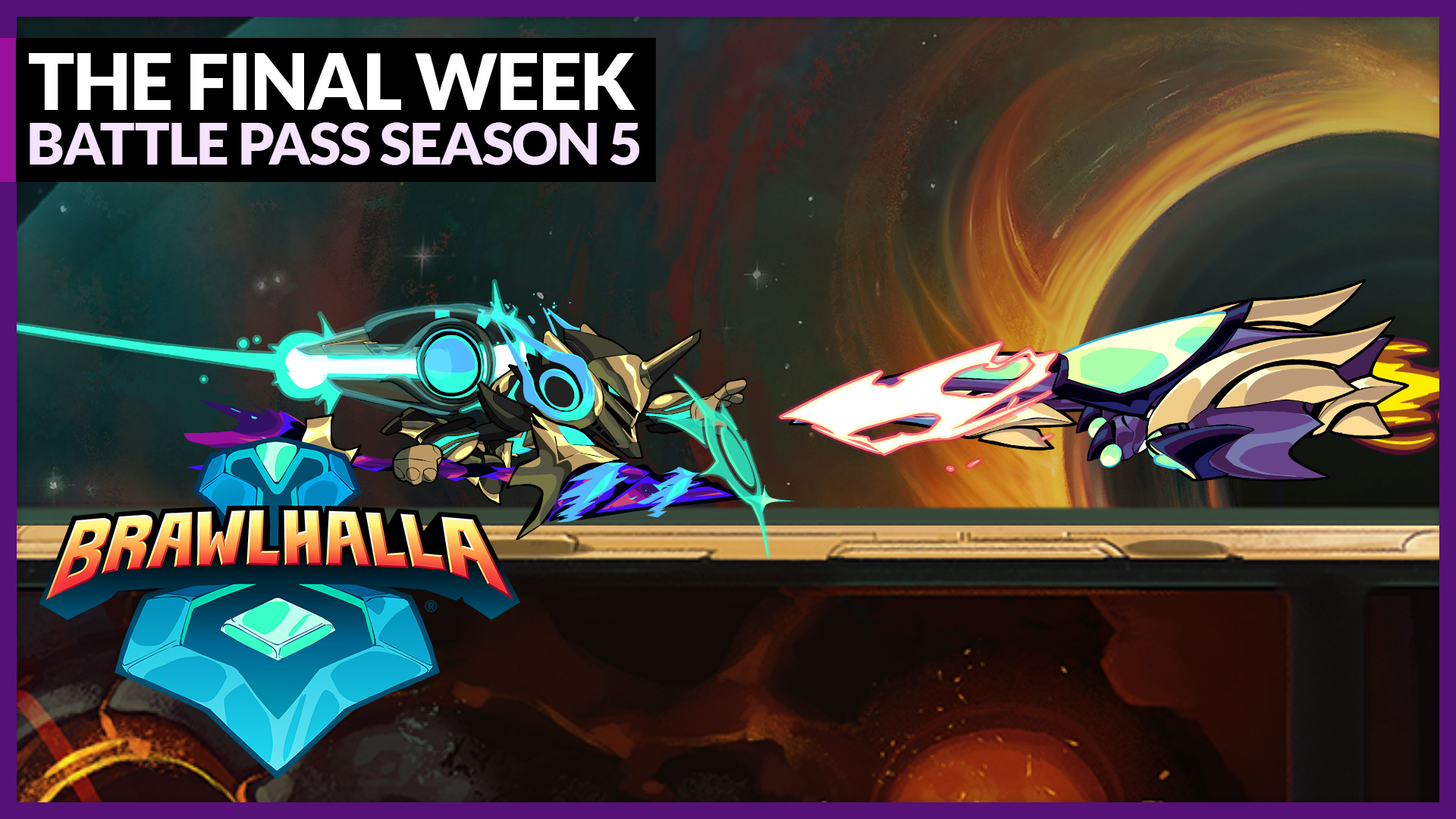 The Final Week of Battle Pass Season 5: The Galactic War
The fate of the galaxy rests in your hands! It's the last week of Battle Pass Season 5. Play through General, Daily and the final batch of Weekly missions to earn all the otherworldly rewards. Players who complete all 85 tiers will receive the Celestial Royalty completionist Avatar. 
The Fangwild's most noble Queen is here! For the first time ever, Arcadia is now available in the free Legend Rotation. Wield Orma, the singing Greatsword and the Eldritch Thorn Spear, and of course Domo's there to give you a lift!
The SteelSeries Invitational begins! Tune in this weekend to watch the top players from the EU and NA regions compete in 2v2. Earn free Viewership Rewards like Esports Colors v.2 and the Grueling Terror Hammer by watching all weekend long!
To catch the latest Brawlhalla news and content, be sure to follow us on Twitter, Twitch, Facebook, YouTube, Instagram and Discord!

New Ranked Game Mode – 1v1 Switchcraft
Play Ranked 1v1 Switchcraft in the Seasonal Ranked Queue! 
Create a beautiful alliance, or an Eldritch horror by combining 3 Legends into one. Watch their weapons and Signatures get all jumbled up in this crazy 1v1 Stock battle. Face your opponent with their own unique combination. First to knock out all 3 of the other's Stocks, wins! 


Join the final battle as Battle Pass Season 5 enters its final week! Unlock all 85 tiers worth of rewards unlockable by playing Brawlhalla and completing missions. 
Play the final set of Weekly missions, including "Win matches in under 150 seconds," and "Get KO's with different types of Gravity-canceled Signatures." Weekly Missions are available for all Brawlhalla players to earn Gems and unlock rewards. For the full list check out the "Missions" tab in the Battle Pass screen. 
The Galactic War Battle Pass also features:
A free track extending through all 12 weeks of the Battle Pass.
A purchasable Gold Track with additional exclusive rewards like a new Progression Podium.
All players having access to all the Weekly Missions!
Two themed Maps for Free-for-All and 2v2 queues.
A special Avatar awaits you if you complete all 85 tiers.
Please note: This event ends on Wednesday April 13, 2022 at 09:00 (UTC). No further progress  can be made along the Battle Pass track after this time, only unlocks earned up to that time will be granted. 
Progression items like Event Horizon Artemis and the Edge of Existence Podium will still be able to progress after the Battle Pass is over.
Players can unlock over 100 new rewards during the Galactic War Battle Pass season, so grab your favorite Legend and finish the season off strong! Players can also use Mammoth Coins to increase progress along the track while the season is active. 
For more information, check out the patch notes and FAQ page. 


Arcadia – "The Faerie Queen"
Weapons: Greatsword, Spear
Stats: 7 Strength, 7 Dexterity, 4 Defense, 4 Speed
"It is Arcadian tradition that the new queen of the Faefolk take the name of the entire realm as her own. Thus Dacia Illuvia became the Glorious Arcadia, the 92nd, and few would grow to deserve the honor more than the once humble beetle girl."
Arcadia enters with 3 new Skins:
Rogue Queen Arcadia – "Her life before royalty."
Carapace Armored Arcadia – "Stronger than any man-made steel."
Briar Rose Arcadia – "The chaos overwhelmed her might."


Three is the magic number for Betrayal! Queue up against 2 other Players in a 3 minute FFA game. Score 2 points for KOing an enemy, lose 1 point for being KO'd. Can you survive the ever shifting alliances and score the most points at the end to win?
3 Player FFA!
Most points at the end wins!


Esports Year Seven continues with the latest Invitational sponsored by SteelSeries! This first weekend, the top players from the Europe and North America regions will be competing in their respective 2v2 matches. Find out which duo will reign supreme! 
Tune in to watch the action live on twitch.tv/brawlhalla!
Saturday, April 9 – Europe Doubles
Sunday, April 10 – North America Doubles
For times in your local time zone, see brawlhalla.com/schedule.
Earn free in-game items through Viewership Rewards by watching each weekend! Rewards for this weekend include:
Esports Colors v2
SteelSeries Avatar
Grueling Terror Hammer
To learn more about Brawlhalla Esports Year Seven, visit brawlhalla.com/esports. 


Train to become an elite soldier like Isaiah with the Shadow Ops bundle! This pack contains everything you need to launch a covert mission, including:
Shadow Ops Isaiah Skin
Isaiah Legend Unlock
Shadowboxing Emote
This limited-time promotion is available to all Amazon Prime members. Claim your loot at https://gaming.amazon.com/loot/brawlhalla.  


Arcadia makes her free-to-play Legend Rotation debut this week! Other Legends available in the Rotation this week include: Cassidy, Queen Nai, Thatch, Artemis, Zariel, Thor, Sidra, and Azoth.
Arcadia – The humble beetle farmer turned Glorious Queen of the Faefolk. Arcadia, the great champion of the Fangwild, fights in the Grand Tournament with Orma – the singing Greatsword, her Eldritch Thorn Spear, and trusty beetle companion Domo.
Cassidy – The Marshal of the Old West is ready to instill justice into Valhalla with both Hammer and Blasters!
Queen Nai – With each victory nourishing the gods of her people, Queen Nai has come wielding Katars, Spear, and her powerful sorcery.
Thatch – The tournament is a paradise of chaos and fire for this Madman of Barbados as he uses Sword and Blasters.
Artemis – Transversing the universe in search of her rival Orion, Artemis has ripped open a wormhole into Valhalla, armed with a Rocket Lance and Scythe; she is ready to fight!
Zariel – The Celestial, a warrior deity of Holy Justice, who abides in blessed Elysium. Zariel uses Gauntlets and Bow to take down both Demon hordes and any warrior participating in the Grand Tournament.
Thor – Finally entering the ring, Thor, God of Thunder, makes his appearance in the Grand Tournament with his trusty Hammer, Mjölnir, and his powerful Orb.
Sidra – The Corsair Queen, known for her legendary and fearless raids, is prepared to fight with her Sword and Cannon!
Azoth – Devoted acolytes bring this brilliant and ruthless lich lord to life as he comes into Valhalla to do battle with Bow and Axe.