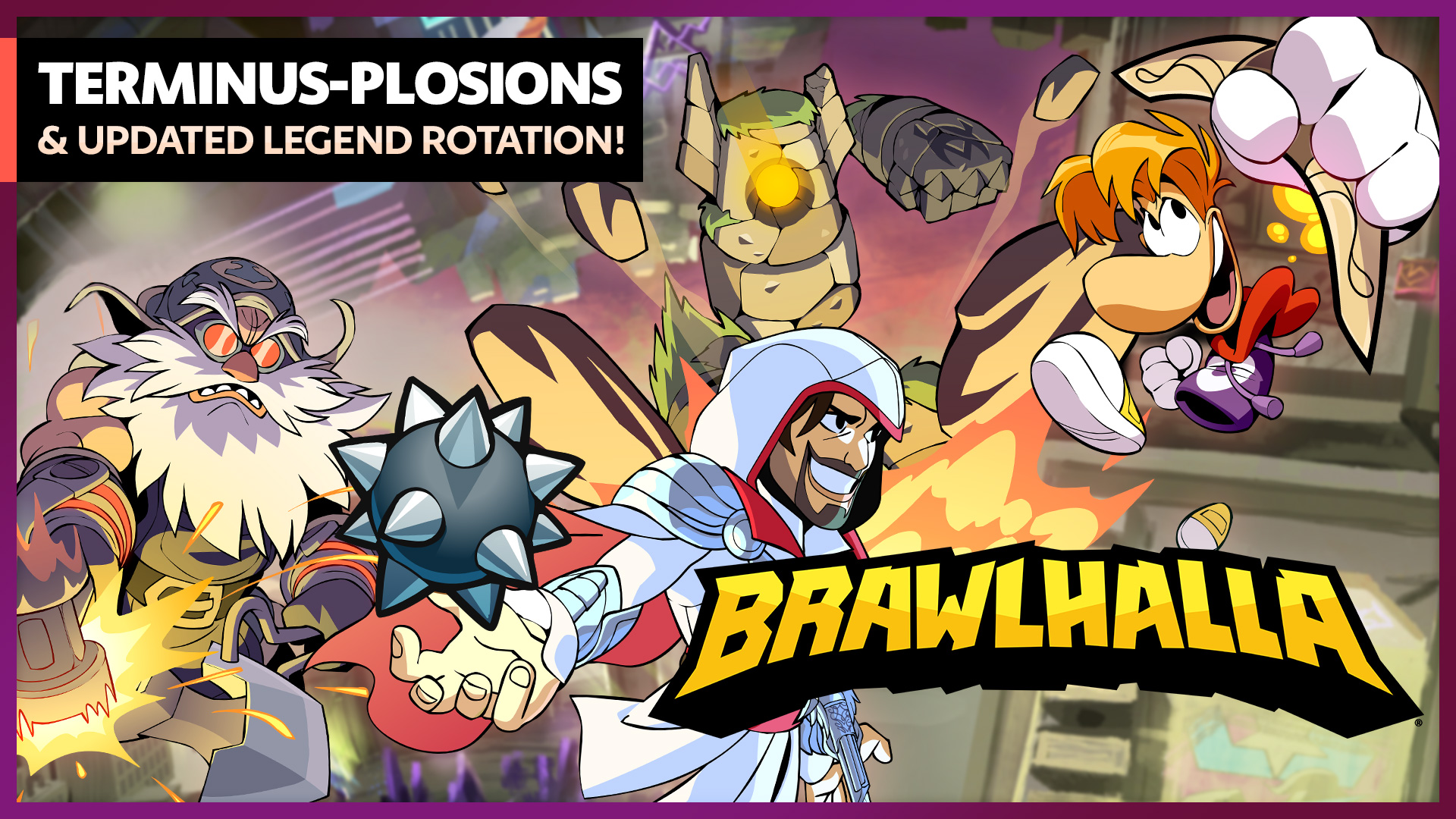 The Incarnates Fight Back! Battle Pass Season 8, Week 4
The Incarnates continue to fight back against Loki and his shady experiments in Battle Pass Season 8: Terminus. Missions for week 4 include "Get KOs with Neutral Heavy Attacks" and "Slide-charged Signature KOs". Complete missions to earn Gems to unlock rewards!
Loki lets chaos reign in the new Brawl of the Week mode – Terminus-plosions! A highly volatile Free-for-All where bombs of all types spawn as often as Weapons. 
To catch the latest Brawlhalla news and content, be sure to follow us on Twitter, Twitch, Facebook, YouTube, Instagram, Discord, and TikTok!

To protect the other realms from Darkheart's unpredictable power, the gods have folded the one place where it is found into its own pocket dimension – Terminus. 
Some inhabitants of this dangerous realm see an opportunity to harness the Darkheart to their own ends. THNX is a mysterious biotech company that has taken Legends from different dimensions to experiment on them. 
But many test subjects have escaped, broken out, and banded together to form The Incarnates – a street gang headed by their fearless revolutionary leader, the Street Sovereign herself, Petra!
Battle Pass Season 8: Terminus features 6 all new Skins for the Incarnates: Petra, Xull, Hattori, Orion, a Progression Skin for Tezca, and an animated Epic Skin for Mordex. This is the most new Skins available in a Battle Pass season!
Level up the Darkheart Excavation Podium to see how THNX's operations and The Incarnates' resistance have changed Terminus. 
Battle Pass Season 8 also features:
85 Tiers of new content including Avatars, Emotes, Sidekicks, Emojis, Weapon Skins, UI Theme, Loading Frame, and 6 new Skins!

A free track extending through all 12 weeks of the Battle Pass.

Weekly Missions available to all players.

A new Weapon set – Cyber Myk – based on the new Live Action Orion Skin's Weapons. 

A purchasable Gold Track with additional exclusive rewards like the new Darkheart Excavation Progression Podium.

2 new Maps – Terminus for FFA and Small Terminus for 1v1. Featuring animated backgrounds!

New Brawl of the Week Modes.

Join Petra's resistance by completing the free track to earn the "Incarnate" Title Reward.

UI takeover featuring animated splash art of Mordex, Petra, and Hattori.

New main menu, character select, and post-game theme music.

An exclusive Avatar awaits you if you complete all Weekly missions and make it through all 85 tiers!

Incarnates can unlock over 100 new rewards during the season, so get ready to start brawling! 
Players may also use Mammoth Coins to increase progress along the track while the season is active. 
For more information, check out brawlhalla.com/battlepass.


As part of Playing for the Planet's Green Game Jam 2023, Mako is leading the initiative to help raise awareness and donations to protect and restore the world's oceans on a global scale.
Introducing the new, limited time "Deep Sea Sightseeing" Emote. All proceeds of this Emote will go to Oceana. Oceana is an international organization dedicated to restoring our oceans by winning policies in countries that govern much of the world's marine life.
Players can also unlock an exclusive Avatar during this event. Unlock the "Mako's Reef" Avatar by following the steps on: brawlhalla.com/makoavatar.
Be sure to log in to Brawlhalla during the event to claim a free "Wavemaker" Title Reward. The "Deep Sea Sightseeing" Emote is now available in Mallhalla!


Loki lets chaos reign in this highly explosive new FFA mode! Bouncy Bombs and Pressure Mines spawn as often as Weapons. Use these Gadgets to gain the upper hand and score points by getting KOs before time runs out!
3 Minute FFA

Bombs spawn as often as Weapons

Score points by getting KOs

Score the most points to win!


This weekend we'll be hosting the Summer Royale! The top performers from North America, South America, and Europe will compete in singles matches live in Atlanta, Georgia to see who will be the true monarch of the 2023 Summer Championship.
As the players battle for their honor, tune in to the stream to earn exclusive viewership rewards. The longer you watch, the more you earn! Rewards include:
RGB Rocket Lance Weapon Skin 

"Dehydrated" Title Reward

Esports v.4 Color Scheme
To learn more about Brawlhalla Esports Year Eight, visit brawlhalla.com/esports.

Claim the Eclipse bundle before this star vanishes from the heavens! This pack includes:
Eclipse Artemis Skin

Artemis Legend Unlock

Seraph's Message Scythe Weapon Skin

Starting tomorrow, August 31st, get ready to step into the ring with the Prizefighter Bundle! This offer includes
Prizefighter Cross Skin

Cross Legend Unlock

The Heavyweights Gauntlets Weapon Skin

This promotion is available for all Amazon Prime members in supported regions to unlock for free. Claim your loot at brawlhalla.com/prime.

The free-to-play Legend rotation for this week features Vector, Teros, Mako, Sir Roland, Reno, Cassidy, Mordex, Sidra, and Kaya.
Vector – Transforming into a jet with his Rocket Lance and wielding his Bow to fight, Vector travels through time and space to battle crime!

Teros – This Minotaur is indifferent to the rules or intent of the Tournament. Instead, he takes savage joy in all the battles while crushing his opponents with Axe and Hammer.

Mako – The ultimate apex predator from The Sea, Mako, with her Greatsword and Katars, aims to make fish meat out of her opponents in the Grand Tournament.

Sir Roland – No one in Valhalla feels a greater thirst for victory in the tournament than Sir Roland, as he strikes down his opponents with Rocket Lance and Sword.

Reno – Four arms, compound eyes, fearlessness, and an added dose of genius make this Chitnoid Gunslinger the greatest bounty hunter this side of the Pecosid asteroid belt. He'll take on any job with his trusty Blasters, and loyal Orb companion.

Cassidy – The Marshal of the Old West is ready to instill justice into Valhalla with both Hammer and Blasters!

Mordex – Wielding his Gauntlets and Scythe, this lycanthrope steps into battle!

Sidra – Known for her legendary and fearless raids, the Corsair Queen is prepared to fight with her Sword and Cannon!

Kaya – Using her bow, spear and spirit animals, she is ready to try her luck in the Grand Tournament!