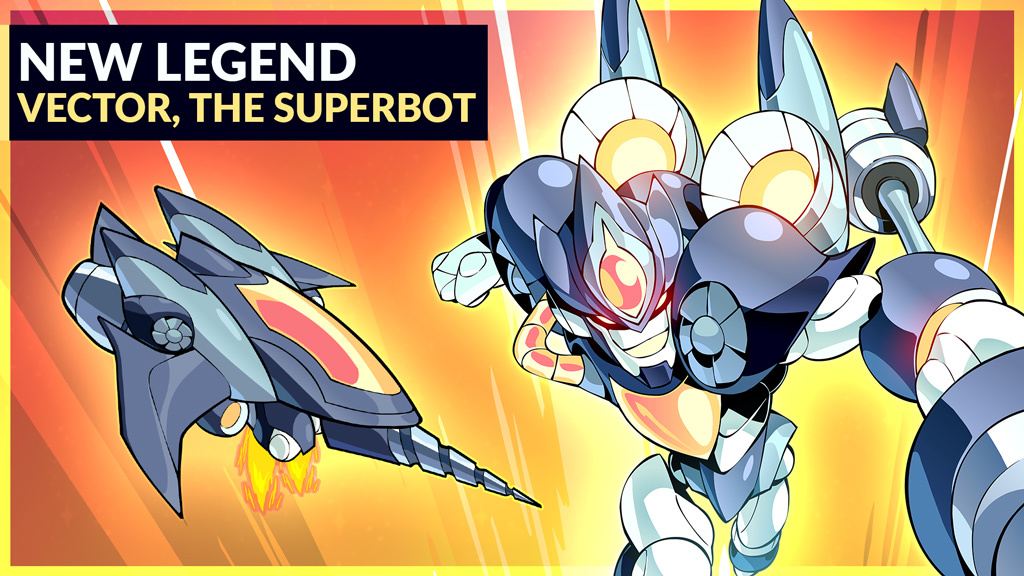 Vector, the Newest Legend, joins Brawlhalla! – Patch 3.49
Transforming into a jet with his Rocket Lance and wielding his Bow to fight, Vector travels through time and space to battle crime! Vector is a new playable Legend and will be joining the roster permanently. For those in the pursuit for Glory, the new Ranked Season 14 will start on September 25th. 
We're also proud to present our charity Salute Taunt for a limited time in Mallhalla! All of our proceeds will go to relief funds to aid people affected by Hurricane Dorian. Exclusive Autumn Championship items can also be found in Mallhalla. Additionally, we've updated the Brawl of the Week, made some game improvements, bug fixes, and more.
To catch the latest Brawlhalla news and content, be sure to follow us on Twitter, Twitch, Facebook, YouTube, Instagram and Discord!

Vector – "The Superbot"
Weapons: Rocket Lance, Bow
Stats: 5 Strength, 4 Dexterity, 6 Defense, 7 Speed
"In Valhalla Vector fights, builds jet engines with Scarlet, teaches yoga, and communicates mostly in Top Gun quotes."
Vector enters with 3 new Skins, each with a different jet form:
Dragonaut Vector – "Prowling the skies, looking for his next victim."
Vector Model 01 – "The classic look."
Hyperdrift Vector – "Not street legal."


We're proud to present our charity Salute Taunt in Mallhalla for a limited time!
All of our proceeds from the Brawlhalla Salute Taunt will go directly to Direct Relief, a non-profit charity organization that helps people affected by poverty or emergency situations, like those in need of care due to Hurricane Dorian.


We're celebrating our Autumn Championship (September 28th – 29th) and International Autumn Championship (October 4th – 6th) with two new cosmetic items for a limited time in Mallhalla!
Avatar

Autumn Shard 2019 Avatar

"Show your hype for the Autumn Championship 2019!"

Weapon Skin

Autumn Wind Katars

"Need help turning over a new leaf?"

Registrations for the Autumn Championship 2019 are still open now at smash.gg/brawlhalla.
Watch the Autumn Championship live September 28th & 29th at brawlhalla.com/watch.


Who is the platform king? 4 Players face off on a map with 6 platforms. Stay on the red platform to score points. Stun your opponents to keep them from scoring. Watch out, the platform switches around the map! The Player with the most points at the end of 2 minutes wins!
4 Player FFA
2 minutes
Stay on the platform to gain points.
Most points at the end wins!


Find our newest Legend, Vector, and his 3 Skins, each with different jet forms!
Our charity Salute Taunt is available for a limited time. All of our proceeds will go to relief funds for Hurricane Dorian.
New Autumn Championship Items

Autumn Shard 2019 Avatar
Autumn Wind Katars

We're currently rapidly rotating through chests. See the in-game timer to know when the next chest will rotate.
Check out the new Sales items!

User Interface
The large view of the Legend on the Meet the Legends screen will no longer restart its idle animation when changing Skins.
Console: Handle cases where the wrong font was used for a language. It will now automatically swap to the best alternate font if there are missing glyphs.
Power Rankings
Power Rankings have been updated to reflect results of all events prior to and including Shine 2019.
Daily Missions
Playing in the Brawl of the Week queue will no longer give win or combat progress toward daily Missions or Achievements. However, weekly Brawl of the Week Missions will still count.
Animation and Art
Adjusted Rocket Lance's Idle animation pose to improve skewing and proportions.
Made minor body proportion tweaks to Rocket Lance's Ground Pound Hit and Side Light attack animations.
Replaced some of Gnash's hands in his character select animation.

User Interface
Fixed a visual bug causing certain weapon icons in the picker menu during character select to have black borders and other artifacts.
User Experience
Fixed a rare bug that would cause Collector's Bödvar to show up as not owned.
Gameplay
Sword Down Light: Fixed a case where the target could be dropped before the final hit.
Rayman Down Axe: Fixed a case where the target could be dropped before the final hit during an early aerial collision.
Rayman Down Axe: Fixed a case that could incorrectly prevent the ground collision from playing.
Scythe Ground Pound: Fixed a case where the target could be dropped before the final hit when held.
Petra Neutral Orb: Fixed a case where the target could be dropped before the final hit.

The new free-to-play Legend rotation for this week includes: Orion, Mordex, Cassidy, Petra, Thatch, Azoth, Lin Fei, and Jhala.
Orion – A revered warrior and champion, the mysterious armored knight uses Rocket Lance and Spear to battle his foes in the halls of Valhalla!
Mordex – Wielding Gauntlets and Scythe, this lycanthrope steps into battle!
Cassidy – The Marshal of the Old West is ready to instill justice into Valhalla with both Hammer and Blasters!
Petra – Having been set free from Terminus, Petra sets her eyes on Valhalla with her Orb, Gauntlets, and Darkheart powers.
Thatch – The tournament is a paradise of chaos and fire for this Madman of the Barbados as he uses Sword and Blasters.
Azoth – Devoted acolytes bring this brilliant and ruthless lich lord to life as he comes into Valhalla to do battle with Bow and Axe.
Lin Fei – A defender of the innocent and teacher of the lost ways.  She is a great teacher who has developed her own fighting style, the 'Way of the Iron Dragon,' which utilizes her Cannon, Katars and an ancestral dragon-spirit.
Jhala – Given the title "Exalted Lion" by Apollo himself, Jhala "The Unbroken" takes the glamor of Valhalla in stride while having fun slaying her foes with Axe and Sword.