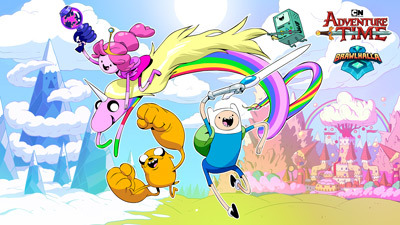 What time is it? Adventure Time in Valhalla! – Patch 3.44
We're excited to introduce the Adventure Time Epic Crossover event with Finn, Jake, and Princess Bubblegum. This event also features a new Buddy game mode, a new Adventure Time themed map called Tree Fort, bonus login Gold, and more!
For those in the pursuit for Glory, the new Ranked Season 13 will start on July 3rd. Additionally, we added balance changes, made some game improvements, and fixed a few bugs.
To catch the latest Brawlhalla news and content, be sure to follow us on Twitter, Twitch, Facebook, YouTube, Instagram and Discord!
Download the wallpaper:
Download 1080×1920 | Download 1920×1080 | Download 2048×1536 | Download 2560×1440 | Download 1080×1920  | Download 1080×1920
Finn, Jake, and Princess Bubblegum are new Epic Crossovers! Epic Crossovers feature custom Signature effects, custom lock-in animations, dedicated Roster spots, and two new Weapon Skins.
In Brawlhalla, Finn, Jake, and Princess Bubblegum mirror the abilities of Jhala, Kor, and Lord Vraxx, respectively, and will be staying in Mallhalla after the event ends. ADVENTURE TIME and all related characters are trademarks of and © Cartoon Network.
(s19)
Featuring:
Finn Epic Crossover – "He'll slay anything that's evil – that's his deal!"

Finn sports the metal arm Princess Bubblegum made for him.

Jake Epic Crossover – "A cool dog with stretchy powers!"

When Jake uses his stretchy powers, they color swap with him! Also he turns into a car.

Princess Bubblegum Epic Crossover – "She has science on her side!"

Lady Rainicorn also teleports in to aid Princess Bubblegum in battle.
KO Effect
Rainicorn Rumble

"Make it Rainicorn."

Featuring Lumpy Space Princess, Gunter, and a few of your favorite Candy People!
This Adventure Time event also includes:
Daily login bonus of 250 Gold to celebrate the Adventure Time Epic Crossover event!

A new Adventure Time themed Free-for-All map, Tree Fort.

A new Adventure Time themed Game Mode and Brawl of the Week – Buddy!

An Adventure Time UI Takeover!
Come on grab your friend in this mathematical mode! Pick the ultimate 2v2 team and play as both Legends at the same time! Build up enough damage on your opponent's two Legends to bounce them around into oblivion. Hold Down or Dodge to help position your dudes. Score the most KOs to win!
New Buddy Game Mode

1v1 Teams

Control 2 Legends at the same time!

Score the most KOs to win!

Follow BMO to find all the Adventure Time Epic Crossover goodies.

Crossovers now have their own Store tab!

We're currently rapidly rotating through chests. See the in-game timer to know when the next chest will rotate.

Check out the new Sales items!
This set of balance updates is focused on enhancing the reliability of setup attacks for underperforming weapons, while also reining in the combo or knockout potential on overperforming string-based weapons.
Katar
Both the Katar Side and Neutral Light attacks have received improvements to their reliability, serving as consistent setup tools. The reduced force allows for continued follow-up attacks even at later health ranges, while also leaving the target closer on hit. The Side Light will now reliably combo into other grounded attacks, while the Neutral Light has received a minor stun reduction to keep its place as a string starter.
Katar Side Light: Changed Force from 10 Variable/35 Fixed to 0 Variable/40 Fixed; Increased Stun from 22 to 23.

Katar Neutral Light: Changed Force from 4 Variable/50 Fixed to 0 Variable/45 Fixed; Decreased Stun of final hit from 15 to 14.
Sword
The Sword Down Light now launches slightly higher on its first swing for more reliable setup locations, while also slightly increasing its stun to allow for more varied follow-up attacks. The Side Air has also received increased force and a slightly more dangerous knockback angle, bringing it in line with similar options on other weapons.
Sword Down Light: Increased Stun from 19 to 21; Increased Force on initial hit from 0 Variable/40 Fixed to 0 Variable/55 Fixed.

Sword Side Air: Increased Force from 33 Variable/60 Fixed to 36 Variable/60 Fixed; Angle of knockback has been slightly lowered.
Hammer
As the main option against stacked opponents, it is important for the Hammer Neutral Light to strike near the user. We have increased the coverage near the user for this attack to better serve its purpose. Similarly, we have altered the knockback scaling of the Hammer Down Air to better fit the Hammer's hard-hitting late game power.
Hammer Neutral Light: Increased stacked coverage near the user.

Hammer Down Air: Changed Force from 45 Variable/50 Fixed to 50 Variable/45 Fixed.
Lance
The Lance kit contains a great deal of movement, but also a great deal of risk in its attacks. We have reduced the overall duration of the Neutral Light to give this weapon a slightly safer tool to poke with in the neutral game. This will allow Lance users to more effectively vary the pacing of their attacks and better compete with faster weapons.
Lance Neutral Light: Decreased Hit Window of the first swing from 6 to 5; Decreased time between the first and second swing from 13 to 10.
Gauntlets
We have adjusted the stun on a couple of Gauntlet attacks to rein in multi-hit true combos that were allowing this weapon to build damage at a much faster rate than other similar options. These have been opened up into strings, allowing for more appropriate counterplay and escape options.
Gauntlets Neutral Air: Decreased horizontal coverage of the attack; Decreased Stun from 19 to 15; Decreased Force from 22 Variable/47 Fixed to 20 Variable/47 Fixed; Decreased Damage from 13 to 12.

Gauntlets Recovery: Decreased Stun from 25 to 22; Decreased Force from a range of 50~35 Variable/45 Fixed to a range of 48~35 Variable/45 Fixed.
Scythe
The Scythe has received a number of changes to allow for more appropriate risk versus reward when edgeguarding against this weapon. It is now easier to properly challenge this attack from the rear and to escape strings involving this attack by dodging behind it. We have also slightly reduced the knockback scaling on the Scythe's reversal attacks, granting more chances to recover when tossed below or away from the stage.
Scythe Recovery: Decreased threat coverage near the rear of the user; Decreased Force from 40 Variable/53 Fixed to 37 Variable/50 Fixed; Angle of knockback is now more horizontal.

Scythe Down Air: Decreased Force of the backwards version from 27 Variable/52 Fixed to 23 Variable/52 Fixed.

Scythe Neutral Air: Decreased Force of the backwards version from 35 Variable/34 Fixed to 30 Variable/34 Fixed.
Unarmed
We have increased the focus on armed combat by reducing the damage and force of some key attacks in the Unarmed base kit. This ensures armed players an edge in how quickly damage can be built, as well as knockout potential in edgeguard situations.
Unarmed Neutral Air: Decreased Damage from 14 to 11.

Unarmed Recovery: Changed Force from 46 Variable/53 Fixed to 40 Variable/55 Fixed.
Bow
The Bow Recovery could catch players too long after its initial attack, improperly skewing the risk versus reward of attempting to edgeguard against this weapon. We have reduced the duration and front coverage during the end of this attack for more intuitive counterplay.
Bow Recovery: Decreased Hit Window from 8 to 7; Decreased front coverage on the later portion of the attack.
User Experience
Made it possible to start a tournament with a mouse.
Animation
Improved seaming of knee joints on the Slow Clap animation.

In the Power Up Taunt, layered the front arm to not appear behind the torso.

Tweaked the Deal With It Taunt animation to work better with certain skins.

Tweaked the back arm after the second swing on Jhala's Neutral Axe signature.
Localization
Thanks to Juangana for the continued help with the Spanish translation!
User Interface
Fixed a visual bug in the public game list filters screen causing the highlighted region of the "Go Back" button to be wider than the actual button art.

Fixed a bug where sometimes the Featured tab would show up blank.
Gameplay
Fait Neutral Orb: Fixed a case where the threat could cover past the rear of the swing.
Replay
Fixed a bug where the replay generated from spectating a Horde match would be wrong.
The new Legend rotation for this week includes: Jhala, Kor, Lord Vraxx, Kaya, Ragnir, Jiro, Fait, and Sidra.
Jhala – Given the title "Exalted Lion" by Apollo himself, Jhala "The Unbroken" takes the glamor of Valhalla in stride while having fun slaying her foes with Axe and Sword.

Kor – Blackguard Keep's left platform mover takes his place in the arena wielding both Gauntlets and Grappling Hammer.

Lord Vraxx – This feared warlord dominates his opponents with Rocket Lance and Blasters!

Kaya – Using her bow, spear and spirit animals, she is ready to try her luck in the Grand Tournament!

Ragnir – This apex predator, whose home is in the Fangwild, now ventures outward using his Katars and Axe to take on the rest of the Legends in Valhalla!

Jiro – Trained as a child by a powerful and secret shinobi family, Jiro comes into the arena with not only Scythe and Sword but shadow clones as well!

Fait – Speaking to the stars and using glimpses of the future, Fait battles for good with her Scythe and Orb!

Sidra – The Corsair Queen, known for her legendary and fearless raids, is prepared to fight with her Sword and Cannon!