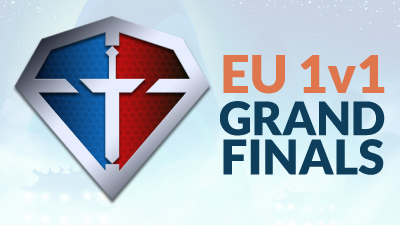 BLOC EU 1v1 Grand Finals Recap
After several weeks of competition, the final 32 EU players prepared for the Brawl League Open Cup 1v1 Finals. These players had their mettle tested and been deemed worthy, and here they were looking to further that status for themselves. Though they all deserved to be in Top 32, only one player can end up taking the majority of the prize pool and Circuit Points in the end.
Yes, This is Still Dobrein's Domain
A lot of things can be said about Dobrein, though the phrase we'll use today is "EU's golden boy"; he consistently places at the top of his bracket and rarely – if ever – fails to put on a good show. He placed first this time around without losing a set, taking out the favored Maltimum along with Lanz and TB, but there was a bit of turbulence on his way to first place.
His biggest challenge was Stimpy, who very nearly sent him to Losers in Winners Finals. While Dobrein stuck with his Nix, Stimpy went from Bödvar to Nix to Ragnir, switching every time he lost. While being a Jack-of-All-Trades can definitely help against players unfamiliar with odd choices, against a player like Dobrein who is one of the most knowledgeable players in Brawlhalla, the weaknesses in each character were quickly identified and exploited.
Dobrein used Mirage in the Winter Championships, though he seemingly is sticking with Scythe while moving onto Nix. The change – along with more experience on Scythe – did wonders for his play. Wherein his Mirage's Scythe seemed fresh, his Nix at the BLOC Finals  was very clean. This difference was apparent in every set, and likely will only be improving from here on out.
Maltimum and His Deadly Pride
As one who was expected to make it to Grand Finals against Dobrein, his matchup against Dobrein in Winners Semi-Finals was one of the more anticipated moments early in the event. The set was a bit anti-climactic, ending 2-0 in Dobrein's favor. Maltimum did make it a very close first game, but began to crumble as the set went on.
Maltimum made a very powerful showing in Losers bracket, 2-0'ing both Janus and the surprise unknown player ShadowSlayer with his Teros. Maltimum went on to have an intense exchange with Stimpy's Val in Loser's Finals. Stimpy, who just came off a 2-3 loss against Dobrein, managed to start the set off with an incredible 3-stock against Teros. After feeling disrespected, Maltimum switched to his own Val to mirror his opponent. After taking the mirror, Maltimum makes the disrespectful choice of choosing Random the next two games. Though he manages to take his second win with Random, his choice allows Stimpy to catch up and eventually take the set against Maltimum's Mirage.
We see a lot of pride in Brawlhalla; a lot of players feel like they're leagues above their opponents or feel like there's only a set selection of players they can or should be losing to. This attitude can spell your doom, with Maltimum being the most recent example of just how self-destructive it can be to allow your pride to get the better of you. Though he did earn third place, hopefully he's learned some humility and will take his next tournaments more seriously, for both his and the spectator's sake.
There Was an Underdog, and His Name Was Stimpy
Stimpy was probably just about the last known player here that was expected to make it to Grand Finals. A lot of players were betting on Maltimum vs Dobrein, but after putting up a fierce fight in Winners Finals and taking advantage of his opponent in the Loser's Finals, he more than earned his spot at second place.
Though Stimpy had an amazing back-and-forth set vs Dobrein in Winners Finals, he suffered from a bit of fatigue by the time Grand Finals rolled around. He was still able to give it a great go, going down to the last stock ever match. He played like he did in Winners Finals too, switching characters every time he lost; he switched from Ragnir to Val to Nix, with the Nix mirror finally getting him his first and last match of the set.
Though he wasn't able to adapt in the final moments, Stimpy's play was solid throughout and he earned a lot of respect from the wins and performance he did have. He's made a clear target on his back by contending with the best in the region, and likely even a rivalry with Maltimum after their set in Losers. We already can't wait to see where Stimpy will go next and what other great matches he can put on for us.
The Unknown Quantity: ShadowSlayer!
The biggest surprise of the night had to be ShadowSlayer. Being nearly completely unknown before this tournament, this seemingly straight-out-of-ranked player blazed a trail through the bracket, cleaning out many big names in the region like q4r, Exodass and Addymestic.
While the biggest surprise was him knocking Addymestic into Losers, this set happened off stream unfortunately. We did get to see him dominate Exodass' Brynn, but he faltered against Maltimum. Though his odd style with Wu Shang nearly threw the favored player out of the tournament. Maltimum was able to get a feel for Wu Shang and adapt, letting him take both games.
With a bit more experience ShadowSlayer may very well have taken the set and advanced, but as of now he's enjoying a very comfortable 4th place ranking at what seems to be his first big event. We'll very likely be seeing a lot more of ShadowSlayer, so be sure to keep an eye out for him; we may be looking at the next EU champion in the making.
Janus, Causing Upsets and Eliminating Heavy Hitters!
Another surprising play came from Janus, who ultimately took 5th place just as he did at the Winter Championship. Though his placing wasn't wholly unexpected, we do see him take out players like ThStardust, Eramm, and most shocking Addymestic, who was sent to Losers by ShadowSlayer.
The match between Janus and Addymestic was pretty suffocating, with Janus's Lucien keeping firm control of Addymestic's Val and just not letting her play the way she wanted to. This commanding neutral did occasionally crack, but when it was on point there was almost nothing his opponent could do. Janus ended up taking the set 2-0 over one of EU's best players, making it clear that no feat is truly impossible if you put in the effort.
While Janus did end up losing his next match to Maltimum, which was played off stream, he made clear waves in the bracket. He can be proud in his 5th placement, only having lost to the 2nd and 3rd placed players this time around.
That concludes the Brawl League Open Cup 1v1 EU bracket. Up next is the 2v2 event, which will be unfolding over the next couple weeks. It'll be a shot at redemption for some, and a chance to maintain their status for others. Whichever the case, this many upsets in one bracket has us excited at what'll be going down in the back half of this event. We'll be sure to write up those events as they occur, but in the meantime be sure to check out the Official Brawlhalla Circuit tournaments if you'd like to check out the competition, or perhaps even enter yourself!