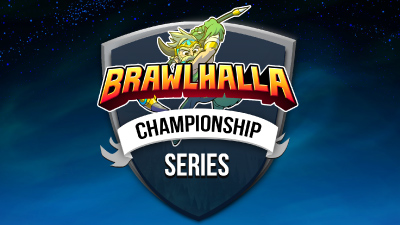 Grand Finals
This Saturday, April 30th @ 1PM EDT | 5PM GMT
twitch.tv/brawlhalla
Around this time last year, the Brawlhalla competitive scene was very different. Most competitors belonged to a single clan that had been collecting up talent. Twitch streams of tournaments had around the same number of viewers as participants in the tournament. A year ago there was no slide charging, fast falling, gravity cancelling, momentum dodging, full dodge cancelling, or new 1v1 regulation maps. Since over a year ago the competitive community has been running tournaments weekend after weekend. This weekend, one of the most ambitious community tournaments to date is holding its grand finals: The Brawlhalla Championship Series.
The Brawlhalla Championship Series is presented by Duc 'Designatedasian' Pham, Alex 'Sparky878' Rahaim, and supported by analysts Arnab 'Partofthecreed'  Purkayastha and Eric 'TWKsmash' Devlin. Each one of these players have been part of the community for the majority of its lifespan, tracking the progress of players, the meta, and the competitive scene both as casters and competitors.
As part of how we're supporting this amazing community tournament, the BCS crew will be streaming the finals live from the official Brawlhalla twitch.tv channel.
The Brawlhalla Championship Series began four weeks ago at the beginning of April. A 1v1, double elimination, weekly tournament designed to separate contenders from champions. The series attracted some of the very best players, and they've competed for points over the course of the last four weeks to earn a spot in the Finals. Below are the current standings based on total performance across the last four weeks. Take a look, get an idea of what kind of players will be present, and we'll see you Saturday!
BCS Grand Finals – Standings and Seeds
---
1. [BOO] Pugsy 
BCS Points: 31.5
Mains: Bodvar, Asuri, Barraza
[BOO] Pugsy BCS Highlight Reel
Pugsy began as a Gnash player back in closed beta, and has since evolved to be a consistent top presence in Brawlhalla tournaments and the Ranked ladder. Today, Pugsy is an ever present force to be reckoned with if you intend to win a Brawlhalla tournament. Pugsy took first place in Week 1 and has gone to Grand Finals in the other two BCS weeks he participated in. If you don't see him early, there's a strong chance you'll see him in the finals.
2. [VexX] Crockie
BCS Points: 23
Mains: Ada / Orion
[VexX] Crockie BCS Highlight Reel
VexX Gaming's Crockie is known far and wide for his unrelenting dedication to Ada, until recently. After enduring a number of nerfs to Ada's signature kit, Crockie has recently shifted his attention to Orion with great success. Since adding Orion to his Legend pool Crockie has finished Top 3 in the last two BCS tournaments and is looking to take the Grand Finals this weekend. He is widely considered to have the most dominating spear play in the game while representing Legends largely overlooked by the rest of the competitive community.
3. [VexX] PickledPotatoes 
BCS Points: 21
Mains: Lord Vraxx
[VexX] PickledPotatoes BCS Highlights on YouTube
PickledPotatoes, also of VexX Gaming, is seed number three representing Lord Vraxx. His technical gun play built on option coverage and veiled aggression is one that he has honed to a unique level of mastery. His long time experience in the community and impeccable gun play makes him one of the tougher opponents in the lineup. In a bracket filled with other weapons and Legends, Pickled is out to prove that he can take the Championship on his own terms.
4. [BOO] Exo 
BCS Points: 21
Mains: Bodvar, Lord Vraxx, Ada, Roland (and more)
[BOO] Exo BCS Highlight Reel
BerserkExo is widely regarded as the best player in Brawlhalla. He began playing Brawlhalla a year ago, and since then has built a reputation on multiple tournament victories, unwavering confidence and dedication to staying the best. Of the four week of BCS, Exo was only present for one of those weeks. He didn't lose a set, only lost two games the entire tournament, and took the grand finals off of Pugsy in a 3-0 upset. 
5. [VexX] LDZ 
BCS Points: 21
Mains: Queen Nai
[VexX] LDZ BCS Highlight Reel
The final representative of VexX Gaming in the BCS finals is LDZ. Arguably the best Queen Nai player in the world, LDZ has defined what this Legend looks like at high level play. While his performance across BCS weeks has been unsteady, he did secure a 1st Place finish in last week's series; knocking out fellow teammate Crockie from the top spot to do so. He's been a constant top 8 presence in recent tournaments, and we're expecting to see him do whatever it takes to win in the finals.
6. [BOO] Magmabob 
BCS Points: 13.5
Mains: Bodvar
[BOO] Magmabob BCS Highlight Reel
Magmabob has been in the community since the early periods of Closed Beta. Before there was a ranked ladder, and before many of his competitors appeared, Magmabob was there for every stage of the game's competitive meta. What he lacked in experience he made up for with hard work, and has been a consistent Top 8 presence in his previous BCS appearances. While he is known far and wide throughout the community, will he be able to make a name for himself as a Champion this Saturday?
7. [BOO] Twilight 
BCS Points: 13
Mains: Bodvar
[BOO] Twilight BCS Highlight Reel
While newer to the competitive scene, Twilight was scouted and recruited by [BOO] early on for his natural talent and potential. Twilight is more than capable of standing toe to toe with the monsters in the bracket. In the week he participated in, he knocked PickledPotatoes down to losers bracket. Despite being a strong player, his lack of experience might hold him back. While originally known for his skills with the sword, he's been training to bring his hammer play up to the same level, but will it be enough?
8. [BOO] ThStardust 
BCS Points: 12.5
Mains:  Teros, Jhala, Hattori
[BOO] ThStardust BCS Highlight Reel
Hailing all the way from Denmark, ThStardust isn't backing down from the BCS . Originally finding success playing Queen Nai he transitioned to Teros and became truly terrifying. Since then he's broadened his Legend pool and is ready to tackle the opposition with a variety of Legends. He's also the first contender to officially claim that he'll be using Jhala, the newest Legend in Brawlhalla, during the BCS finals. 
9. King | LegitPunisher
BCS Points: 12.5
Mains: Orion
King | LegitPunisher BCS Highlights on Youtube
Long time competitor and now representative of Kingdom eSports, LegitPunisher is one of the most experienced Orion's in the scene. While he hasn't been as active in tournaments recently, he's now been stepping up his game again. He placed third in week two, taking down ThStardust and Twilight while losing out only to Pugsy in Winners Finals and PickledPotatoes in Losers Finals. Are the BCS Finals where LegitPunisher will overcome these final challenges? 
10. Tyr | pkpr
BCS Points: 11.5
Mains: Thatch
Tyr | pkpr BCS Highlight Reel
One of the only Thatch mains in the top 1000 players, and the only Thatch player in this tournament, get ready for [Tyr] pkpr. His incredibly aggressive style built around Thatch's unique capabilities has led him to this stage of the BCS.  He only played in weeks 3 and 4, but reached top 8 both times, taking sets from other formidable opponents like Magmabob and Moose.
11. [BOO] eggsoup
BCS Points: 11 
Mains: Hattori
[BOO] eggsoup BCS Highlights on YouTube
Despite being placed in the lower half of the seeding pool, eggsoup has something no other competitor here has: a LAN victory. At Final Round, the regional fighting game tournament in Atlanta, Georgia, eggsoup took first place in the first LAN tournament officially sponsored by Blue Mammoth Games. There he swept the competition flawlessly, losing only a single game against fellow teammate [BOO] Twilight (who came second). While eggsoup performed brilliantly in a LAN setting, his journey in the BCS weeklies ended in top 8 twice. Will his aggressive Hattori playstyle be enough to secure another big win when it really counts?
12. [UZ] Moose
BCS Points: 9
Mains: Bodvar
[UZ] Moose BCS Highlight Reel
Moose, the only member from Unsung Zeroes (a longstanding community team of old school closed beta players), has fought his way to the top 16. While he has been a constant presence at many community tournaments, and consistently places top 16, he's never been able to secure a tournament win. Despite this, his big plays with Bodvar that mix-in more signatures than the average player makes him exciting to watch. Can his wealth of experience help him finally secure the big victory he's been looking for?
13. [BOO] Stevenator546
BCS Points: 9
Mains: Bodvar, Ada
[BOO] Stevenator546 BCS Highlight Reel
This 14 year old powerhouse hailing from Chicago was the longest standing #1 player on the US Leaderboards during Open Beta Season Zero. He has been a long time finalist of many significant 1v1 tournaments in the past, but has yet to win a tournament in the current competitive season. A longstanding member of the BOO clan, he has been meticulously training with his team for the upcoming BCS finals where he will finally lay it all out on the line for everyone to see.

14. Crx | Scythe
BCS Points: 8.5
Mains:  Bodvar, Ada, Lucien
Highlight Reel Coming Soon
Seemingly out of nowhere, this newcomer to the competitive scene has fought his way to the finals gaining two points each week of the BCS. A true wildcard, what will Scythe show us during the finals? Will he be knocked out immediately, or will this be the opportunity for this player to carve his name into the competitive scene?
15. Berthen
BCS Points: 8.5 
Mains: Bodvar
Highlight Reel Coming Soon
Berthen is widely known for his popular Twitch streams of Brawlhalla where he is constantly teaching and helping players new to the competitive side of the game. His deep, analytical approach has helped him reach a competitive level while helping others learn the game. Can bringing a new approach to the table help him stand out amongst the competition?
16. Tyr | Boomie
BCS Points: 8
Mains: Bodvar, Koji, Cassidy
Tyr | Boomie BCS Highlight Reel
Boomie is the youngest competitive player in this series, and possibly in Brawlhalla. Community sources have confirmed that he's only twelve years of age, and that he's a monster Brawlhalla player. He recently took 10 stocks off another team in a recent Crew Battle. Despite being the bottom seed and having to square off against Pugsy in round one, we're all hoping to be taken by surprise.