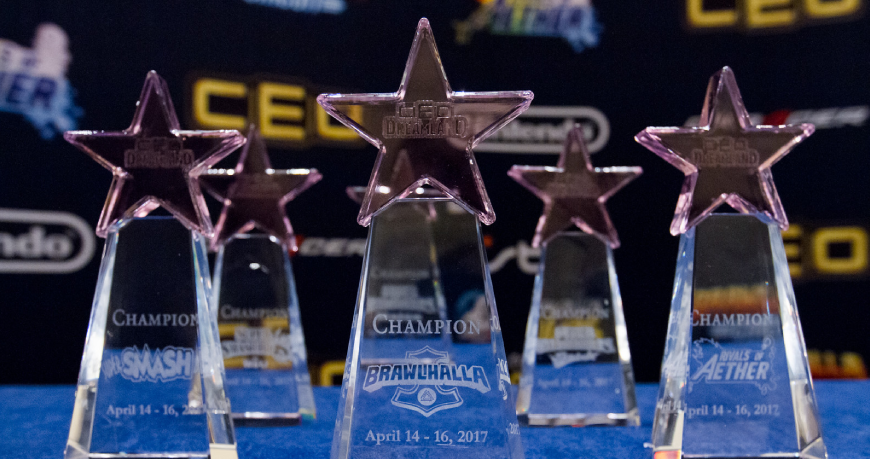 Photos courtesy of CEO Dreamland. Photo Credit: Thomas Tisch. 
CEO Dreamland was a celebration of all things platform fighter, and at Dreamland Boomie could finally celebrate getting a major tournament victory under his belt, as he overcame challenges from a surging noeL and the ever-solid Maltimum to become the first CEO Dreamland Brawlhalla champion.
It will be a huge relief, as Boomie has a habit of falling just short – as he did in the Winter Championships, when his teammate LDZ took the crown. This time, with LDZ out of the picture, Boomie's path was clear, and he made sure to grab hold of the opportunity.
But LDZ's inability to make it to the tournament wasn't the only surprise that Dreamland had in store; with over 60% of competitors present sitting in the Global Top 50, every pool was a pool of death, and with over 60 players fighting for 12 spots in the final bracket, every match was a scrap – teammates took out teammates, and only the best made it through to the final bracket.
Notable Placements
LDZ, victor at the Brawlhalla World Championships and 2017 US Winter Champion, was unable to compete in singles due to last minute travel problems.
The main benefactor of LDZ's travel issues was Astronaut, who finished third in his pool and would not have been favored to take out LDZ. Despite his strong play in doubles with partner Starlight, Astronaut has struggled at times to make a mark in singles competition. Although he couldn't push any further, a ninth place finish is a good step for Astronaut as he continues to improve his singles play.
In the absence of LDZ, many would have been expecting Dobrein to have a free run to the championship in his first appearance at a LAN in the USA. However, Dobrein met his match in his final round of pools, where Boomie beat him 2-0. Despite entering the Top 12 in Losers Bracket, Dobrein fought his way into the Top 8 before meeting European Winter Champion Maltimum and losing a closely fought set. Top 8 in his first appearance in America is nothing to sniff at, but Dobrein has high standards, and will have wanted to go further.
His doubles partner Diakou has similarly high standards but, unusually, fell short of Top 8. Since his second place finish at BCS last year, Diakou has been a familiar sight in the upper echelons of brackets, so his ninth place finish at Dreamland is something of a surprise. Losing to Maltimum is not a huge shock, but dropping a set to Blood Diamond in pools was something of an upset.
Weapon/Character Usage
Bows and Swords were the big presences at Dreamland, with Zeloxory and wrenchd both taking their customary Ember on deep runs, alongside Boomie's Diana, and Diakou, Blood Diamond and noeL's Kojis. Also wielding swords were Starlight and Stevenator, with Val, which meant that almost every set of the Top 12 featured swords in at least one match.
Spears also played a strong part, with Boomie and Crockie using Ada, while Maltimum's Wu Shang put Dobrein's Mordex – the last Scythe player – out of the tournament. Somewhat surprisingly, scythe was relatively absent from proceedings despite the general belief that it is one of the strongest weapons in the game. With [R]eason's Ephi unable to make the trip, Dobrein was the strongest scythe player present, and the only one to reach Top 8.
Most eye catching, however, was the gun play. Crockie's Ada was built on equal parts strong spear play and smart gun spacing, Boomie's trophy is due in no small part to his excellent guns. Although they're not the most popular weapons, Boomie landing a kill with guns recovery has become his signature move, and it was on full display at Dreamland.

Big Improvements
Also playing a powerful pair of guns, Crockie finished fifth in singles – meaning that he didn't fall short of Top 8 in any of the three events he competed in. Crockie wasn't expected to make so strong an impact coming into the weekend, but played superbly with his long-time main Ada. He defeated Stevenator and wrenchd on the way to his Top 6 placement before finally falling to Starlight. It took one of the strongest players in America to halt his run, ensuring that Crockie is unlikely to be slept on going forward.
Also finishing in fifth place was Blood Diamond, generally considered to be stronger in doubles than in singles. Blood Diamond turned that misconception on its head by entering Top 8 on the Winners side of the bracket. His FlashPoint teammate noeL eventually put him into Losers bracket, and Maltimum put him out of the tournament, but his performance had already made a powerful statement about the improvement of his singles game.
Another rapidly improving player who first made his name in doubles is Cyclist, who is proving himself a threat to be reckoned with. Making time from his acting commitments, Cyclist showed remarkable consistency at Dreamland in finishing at ninth, seventh and 13th over the course of the weekend. Although he'll doubtlessly be disappointed at finishing fourth in his pool (by just one game) and failing to make the final bracket, he can take heart from his impressively strong play against the best players in the world.
At the moment however, one of the most improved players on the scene is without a doubt noeL, whose dominant run through the bracket could only be ended by Boomie. Although he has been a threat to anyone's bracket life for some time, his recent improvement towards the top tier of competition is staggering. In following up his Final Round victory with second place at Dreamland despite the presence of players like Dobrein, Maltimum and Starlight in Top 8, noeL has made it clear that he simply cannot be slept on.
This weekend, we saw something a little different from noeL, who is generally one of the most patient players around. At Dreamland he showed a more aggressive side, unleashing flurries of sword recoveries to steal surprisingly early stocks.
Boomie: Your CEO Dreamland Champion
Ultimately, it was Boomie's weekend. Despite being one of the youngest competitors on the scene, he has proved time and time again that he is one of the best around, and there is the feel that this win was a long time coming. Having finally broken his second place curse at the Winter Championships – where he and LDZ took gold in doubles, he now has a singles title to call his own. Dreamland may well prove to be the spur in confidence that Boomie needed – proof to himself that he can in fact win against the best of the best. If that does prove to be the case, there will be plenty of players cursing when they see Boomie in their bracket; a confident Boomie can fight it out with anyone in the world.
And at Dreamland, Boomie was exceptional. He won the tournament from Winners side of the bracket, and though noeL ran him close in Grand Finals, for much of the event he was relatively untroubled – despite taking on a series of challengers that have quite literally travelled the globe. To do so as one of the youngest competitors at the event just speaks to how much further Boomie can go.
He will have plenty of chances to prove that he's only getting better in the months to come, with Brawlhalla events taking place at Combo Breaker – where Zeloxory last year shocked America by taking first place – and Shine. There will be plenty of players hoping to prove that this was just a flash in the pan though; noeL, who is doubtlessly desperate for a major of his own, Starlight, who only just missed Top 3 at Dreamland, and a returning LDZ, who will be keen to prove to his teammate that he still has his number.
Only time, and tournaments, will tell.
Pools to Top 8 Video
Top 8 Video