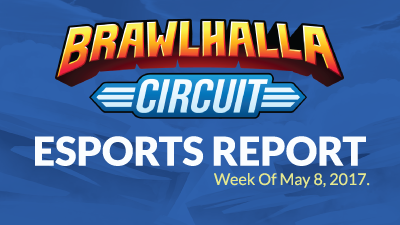 Esports Report – Week of May 8th
Every Monday at 5PM ET we run a dev stream live on Twitch.tv that covers competitive Brawlhalla. We cover the results of tournaments from the past week, talk about tournament coming up this weekend, and invite a top Pro Brawlhalla player to the stream to show off their skills against viewers.
If you missed it, or can't make it to the live stream, we upload all these episodes to our YouTube channel at www.youtube.com/brawlhalla.
Below are videos from this week's stream complete with shownotes and links to each event discussed.
Tournament Recap
Friday Night Brawlball
A NA 3v3 Invitational for five teams. Round robin format. Winners: Cyclist / Isidroo / bacon_ 
Video Link
Sea League Week 3/4
AA, $500 Top 16 Payout
1st – Tiger
2nd – Hxted
3rd – jerryK
4th – Zhazul
Video Link
Stream.me Legend Series 2v2
NA Day 1, EU Day 2. S Tier. $3,000. 
NA Placements 
1st – ithrowow / dr.phazon
2nd – Astronaut / Starlight
3rd – VexX | Crockie / Doppey
4th – Boomie / LDZ
Video Link
EU Placements 
1st – Reason | Addymestic / Cake
2nd – QS / Slug
3rd – TB / Maltimum
4th – Stimpy / Lanz
Video Link
Reminder that you can find all standings for past tournaments at https://smash.gg/brawlhallacircuit/standings
Upcoming Tournaments
Fable eSports (@FableGG) presents: "The Path to Combo Breaker"!
There will be one winner from North America! The winner will be signed on a temporary contract to play for Fable eSports at Combo Breaker 2017! This includes:
Flight to and from Combo Breaker
Hotel Room
Fable eSports Jersey
Registration Fee
Register Here! (Registration closes Wednesday night)
Riddle Brawl #2
EU 1v1, AAA, $500.
This Thursday, 2pm Eastern
Register for Riddle Brawl #2! EU: https://smash.gg/riddle2/registerYou
Watch it live at: https://www.twitch.tv/riddleetv
SEA League Final Week
SEA 1v1, AA
This Saturday, 3am ET (3pm SGT) watch live on twitch.tv/seabrawlhalla
Spring Championship!
US & EU, 1v1 & 2v2
SS, $10,000 (2500 each tourney)
Registration closes Wednesday!
US: https://smash.gg/spring-us/register
EU: https://smash.gg/spring-eu/register
Watch Live Saturday & Sunday on Twitch.tv/brawlhalla
Read The NA & EU Spring Championship Previews
Brazil Brawlhalla Series #2
BRZ 1v1, AAA, $1000
Double the CP! Double the cash!
Live on Sundays
May 21st – Pools to Top 32
May 28 – Top 32 to Top 8
Watch Live on https://www.twitch.tv/brazilbrawlhallaseries