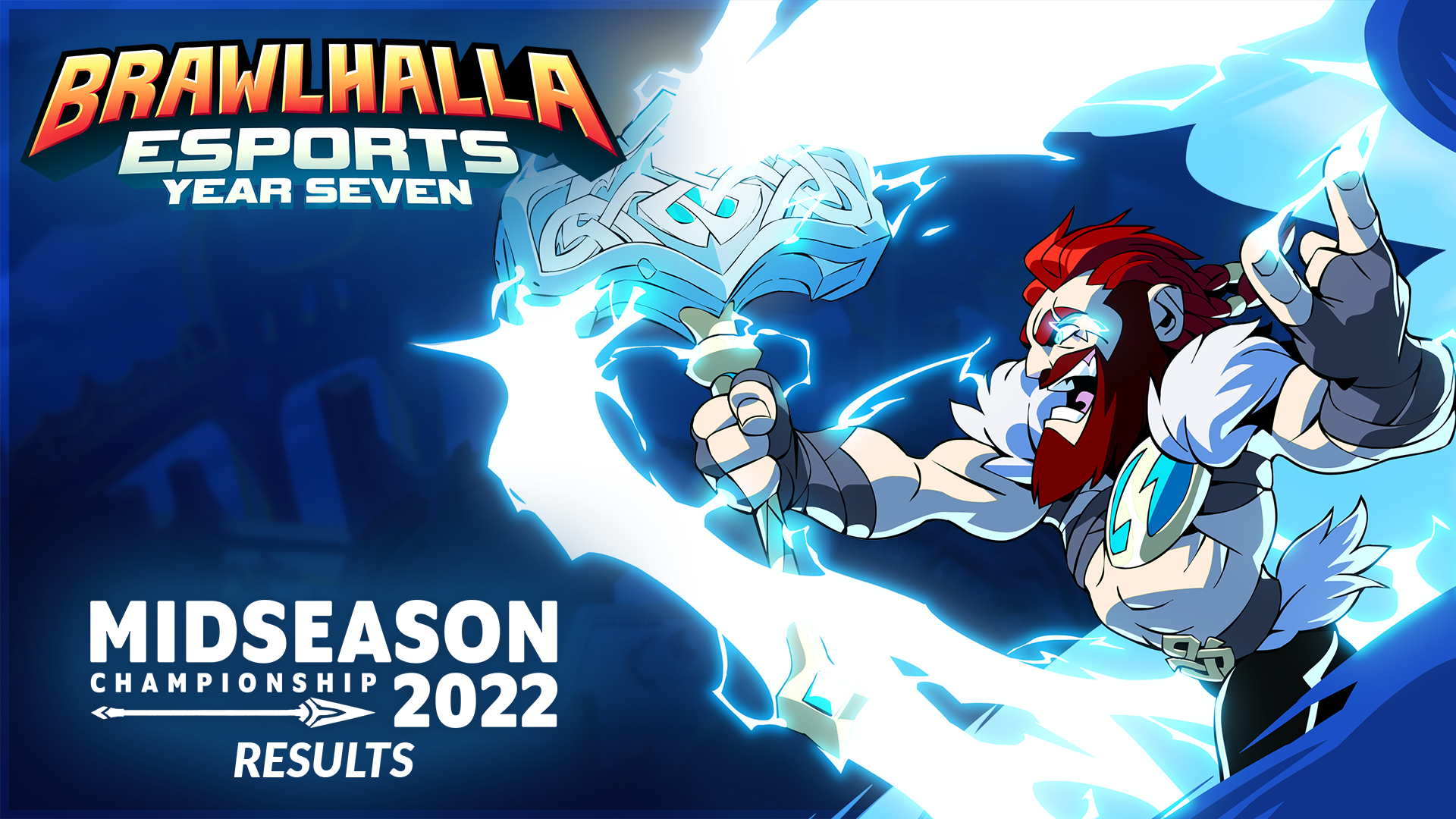 Luna Wins the Midseason Championship 2022; Experience and Maid Take Their First Gold Medal in Doubles
North America, South America, Europe, Australia and Southeast Asia competed this past weekend at the first in-person Brawlhalla tournament since 2020 and it was incredible!
North America, Europe and South America kicked off the weekend on Friday with a round robin crew battle. North America and South America went head to head and only one stock remained for either team. NA barely clutched it out against Wess in the final match. South America performed remarkably against Europe, securing them a win and earning them second place for the day as North America bested Europe as well.
In doubles, top three of the event mirrored the crew battle tournament in an exciting fashion. Experience / Maid represented NA, Wess / Fiend fought for SA, and through the elimination bracket simpLe / Fozey fought successfully to represent Europe. Experience / Maid could not be stopped and, just like in crew battles, the top three line up ended up being NA first, SA second, EU third.
In singles, Luna fans were validated by his incredible performance at the very first in-person event he has ever attended. Fighting through incredible players such as Lores, Boomie, and Fiend, Luna performed in three back and forth sets against megD in Winners and Grand Finals, ultimately winning the Midseason Championship 2022 in game five of the Grand Final Bracket Reset.
Here are the Brawlhalla Midseason Championship 2022 results!
Midseason Championship 2022 Crew Battles – VOD
Midseason Championship 2022 Doubles – VOD
Midseason Championship 2022 Singles – VOD
Thanks to @EstacaoBrawl for these awesome results images.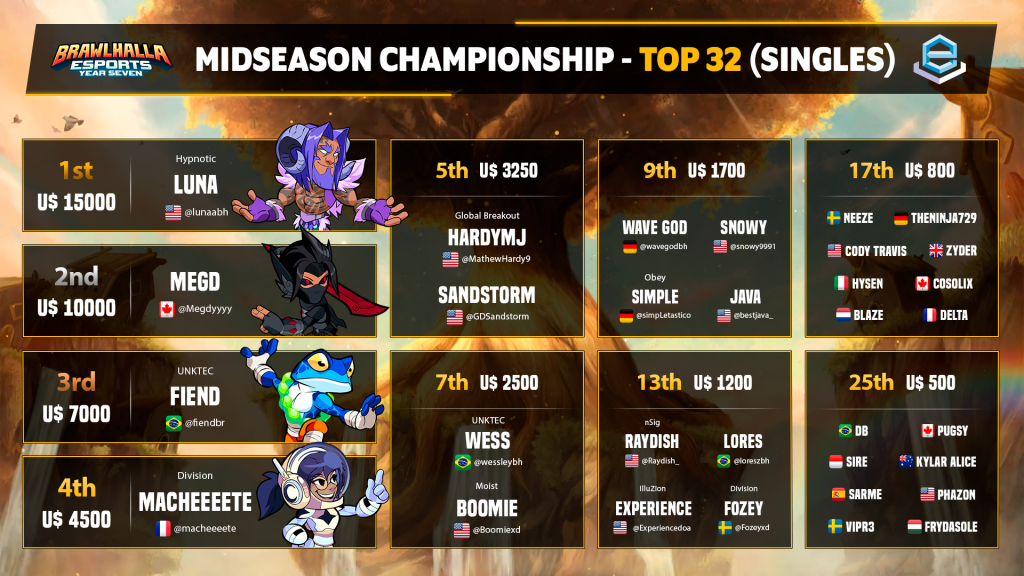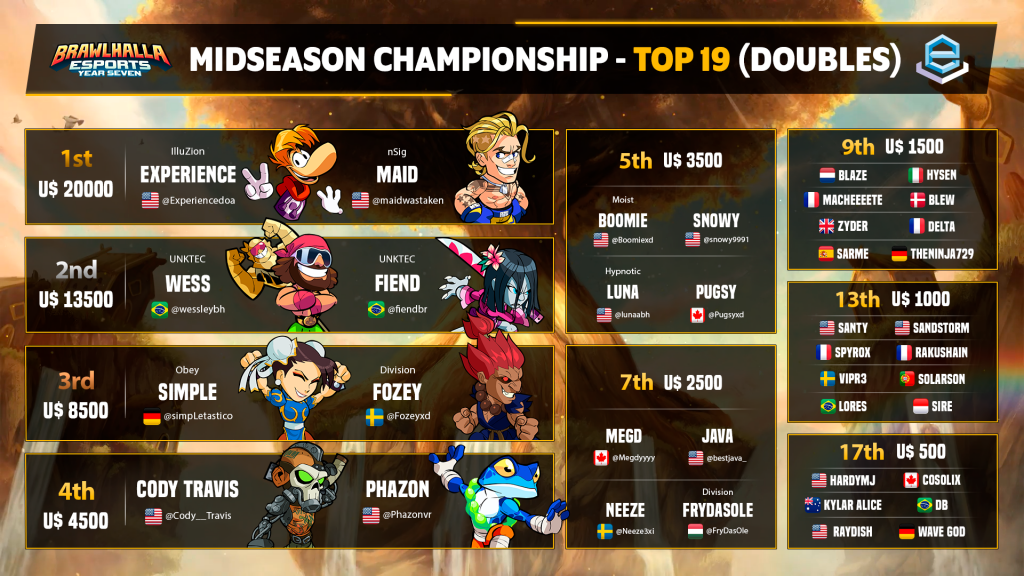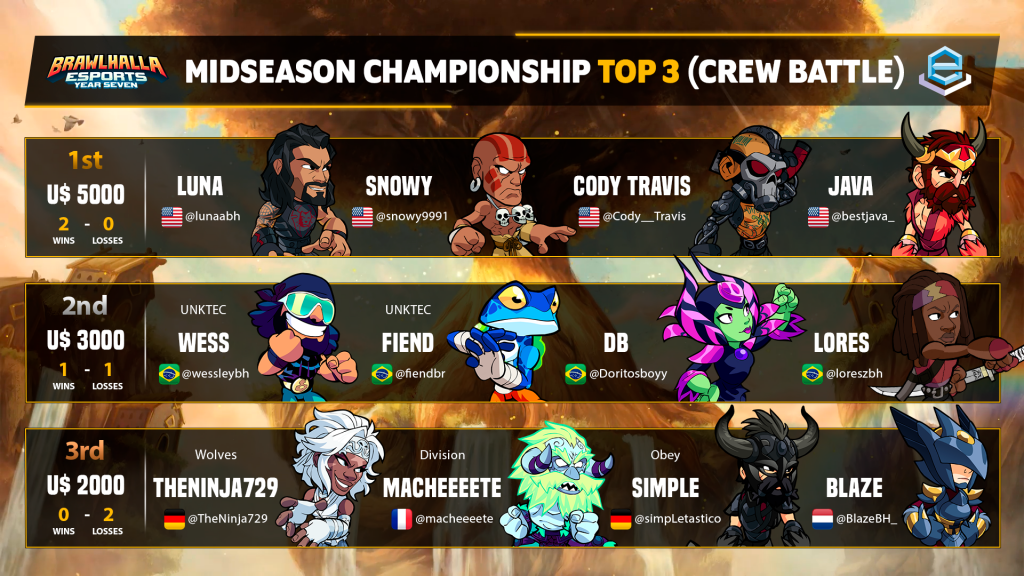 That's it for this weekend of Brawlhalla Esports results! The action never stops during the Brawlhalla Esports Year Seven – on June 25th begins the Brawlhalla Community Tournament Weekend.
Find out when the next tournament will be streamed by visiting brawlhalla.com/schedule and make sure to catch all the action live at twitch.tv/brawlhalla.
To catch the latest Brawlhalla news and content, be sure to follow us on Twitter, Twitch, Facebook, YouTube, Instagram and Discord!