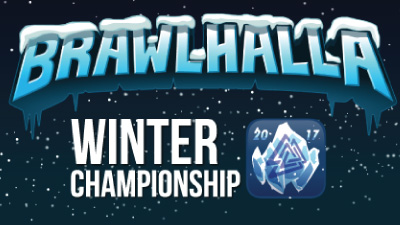 New Rivalries, Upsets at the EU Winter Championships
With over 4,000 competitors spread over four tournaments and 48 hours, the Brawlhalla Winter Championships were a triumphant launchpad for the 2017 Brawlhalla Circuit.
Thousands of dollars and more than a handful of Championship Points were at stake, along with a healthy helping of pride. With so much on the line, every match was fought out at the highest level possible.
By virtue of timezones, Europe were the first to take to the field of battle, and the first to crown a champion in Maltimum. EU Doubles also had plenty to offer, and by Sunday evening we were left with reams of fabulous play to pour over and plenty of upsets to consider.
Maltimum vs. Diakou – The Birth of a Rivalry?
One fight that spilled over from the battlefield was that between Maltimum and Diakou, who fought it out in both Winners Finals and Grand Finals of the 1v1 tournament on Saturday. It was Maltimum who emerged victorious in both bouts, toughing out difficult matches against Diakou and claiming the title of Brawlhalla's first Winter Champion.
In the aftermath of both sets, Diakou was vocal about his frustration. As one of the premier competitors in Europe, he has high expectations of himself, but the venom with which he complained about his losses suggested that losing to Maltimum may well carry an extra sting. He even took to social media to make clear his distaste for Maltimum's attitude and highlighting some messages from Maltimum he particularly disliked.
For his part, Maltimum was happy to play the part of gracious victor, which apparently only served to fuel the fire for Diakou. After Grand Finals also went to Maltimum, Diakou once again loudly decried how much he disliked losing to Maltimum:
AAAAAAAH GET ME OUT OF BRAWLHALLA MAN

LET ME LOSE TO LDZ, LET ME LOSE TO DOBREIN, LET ME LOSE TO AFRO ERAMM, BUT NOT MALTIMUM U2I3HJ45807UY

— ENX | Diakou (@TheDiakou) February 4, 2017
big sorry https://t.co/k3lhH0bZT7

— Maltimum (@Maltimum) February 4, 2017
When, alongside his partner Dobrein, Diakou met Maltimum again in Winners Finals of the doubles event, it was with renewed vigor. He once again fell short, but this time decided not to waste time complaining.
— Brawlhalla (@Brawlhalla) February 5, 2017
Diakou's focus was totally on winning doubles, and he redoubled his efforts to reach Grand Finals and the runback against the waiting Maltimum. Ultimately, even his best wasn't enough to halt a rampaging Cake & Addymestic, who quashed the duo on their own way to a ten game Grand Finals set against Maltimum and TB.
As two of the best Europe has to offer, we will no doubt be seeing more conflict between Diakou and Maltimum. It seems that when the two play, emotions run high, and it is already clear that Diakou will have his sights set on revenge. It will be a tough task however, as Maltimum's performance over the course of the weekend shined. He will be aiming to keep his newborn streak against Diakou going strong.
One thing is for sure though, this budding rivalry has already given us some phenomenal matches, and there is more to come.
Dobrein's Anomaly of a Tournament
What do you call a man who wins nine of every ten tournaments he enters? The best in the world? The favorite? The one to beat?
Whatever you choose to call him, he calls himself Dobrein. The Russian has more tournament wins than any other player in the world, and never failed to reach Top 3 in a the Brawlhalla Championship Series tournaments last season.
As it turns out however, the Winter Championships was that one in ten where Dobrein missed the gold. There are many players who would be pleased to finish fourth in a field of over 1400, but Dobrein's lofty standards mean that his performance on Saturday was undeniably a failure.
Part of that may be due to Dobrein's insistence on playing Mirage throughout the bulk of the tournament. At times his scythe play was astonishingly brutal, but at others it appeared as though he was out of answers. He may have seen better results with a Legend he was more comfortable with, but he was insistent in sticking to his guns – or lack thereof. Sometimes, like against Dzn, it worked out. When it counted, however, it didn't.
For the first time, Dobrein is seeing a continued assault on his position as the leading player in Europe from both Maltimum and Diakou. He'll want to prove as soon as possible that form may be temporary, but class is permanent, perhaps with a further polished Mirage in tow.
Maltimum Is Very Good at Brawlhalla
Although it's harsh to call Maltimum's victories in both singles and doubles an upset, there is some small kernel of truth to it. We know just how good Maltimum is in singles, but that excellence didn't necessarily translate to the doubles game last year.
His run to the victory in singles was serene, as he dropped just a single set over the course of the entire tournament. His wins included a 2-0 set over Dobrein and a pair of consecutive 3-0s over Diakou, who had in turn been relatively untroubled except against Maltimum. A victory alone would have been plenty to set a marker for the season – but doing so while sweeping the board against Europe's best is a serious statement.
It's unlikely that Maltimum will be feeling as satisfied with the performance of he and his partner TB in doubles. Although the duo reached Grand Finals on the winners side of the bracket, Reason's Addymestic & Cake fought to the bitter end of a ten game set that included a bracket reset.
At times in that set in particular, we saw Maltimum left to bear the brunt of the work while TB struggled to make an impact. The matches in which Maltimum managed to carry the load were successful, but when Addymestic and Cake managed to neuter Maltimum, TB had a difficult time relieving the pressure on his partner.
With 350 Championship Points under their belts already, the duo won't be reconsidering their partnership just yet, but it's clear that their strategy needs to be refined. When it comes down to it, Maltimum just can't be dealing over 800 damage every game.
Addymestic, Cake and The Endless Losers Run
Despite the freshness of their partnership and their inability to seal the deal, Reason Gaming's Addymestic & Cake are the team that everyone will be talking about after the Winter Championships. Pushing Maltimum & TB to the very limits in game 10 of Grand Finals, they fell just short thanks in part to a tragic disconnect from Cake in the final game.
It is perhaps unsurprising that the duo couldn't manage to clutch out the finals, as they had been forced to play a vast amount of games after losing to Hermisen & Exodass in the second round of Top 64. By the end of Grand Finals the duo had fought through 9 sets in losers, eliminating the likes of Zeloxory & Cedero, Dobrein & Diakou, and Reason teammates Ephi & Lanz.
With a style that revolved around high damage output and frantic aggression offstage, the duo rampaged their way through the bracket, reset Grand Finals against Maltimum & TB, and were only eventually halted by the desperate efforts of a team that had a set to play with. It was a phenomenal performance that has marked the duo as an elite threat who are just as dangerous as the likes of Dobrein & Diakou.
They also showed themselves unafraid to experiment, switching up character choices to suit the opponents they were facing. Although they found great success with the pairing of Addymestic's ultra aggressive Kor alongside Cake's signature Queen Nai, you can be sure that they will show off plenty of flexibility in the coming months
King Katars – Weapon Trends
It's perhaps little surprise to discover that Katars were the overwhelming favorite over the course of the weekend. Fast, high damage strings were common from characters like Ragnir, Lucien, and Sentinel in singles. It seemed as though every doubles match featured at least one pair of Katars. With the ability to seal early stocks offstage also on prominent display, the presence of the weapon seems a no brainer.
One surprising common presence over the course of the weekend was the scythe. The likes of Ephi and Dobrein were the main culprits – with the former actually beating Dobrein in the ditto and finishing Third overall – but the two did a fantastic job of making the weapon look frighteningly effective. It's still early days for scythe users, and the style is anything but simple, but after the scythe play we saw during the Winter Championships you can expect to see a surge in popularity over the next few weeks.
Another common weapon pick was guns, with Maltimum in particular making very effective use of the damage racking capabilities in doubles to put plenty of pressure on opposing teams. Despite the fact that guns are not considered particularly strong in the meta at the moment, players like Dzn showed off the potential of the weapon.
Par For The Korse  – Character Trends
Although many of the characters we saw during the Championships were the usual suspects, like Ragnir and Sentinel, there some interesting choices that showed just how willing top players have been to experiment. Alongside the surprisingly strong presence of Mirage thanks to Ephi and Dobrein, we also saw more unusual picks like Kor and Lucien, especially in doubles.
Addymestic in particular showed off how devastatingly strong Kor can be, almost singlehandedly changing the direction of Grand Finals against Maltimum & TB after falling behind in the set. By consistently extending stocks and sealing early kills with insane offstage pressure, he at times dominated the doubles champions with minimal support from Cake.
On the other hand, some characters were conspicuous in their absence. Hattori, so popular at BCX, was only played a handful of times – most visibly by Stimpy – and BCX doubles mainstay Val was also a rarely seen pick. With Katars and Hammers apparently considered particularly strong and swords less highly regarded, it seems that the strongest sword legends have fallen somewhat out of favor.
The Ones To Beat, and More Questions Than Answers
After the Winter Championships, it's clear that Maltimum has set himself up as the man to beat. And make no mistake, there is a target painted on his back, and with so much footage of Maltimum in action, challengers will be more prepared to take him down than ever before.
Diakou in particular will be planning to take down the foe that twice beat him in singles. Although he couldn't mount an effective challenge this time around, he will continue to work on his keyboard play, and the next time the duo meet, Diakou will be looking for a different result.
As for doubles, Reason Gaming have established that they are the squad to beat. Ephi & Lanz may be disappointed with a fourth place finish, but even they have to have enjoyed watching Addymestic & Cake run riot through the losers bracket. After so strong a performance, they will be the team to beat alongside Champions Maltimum and TB, who fought through some struggles to clutch out Grand Finals.
Ultimately, the Winter Championships have left us with more questions than answers. Will Dobrein be able to re-establish himself as Europe's best? Can Maltimum continue to ride the wave of momentum that started with his epic run at BCX? Will he and his partner TB be able to repel assaults from Dobrein & Diakou, Addymestic & Cake, and Ephi & Lanz? Will Diakou get his revenge on Maltimum? Does this Third Place finish signal the rise of Ephi? We'll find out as the Circuit continues.
To register for upcoming Brawlhalla Circuit tournaments visit www.smash.gg/brawlhalla. For more information about Brawlhalla Esports visit www.brawlhalla.com/esports.
Top 8 Results

Winter Championship – EU 1v1
1. Maltimum
2. Eanix | Diakou
3. [R]easonEphi
4. Dobrein
5. Janus
5. Eramm
7. simpLe
7. TB
Winter Championship EU 2v2

1. Maltimum & TB
2. [R]eason Addymestic & Cake
3. Dobrein & Diakou
4. [R]eason Ephi & Lanz
5. ThStardust & Wrayne
5. hermisen & Exodass
7. simpLe & ishett
7. Janus & q4r